Frostbite forces Ranulph Fiennes to quit Antarctic expedition
February 26, 2013 -- Updated 1428 GMT (2228 HKT)
STORY HIGHLIGHTS
Ranulph Fiennes pulls out of attempt to cross the Antarctic in winter
British adventurer suffers frostbite after trying to fix a ski binding
The expedition viewed as last great polar challenge
Rest of team will continue on 4,000 km journey without Fiennes
(CNN) -- Frostbite has forced British adventurer Ranulph Fiennes to quit his attempt to cross the Antarctic in winter -- a challenge his team regarded as the coldest journey on earth.
Tony Medniuk, the chairman of the expedition, said Fiennes' hand was frostbitten when he had to fix a loose ski binding with his bare hands in temperatures of around minus 30 degrees Celsius (minus 22 degrees Fahrenheit).
"It is the last remaining great polar challenge," Medniuk told CNN.
"He was going to be on skis, in specially adapted clothing to withstand the temperatures, so that he would be the first person to actually ski across the Antarctic in winter."
Fiennes' evacuation has been delayed by a blizzard but he is expected to be transported by skidoo to the Princess Elisabeth Station about 70 kilometers (44 miles) away from his current position. From there he will be flown to Novo to get a connecting flight to Cape Town.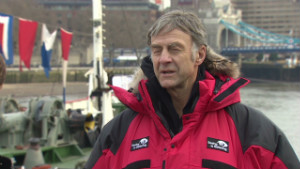 Ranulph Fiennes on Antarctic adventure
The other five members of the expedition will continue the journey without Fiennes as their leader, Medniuk said.
Read: Veteran explorer sets off on "The Coldest Journey."
They plan to travel almost 4,000 kilometers (2,485 miles) through icy wilderness mostly in complete darkness and in temperatures as low as minus 90 degrees Celsius. The journey is expected to take six months.
A Norwegian team recently completed a winter crossing of the Arctic but this is the first attempt to traverse the Antarctic.
Fiennes has previously been the first person to reach both the North and South Poles by land and the first to cross Antarctica on foot.
The team set sail from London in December and were building a base camp and supply depot inland from Crown Bay when Fiennes developed the case of frostbite. They are due to begin the polar crossing as scheduled on March 21.
Before his latest adventure, 68-year-old Fiennes described polar exploration as a drug or addiction.
"Once you get bitten by polar records, you keep going for it," he told CNN.
First woman to cross Antarctic solo: I've never felt so alone
Fiennes, who lost five fingers to frostbite on a previous expedition and also suffered heart problems during an attempt to climb Mt Everest, was sanguine about the risks of this adventure.
"I don't think about not coming back, because I mean, more people get killed on the roads here [London] than they do in Antarctica. I mean, I had a massive heart attack reading a magazine on an airplane. You don't need to go to Antarctica to pop it."
The expedition also aims to collect data on how climate change is affecting the Antarctic icecap in winter and raise $10 million for the blindness charity Seeing is Believing.
Adventurers recreate 'greatest survival story' of the Antarctic
CNN's Becky Anderson and journalist Tom Levitt in London contributed to this report

Part of complete coverage on
May 21, 2013 -- Updated 2217 GMT (0617 HKT)

The image of the Gaza boy and his father under a hail of Israeli bullets became a powerful symbol. Now Israel insists its military is not to blame.
May 22, 2013 -- Updated 1247 GMT (2047 HKT)

The tornado that ripped through Oklahoma saw teachers rise to be surrogate parents, protectors and heroes, according to LZ Granderson.
May 21, 2013 -- Updated 1714 GMT (0114 HKT)

Did you know that hurricanes can also produce tornadoes? Read facts you didn't know about destructive twisters.
May 22, 2013 -- Updated 0441 GMT (1241 HKT)

Prime Minister Shinzo Abe calls women "Japan's most underutilized resource," yet traditions have been hard to overcome.
May 22, 2013 -- Updated 1137 GMT (1937 HKT)

According to the United Nations' mission in Iraq, 712 Iraqis were violently killed in April 2013. This is both normal and extraordinary.
May 22, 2013 -- Updated 1121 GMT (1921 HKT)

Myanmar's Muslims have generally coexisted with the Buddhist majority. But ethnic fault lines are exposed as it emerges from military rule.
May 22, 2013 -- Updated 1209 GMT (2009 HKT)

Actresses Carey Mulligan, Isla Fisher and Elizabeth Debicki tell CNN who gave them inspiration for their characters.
May 22, 2013 -- Updated 0521 GMT (1321 HKT)

A quarter century after his death, American pop artist Andy Warhol has popped up in China again after his first and only trip to the country in 1982.
May 22, 2013 -- Updated 1331 GMT (2131 HKT)

Revolutionary "bionic exoskeletons," like the metal suit worn by comic book hero Tony Stark, may be closer than you think.
May 21, 2013 -- Updated 1951 GMT (0351 HKT)

Photos: From Sharon Stone to Matt Damon, browse through the best from the Cannes red carpet this year.

Damnit we have work to do ... but not before we have another go at this annoyingly difficult web-based game.

Today's five most popular stories