Frostbite forces Ranulph Fiennes to quit Antarctic expedition
February 26, 2013 -- Updated 1428 GMT (2228 HKT)
STORY HIGHLIGHTS
Ranulph Fiennes pulls out of attempt to cross the Antarctic in winter
British adventurer suffers frostbite after trying to fix a ski binding
The expedition viewed as last great polar challenge
Rest of team will continue on 4,000 km journey without Fiennes
(CNN) -- Frostbite has forced British adventurer Ranulph Fiennes to quit his attempt to cross the Antarctic in winter -- a challenge his team regarded as the coldest journey on earth.
Tony Medniuk, the chairman of the expedition, said Fiennes' hand was frostbitten when he had to fix a loose ski binding with his bare hands in temperatures of around minus 30 degrees Celsius (minus 22 degrees Fahrenheit).
"It is the last remaining great polar challenge," Medniuk told CNN.
"He was going to be on skis, in specially adapted clothing to withstand the temperatures, so that he would be the first person to actually ski across the Antarctic in winter."
Fiennes' evacuation has been delayed by a blizzard but he is expected to be transported by skidoo to the Princess Elisabeth Station about 70 kilometers (44 miles) away from his current position. From there he will be flown to Novo to get a connecting flight to Cape Town.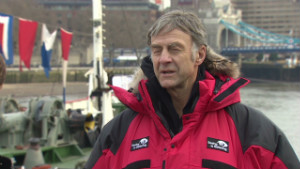 Ranulph Fiennes on Antarctic adventure
The other five members of the expedition will continue the journey without Fiennes as their leader, Medniuk said.
Read: Veteran explorer sets off on "The Coldest Journey."
They plan to travel almost 4,000 kilometers (2,485 miles) through icy wilderness mostly in complete darkness and in temperatures as low as minus 90 degrees Celsius. The journey is expected to take six months.
A Norwegian team recently completed a winter crossing of the Arctic but this is the first attempt to traverse the Antarctic.
Fiennes has previously been the first person to reach both the North and South Poles by land and the first to cross Antarctica on foot.
The team set sail from London in December and were building a base camp and supply depot inland from Crown Bay when Fiennes developed the case of frostbite. They are due to begin the polar crossing as scheduled on March 21.
Before his latest adventure, 68-year-old Fiennes described polar exploration as a drug or addiction.
"Once you get bitten by polar records, you keep going for it," he told CNN.
First woman to cross Antarctic solo: I've never felt so alone
Fiennes, who lost five fingers to frostbite on a previous expedition and also suffered heart problems during an attempt to climb Mt Everest, was sanguine about the risks of this adventure.
"I don't think about not coming back, because I mean, more people get killed on the roads here [London] than they do in Antarctica. I mean, I had a massive heart attack reading a magazine on an airplane. You don't need to go to Antarctica to pop it."
The expedition also aims to collect data on how climate change is affecting the Antarctic icecap in winter and raise $10 million for the blindness charity Seeing is Believing.
Adventurers recreate 'greatest survival story' of the Antarctic
CNN's Becky Anderson and journalist Tom Levitt in London contributed to this report

Part of complete coverage on
December 10, 2013 -- Updated 1900 GMT (0300 HKT)

Presidents and prime ministers, celebrities and royals joined tens of thousands of South Africans to pay tribute to Nelson Mandela.

Syrian refugees fleeing into Lebanon tell CNN's Nick Paton Walsh how they stepped over dead bodies in their flight -- and now face the a biting winter.
December 11, 2013 -- Updated 1629 GMT (0029 HKT)

It looked plausible to most, but to deaf people watching the Mandela memorial -- it was all nonsense. The interpreter has been dubbed "a fake."
December 11, 2013 -- Updated 0541 GMT (1341 HKT)

They hoped for playful weekend outing in the snow. The moments of adventure dissolved into a fight for survival for the family of six.
December 11, 2013 -- Updated 1714 GMT (0114 HKT)

Yahoo's teen star Nick D'Aloisio sells the new digital future -- with vanishing content.
December 11, 2013 -- Updated 1328 GMT (2128 HKT)

Denmark's PM Helle Thorning-Schmidt made headlines when she snapped a selfie with PM David Cameron and President Barack Obama.
December 11, 2013 -- Updated 1311 GMT (2111 HKT)

Mars kits, a triple nipple baby bottle and extinct animal DNA are just some of things you'd find inside the "99¢ Store of the Future."
December 11, 2013 -- Updated 0958 GMT (1758 HKT)

They say necessity is the mother of invention. Here are 11 of the most mind-boggling inventions ever submitted to the U.S. patent office.
December 9, 2013 -- Updated 2311 GMT (0711 HKT)

Until he returned home this weekend, Merrill Newman -- an American held in North Korea -- had no idea what a story he'd become.
December 10, 2013 -- Updated 1611 GMT (0011 HKT)

The Web is set to change our lives over the next decade. This will also question the use of personal data and balancing new powers with ethics.
December 11, 2013 -- Updated 1756 GMT (0156 HKT)

Browse through images you don't always see in news reports, taken by CNN teams all around the world.

He was imprisoned for life but that did not quiet him. Nelson Mandela became South Africa's first black president, and an icon and inspiration.

Today's five most popular stories