STORY HIGHLIGHTS
David Beckham plays 86 minutes on full debut for Paris Saint-Germain
Atletico Madrid into Copa del Rey final
Bayern Munich defeats Borussia Dortmund for first time in three years
UEFA dismisses Schalke protest over Drogba eligibility
(CNN) -- He walked down the red carpet and left to a standing ovation -- it seems David Beckham continues to write his own script.
After his cameo performance for Paris Saint-Germain last Sunday, Beckham played 86 minutes of his side's 2-0 win over Marseille in the French Cup Wednesday.
The 37-year-old, who signed a five month deal with the club in January, showed he still has the fitness to compete at the top level with an impressive performance.
Beckham plays classic cameo role
Not even a yellow card for the former England captain could tarnish the evening as Zlatan Ibrahimovic's double sent PSG through to the last eight.
After entering the stadium via an Oscar like red carpet parade, Beckham started in midfield against the team he faced in the league just days ago.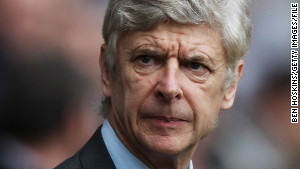 Can Wenger still motivate Arsenal?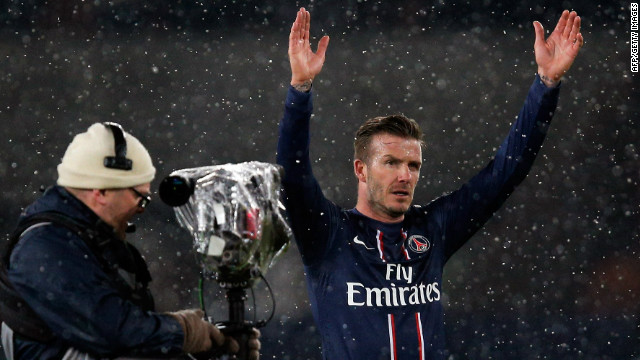 David Beckham acknowledges the crowd after making a winning debut for PSG against Marseille.
David Beckham received a rapturous reception from the 48,000 capacity crowd at the Parc des Princes.
Beckham warms up his 37-year-old limbs ahead of the match against Marseille at the Parc des Princes.
Beckham's wife Victoria weathered the bitterly cold conditions in the French capital as she watched from the stands.
Beckham's teammates celebrate their opening goal in the 2-0 win over Marseille which left them three points clear at the top.
Mario Balotelli could not find his scoring form as AC Milan were held 1-1 by his former club Inter in the San Siro.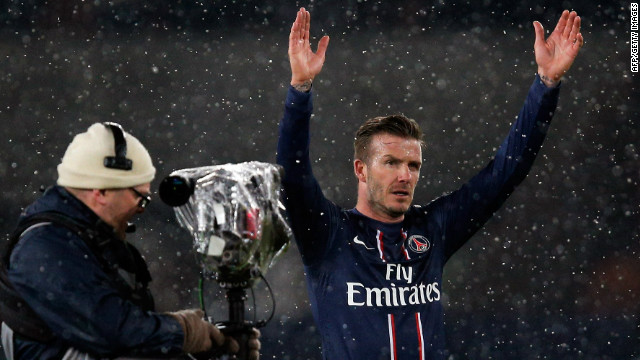 Contrasting fortunes for Beckham and Balotelli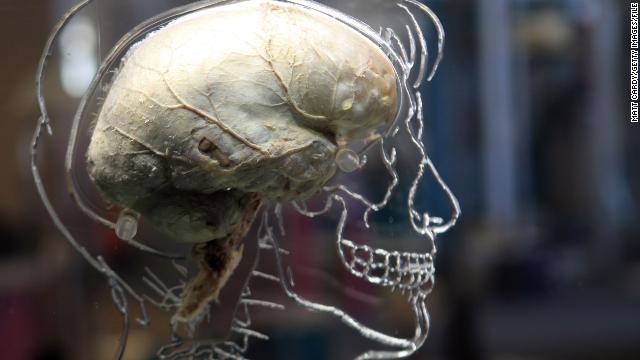 A new study from Brunel University in London has shown that soccer's best players are better equipped to anticipate their opponents' moves.
Legendary Dutch footballer Johan Cruyff famously said: "Football is a game you play with your brain," and the British research raises the possibility of brain training for young players to attune their senses.
Brunel's study suggests the world's top talent, like Barcelona's record-breaking striker Lionel Messi, are able to suppress their urge to act instinctively, which makes them less likely to fall for feints or tricks.
Players from novices to semiprofessionals were placed in an MRI scanner and shown video clips of a player dribbling towards them. They then had to decide in which direction to move in order to tackle them.
The results showed the more talented players were able to predict their opponents' moves better than those at the lower end of the scale. "I am confident the findings would be even stronger with professional players," Dr. Dan Bishop, who oversaw the study, told CNN.
Some of the game's top coaches need no convincing of the power of the brain. Real Madrid manager Jose Mourinho has met pioneering Belgian coach Michel Bruyninckx, who is a disciple of "brain-centered learning" in soccer. "Mourinho immediately understood what I'm trying to do and he asked a lot of intelligent questions," said Bruyninckx.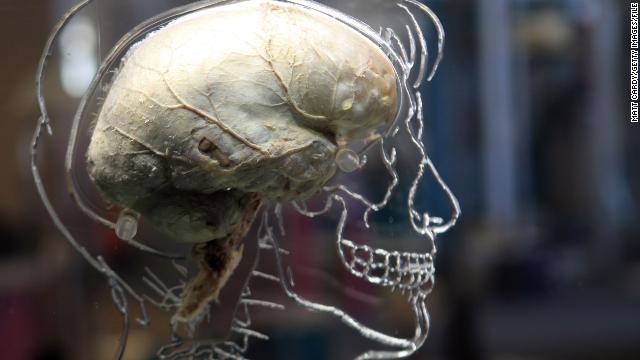 Training the soccer brain
On that occasion, he managed just 14 minutes, but manager Carlo Ancelotti gave the player every opportunity to impress.
And while he displayed his characteristic style of passing, it was a through ball from Clement Chantome which released Ibrahimovic to fire home a 35th minute opener.
The Swede grabbed his second 19 minutes into the second half, slotting home from the penalty spot to wrap up a comfortable victory.
Read: Is Ibrahimovic a hero or villain?
In Spain's Copa del Rey, Atletico Madrid booked its place in the final against city rival Real Madrid thanks to a 2-2 draw at Sevilla.
Atletico, which is second in the league under manager Diego Simeone, arrived protecting a 2-1 lead from the first leg.
And it quickly got into its stride with just six minutes gone when Diego Costa's fierce effort flew into the corner from 20-yards.
Sevilla was facing an uphill task and that was increased further when Radamel Falcao swept home from close range with 29 minutes on the clock.
But the home side refused to buckle and Jesus Navas produced a wonderful curling effort to reduce the deficit before the interval.
Costa should have ended the contest on 54 minutes but somehow slid his effort wide of the far post when he looked certain to score.
Sevilla had chances of its own with Alvaro Negredo also going close, before Ivan Rakitic's late strike made it 2-2 on the night, but it was not enough as the visitor progressed 4-3 on aggregate.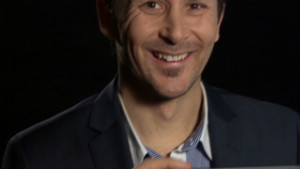 Mendieta: Barca, Real out in front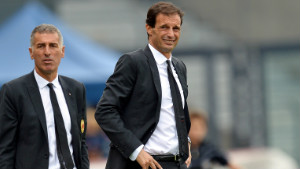 How did Allegri beat Barca?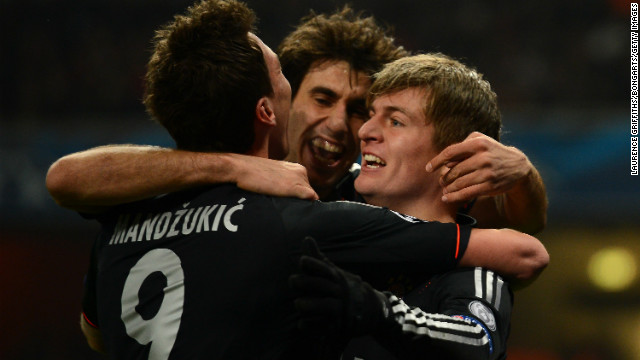 Toni Kroos fired Bayern Munich into a seventh minute lead as the German side made the perfect start to its last-16 Champions League clash at Arsenal.
Thomas Muller headed home Bayern's second after Arsenal keeper Wojciech Szczesny could only parry Daniel van Buyten's close range header.
Lukas Podolski headed Arsenal back into the tie, taking advantage of some poor defending to score against his former club just 10 minutes after the interval.
Mario Mandzukick bundled home a late third for Bayern to leave it in pole position going into the second leg in Munich on March 13.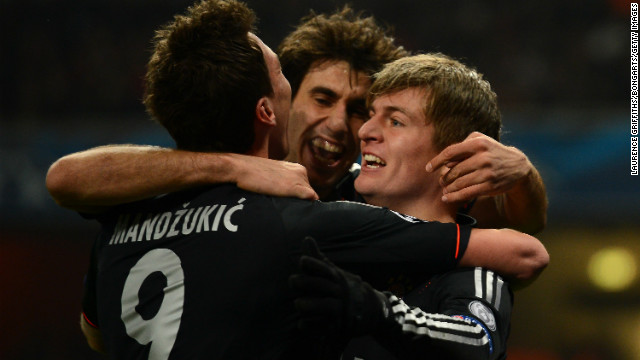 Bayern beat Arsenal in Champions League
In the German Cup, Bayern Munich continued its impressive run of form to make the last four after it overcame Borussia Dortmund 1-0 thanks to an Arjen Robben strike.
Robben's goal sealed Bayern's first triumph over Dortmund in three years following a run of six games without a win going back to February 2010.
Read: For Italy's 'ultras,' nothing black and white about football and racism
Meanwhile, UEFA has dismissed Schalke's protest over the eligibility of Galatasaray striker Didier Drogba to play in the Champions League.
"Having examined all the documents of the case, the Control and Disciplinary Body decided to reject the protest lodged by Schalke," said a UEFA statement.
The German side had claimed that the former Chelsea striker had not been registered in time to qualify for the knockout phase of the competition.
Drogba, 34, made his European debut for the Turkish club during the last 16 first leg tie on February 20 which finished 1-1.
Had Galatasaray been found guilty of fielding an ineligible player, it would have been handed a 3-0 deficit going into the second leg in Gelsenkirchen on March 12.
Elsewhere, Lazio was fined $52,500 and ordered to play their next two home games in Europe behind closed doors.
The punishment comes after its fans were accused of throwing fireworks and displaying racist behavior in the Europa League contest against Borussia Moenchengladbach on February 21.
That means the Italian club will play Stuttgart on March 14 behind closed doors as well as its next home tie.
Arsenal has announced that it will unveil a statue of Dennis Bergkamp in honor of the former striker's contribution to the club.
Bergkamp, who scored 120 goals in 423 appearances for the club following his move from Inter Milan in 1995, said: "Everyone knows that I love Arsenal and that I had a fantastic time at the club.
"I am honored that this is going to happen."