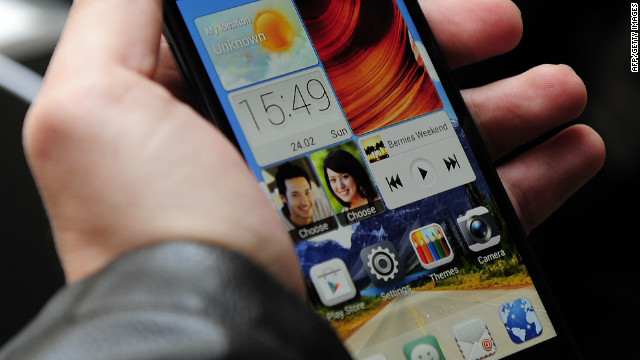 Chinese manufacturer Huawei's flagship Ascend P2 smartphone can be operated by users wearing gloves. It's just one of the innovations on display at year's Mobile World Congress -- a showcase of gadgets and gizmos that will allow us to wave goodbye to dying batteries, water damage and a whole range of perilous situations that dare to threaten the lives of our beloved mobile phones.
Fujitsu's Generation walking stick features GPS technology to track and monitor users
YotaPhone features both a color touch screen and a screen using low-power monochome e-ink
Sensirion's tiny temperature and humidity sensors will put a weather station in the palm of your hand.
Spheron's robotic balls, which can be controlled by Bluetooth-enabled mobile devices, were a hit at the Mobile World Congress
In the absence of any new phones, HTC offered acrobatic Parkour displays.
Sony's Xperia Tablet Z is waterproof, making it ideal for using in the bath or outdoors in bad weather.
The new Qualcomm Snapdragon processor comes with the ability to replicate a 7.1 surround sound speaker system via your mobile -- even through a pair of standard headphones.
Paddle is a shopping system that tries to make shopping online easier and safer. The idea is that e-commerce sites add a "buy with Paddle" button at the checkout, simplifying the payment process.
Nokia's 105 is a no-frills phone that just makes calls but boasts a 35-day battery life on standby. Sometimes it works just to keep things simple.
Nvidia has been showing off real-time High Dynamic Range photography capabilities that automatically adjust a picture for light and dark areas on the fly.
Ford has teamed up with Spotify to bring the music-streaming service to its Ford Sync AppLink cars in Europe. It's Ford SYNC AppLink allows drivers to control smartphone apps from the driver's seat, using voice control.
FonePad, Phablet, call it what you will -- the phone-tablet hybrid is the next step in the evolution of mobile technology.
French start-up Wysips has developed a transparent film (costing just over one dollar to make) that could bring an end to the dreaded dead-battery message forever. A photovoltaic display will let you charge your phone in the sun or even indoors via ambient light.
Chinese tech giant Huawei exhibits its water-resistant Ascend D2 smartphone in a fishbowl at their stand at the Mobile World Congress.
Nokia's wireless charging device is a pillow for your phone to rest on so that "it will wake refreshed and recharged". It is co-branded with Fatboy designer furniture and comes in a range of colors.
LG introduced the world's smallest wireless charger at the show -- just 6.9cm in diameter.
There's no need to worry about somebody sneakily reading your private messages ever again. Fujitsu's new flagship smartphone, the Arrows V F-04E, has "biometric security", which requires your fingerprint to unlock the phone.
The 'phablet' seems to be MWC 2013's must-have item. Samsung's Galaxy Note 8.0 is an eight inch tablet with phone capabilities.
Asus' phablet is the PadFone Infinity: A five inch smartphone that, once slotted into a dock, becomes a 10.1 inch tablet.
The Olloclip is the iPhone photographer's dream gadget: A quick-connect lens for the iPhone and iPod touch that includes fisheye, wide-angle and macro lenses in one.
A flamenco dancer performs for visitors at the Mobile World Congress to demonstrate the imaging capabilities of Intel's latest smartphone design.
Two men test a new Samsung 3D device during the first day of the Mobile World Congress.
New gadgets at the Mobile World Congress
New gadgets at the Mobile World Congress
New gadgets at the Mobile World Congress
New gadgets at the Mobile World Congress
New gadgets at the Mobile World Congress
New gadgets at the Mobile World Congress
New gadgets at the Mobile World Congress
New gadgets at the Mobile World Congress
New gadgets at the Mobile World Congress
New gadgets at the Mobile World Congress
New gadgets from the Mobile World Congress
New gadgets from the Mobile World Congress
New gadgets at the Mobile World Congress
New gadgets at the Mobile World Congress
New gadgets at the Mobile World Congress
New gadgets at the Mobile World Congress
New gadgets at the Mobile World Congress
New gadgets at the Mobile World Congress
New gadgets at the Mobile World Congress
New gadgets at the Mobile World Congress
New gadgets at the Mobile World Congress
New gadgets at the Mobile World Congress
New gadgets at the Mobile World Congress