Planet of sound: Meteor blast resonated around Earth
February 28, 2013 -- Updated 1537 GMT (2337 HKT)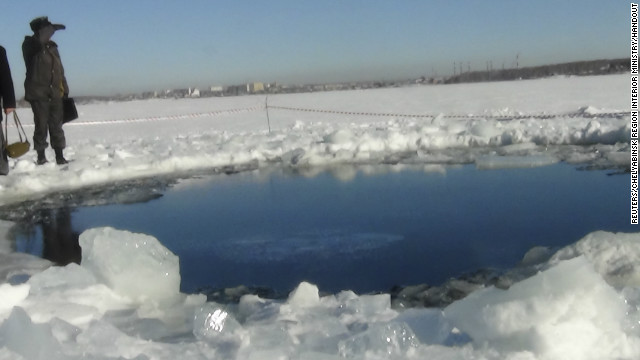 A large chunk of a meteor that exploded over Russia is found in a lake on Friday, February 15.
A meteor streaks through the sky before exploding with a flash and boom that shattered glass in buildings and left hundreds of people hurt.
Workers repair a damaged power line near the wall of a local zinc plant. About 270 buildings were damaged -- mostly broken glass -- by shock waves caused by the blast, said Vladimir Stepanov of the National Center for Emergency Situations at the Russian Interior Ministry.
The meteor leaves a white streak through the sky. The national space agency, Roscosmos, said scientists believed one meteoroid had entered the atmosphere, where it burned and disintegrated into fragments, according to RIA Novosti.
The meteor's vapor trail passes over the city.
A man removes shards of glass from the frame of a broken window.
The meteor damaged windows at a sports hall.
By noon Russia time more than 725 people had sought medical help.
Meteor explodes over Russia
Meteor explodes over Russia
Meteor explodes over Russia
Meteor explodes over Russia
Meteor explodes over Russia
Meteor explodes over Russia
Meteor explodes over Russia
Meteor explodes over Russia
STORY HIGHLIGHTS
Nuclear test sensors picked up meteor's sound wave as far away as Antarctica
Scientists used that sound to calculate the size of the space rock
Meteor created boom over Russia
(CNN) -- The meteor that exploded over the steppes of southwestern Russia sent a low-frequency rumble bouncing through the Earth, giving scientists new clues about the biggest cosmic intruder in a century.
The big boom over Chelyabinsk on February 15 also produced a wave of sound thousands of times lower than a piano's middle C -- far below the range of human hearing, according to the international agency that watches for nuclear bomb tests. The Comprehensive Test Ban Treaty Organization said that sound wave showed up on sensors from Greenland to Antarctica, making it the largest ever detected by its network.
Scientists then used that wave to calculate the size of the small asteroid that plunged to Earth, said Margaret Campbell-Brown, an astronomer at Canada's University of Western Ontario.
The duration of the wave -- about 32 seconds -- let scientists estimate the energy of the blast at between 450 and 500 kilotons, the size of about 30 early nuclear bombs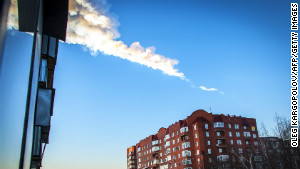 Meteor streaks through Russian skies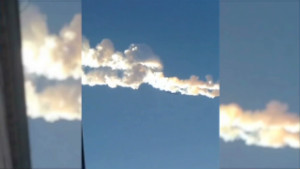 Russian meteor was like 'a rocket bomb'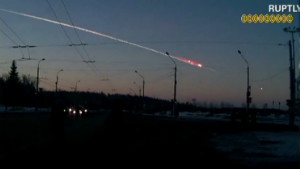 Over 100 tons of material falls daily
From there, Brown said, they could calculate the size of the fireball; and using an estimate of the meteor's speed from the numerous dashboard and mobile-phone cameras that captured the scene, it was "first-year physics" to figure out the approximate size and weight, she said.
The latest estimate is that the Chelyabinsk meteor was about 56 feet (17 meters) across, weighed more than 7,000 tons and was moving about 18 kilometers per second (40,000 mph) when it blew apart, she said.
Opinion: A meteor and asteroid: 1 in 100 million odds
"In terms of things we have observed, this is the largest since Tunguska," Brown said, referring to the suspected meteor that flattened a Siberian forest in 1908.
The nuclear test monitors pick up "infrasound", or low frequency, waves from about 20 meteors a year -- "if conditions are right, perhaps as small as a pea," she said.
Russian authorities say more than 1,500 people were hurt, mostly by flying glass, when the Chelyabinsk meteor exploded in spectacular fashion. Amateur video footage showed a bright white streak moving rapidly across the sky before exploding with an even brighter flash and a deafening bang.
Bill Cooke, head of NASA's Meteoroid Environment Office, said scientists believe the object originated in the asteroid belt between Mars and Jupiter. It was the Apollo group of asteroids, which circle the sun in oblong orbits, that occasionally cross Earth's.
Cooke said scientists expect to study the Chelyabinsk event for months. But the dozens of fragments that have been found so far point to a fairly common, stony asteroid with traces of nickel and iron.
"The composition is not at all unusual as far as meteorites go," he said. "It was just very big."
More space and science news on CNN's Light Years blog

Part of complete coverage on
December 13, 2013 -- Updated 1644 GMT (0044 HKT)

Put aside out-of-date views of Africa and see it the way Africans seem to: With a high level of optimism, a CNN survey shows.
December 13, 2013 -- Updated 0937 GMT (1737 HKT)

The all too real political theater playing out in Pyongyang may offer another tantalizing glimpse behind the opaque curtain of the North Korea.

Read the journal of Mira Sorvino, a human rights activist and Oscar winning actress, who went to Cambodia with the CNN Freedom Project.
December 13, 2013 -- Updated 0757 GMT (1557 HKT)

Kenya could reinvent itself as a center for innovation. But it needs to build new research universities and expand its education, one expert argues.
December 12, 2013 -- Updated 1819 GMT (0219 HKT)

The sign language interpreter widely ridiculed for his performance at the Nelson Mandela memorial stands by his work.
December 12, 2013 -- Updated 1456 GMT (2256 HKT)

Behind the scenes in Cambodian karaoke bars -- a common front for child prostitution.
December 12, 2013 -- Updated 0446 GMT (1246 HKT)

A global risk firm surveys the most politically explosive countries.
December 12, 2013 -- Updated 1509 GMT (2309 HKT)

On Tuesday, I was free. On Wednesday, I became a criminal. India's high court just made being gay illegal, writes Tushar Malik.
December 12, 2013 -- Updated 1046 GMT (1846 HKT)

A Japanese actor says playing villians in Chinese films has helped the China-Japan divide. CNN's Ivan Watson reports.
December 11, 2013 -- Updated 1524 GMT (2324 HKT)

Pope Francis is Time's person of the year. His papacy has drawn adulation from people around the world for his man-of-the-people ways.

He was imprisoned for life but that did not quiet him. Nelson Mandela became South Africa's first black president, and an icon and inspiration.
December 13, 2013 -- Updated 1333 GMT (2133 HKT)

Browse through images you don't always see in news reports, taken by CNN teams all around the world.

Today's five most popular stories