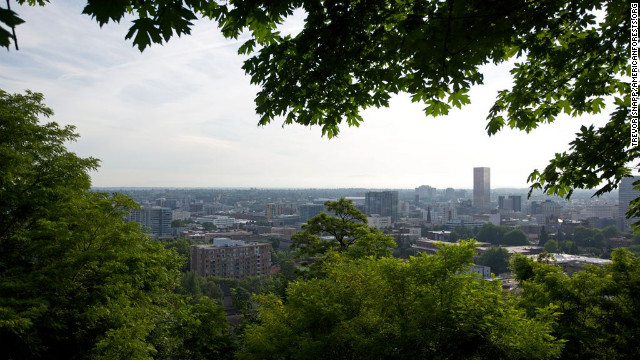 The nonprofit conservation group
American Forests
has researched the 50 most populous U.S. cities and named the 10 best urban forests. Click through the gallery to learn which big cities are big on trees. Portland, Oregon, offers bikers, runners, yoga enthusiasts and wildlife aficionados an urban tree canopy that continues to grow. The city boasts a park larger than 5,000 acres,
70 miles of hiking trails
, an arboretum with close to 1,000 species of trees and shrubs. Some of the city's derelict
parking lots
and even a freeway have been transformed into urban oases.
one million new trees by 2017
, which could increase the more than 2,000 tons of pollution the current trees remove each year.
Central Park, one of the most well-known urban parks in the world, may be the tree-peppered jewel in New York City's urban forest crown, but that's not the only green in the Big Apple. New York's mayor wants the city to plant
fittest
and
cleanest
cities in the country and one of the most forested. Every six blocks, there's a park, offering residents the opportunity for off-road cycling, hiking, canoeing and swimming. The city was one of the first to use the U.S. Forest Service's
iTree assessment tool
to determine the benefits of its urban forest. As a result, Minneapolis can boast an urban forest with a
structural value of $756 million
.
Minneapolis is one of the
13,000 trees
on private property.
Sacramento has become known as the "City of Trees," thanks to the thousands of volunteers that provide the city's trees with the equivalent of $100,000 worth of labor a year. The city's infrastructure and volunteers are so in-step that each year, one of the city's electric utilities and a nonprofit join forces to plant
300 days of sunshine
a year here, a 10-mile off-road trail in the heart of the city, a natural spring-fed swimming hole three acres large and bats that swarm the city at sundown each day. Nearly 18% of Austin is parkland with a diverse tree population that is reviewed on a five-year cycle in hopes of maintaining a strong and healthy tree canopy.
Austin's natural environment makes this urban forest quite lively: There are
300 days of sunshine
a year, but nowhere near as much rain. Yet even in these harsh conditions, the Denver Botanic Gardens contains more than 32,000 species of plants, and the City Park Arboretum contains more than 3,000 trees. Denver also requires developers to diversify tree species during landscaping and the city keeps records of the age distribution of the canopy and enforces tree ordinances. Denver estimates that $18 million in net income is from tourists visiting their park system.
Like Austin, Denver gets
$3.6 billion in structural value
to the city, and save $2.6 million in energy costs each year.
The National Mall, its monuments and memorials provide Washington with 17,000 trees. The nation's first urban park, Rock Creek Park, is also in D.C., which boasts more than 7,000 acres of parkland within its limits. The District's trees provide
National Gold Medal Award
in 2012 by the National Recreation and Park Association.
Charlotte's urban forest stands tall thanks to comprehensive management plans and tree ordinances designed to protect public and private trees. Thanks to the city's attention, Mecklenburg County, centered by Charlotte, was awarded the
Glaciers, Lake Michigan and the confluence of three rivers have put Milwaukee at a great geological advantage as an urban forest. But the challenges of Dutch elm disease and the emerald ash borer have led the city to implement diversification plans, as well as develop comprehensive inventories of its trees. As a result, Milwaukee maintains 25 acres of park per 1,000 residents, which provides the city with $15 million in stormwater savings and removes 496 tons of pollution a year.
Best U.S. urban forests: Portland
Best U.S. urban forests: New York City
Best U.S. urban forests: Minneapolis
Best U.S. urban forests: Sacramento
Best U.S. urban forests: Austin
Best U.S. urban forests: Denver
Best U.S. urban forests: Washington, D.C.
Best U.S. urban forests: Seattle
Best U.S. urban forests: Charlotte, N.C.
Best U.S. urban forests: Milwaukee