North Korean leader, NBA star watch hoops together
March 1, 2013 -- Updated 1212 GMT (2012 HKT)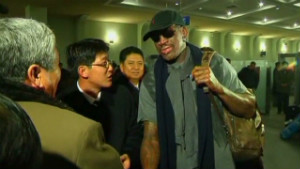 Dennis Rodman visits North Korea
(CNN) -- Former NBA star Dennis Rodman and North Korean leader Kim Jong Un watched a basketball game together in Pyongyang, the Chinese state news agency Xinhua reported Thursday.
READ: Dennis Rodman declares Kim a "friend for life"
The men chatted and laughed throughout at the Wednesday game, Xinhua said. The flamboyant Rodman reportedly spoke after the game, calling himself a friend of Kim and the North Korean people. He and three members of the famed Harlem Globetrotters arrived in North Korea on Tuesday to "entertain and inspire" with their basketball skills while they film a TV show.
The visit comes at a time of heightened tension between the United States and North Korea, a result of Pyongyang's pursuit of a nuclear program. Days ago, North Korea threatened "miserable destruction" in response to routine military exercises planned between South Korea and the United States.

Part of complete coverage on
May 21, 2013 -- Updated 2217 GMT (0617 HKT)

The image of the Gaza boy and his father under a hail of Israeli bullets became a powerful symbol. Now Israel insists its military is not to blame.
May 22, 2013 -- Updated 1831 GMT (0231 HKT)

The tornado that ripped through Oklahoma saw teachers rise to be surrogate parents, protectors and heroes, according to LZ Granderson.
May 21, 2013 -- Updated 1714 GMT (0114 HKT)

Did you know that hurricanes can also produce tornadoes? Read facts you didn't know about destructive twisters.
May 22, 2013 -- Updated 1301 GMT (2101 HKT)

The petite frame of 19-year-old Zoe Smith should fool nobody -- she's a weightlifting warrior who has fought stereotypes and broken a British record.
May 22, 2013 -- Updated 0441 GMT (1241 HKT)

Prime Minister Shinzo Abe calls women "Japan's most underutilized resource," yet traditions have been hard to overcome.
May 22, 2013 -- Updated 1455 GMT (2255 HKT)

According to the United Nations' mission in Iraq, 712 Iraqis were violently killed in April 2013. This is both normal and extraordinary.
May 22, 2013 -- Updated 1121 GMT (1921 HKT)

Myanmar's Muslims have generally coexisted with the Buddhist majority. But ethnic fault lines are exposed as it emerges from military rule.
May 22, 2013 -- Updated 1209 GMT (2009 HKT)

Actresses Carey Mulligan, Isla Fisher and Elizabeth Debicki tell CNN who gave them inspiration for their characters.
May 22, 2013 -- Updated 0521 GMT (1321 HKT)

A quarter century after his death, American pop artist Andy Warhol has popped up in China again after his first and only trip to the country in 1982.
May 22, 2013 -- Updated 1439 GMT (2239 HKT)

Revolutionary "bionic exoskeletons," like the metal suit worn by comic book hero Tony Stark, may be closer than you think.
May 21, 2013 -- Updated 1951 GMT (0351 HKT)

Photos: From Sharon Stone to Matt Damon, browse through the best from the Cannes red carpet this year.

Damnit we have work to do ... but not before we have another go at this annoyingly difficult web-based game.

Today's five most popular stories