South Korea boycott of Japanese goods over island dispute
March 2, 2013 -- Updated 0010 GMT (0810 HKT)
STORY HIGHLIGHTS
South Korean shop owners are launching a nationwide boycott of Japanese products
Protests Tokyo's claim of a group of islands called Dokdo in Korea, Takeshima in Japan
Korean shops pledge not to sell popular Japanese brands such as Sony and Asahi beer
Latest in a series of territorial claims between nations in the East and South China seas
(CNN) -- South Korean shop owners are launching a nationwide boycott of Japanese products over a territorial dispute between the two countries.
The President of the Save Local Stores Alliances, Oh Ho-suk, claims most of the alliance's 7.2 million members will ultimately participate in the effort. They are pledging not to sell popular Japanese products like Mild Seven cigarettes, Asahi beer and Sony electronics. Some car mechanics are also saying they will refuse to repair cars from Japanese brands like Toyota, Honda and Nissan.
"We will continue this boycott until we get a sincere apology from the Japanese government," Oh says.
His group is angry over Japan's continuing claim to a series of islands that lie between the two countries. Seoul calls the islands Dokdo, Tokyo calls them Takeshima. Both countries claim them, but they are currently under South Korean control.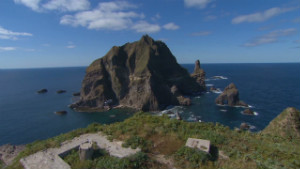 Japan's other island dispute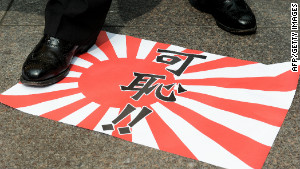 Clinton: Diplomacy to end land disputes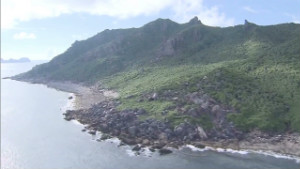 Why is Japan feuding over islands?
The dispute is the latest in a series of competing national claims to islands in the East and South China seas, where ownership can give exclusive rights to fishing, oil production and other commercial activities in surrounding waters.
Large Japanese exporters like Toyota and Canon suffered declining sales in China last fall when a separate island dispute between those two countries escalated into a major product boycott. Protests turned violent in September after the Japanese government purchased the island chain -- known as Diaoyu in China and Senkaku in Japan -- from private Japanese owners.
READ: Dangerous waters: Behind the islands dispute
This is the first such boycott to be launched over the recent flare-up in tensions between Japan and South Korea.
Police say over 200 people participated in a protest today in Seoul to launch the boycott, chanting "we will not sell or buy Japanese products." They threw eggs at a sign featuring Japanese brand logos, waved South Korean flags and held signs reading "Dokdo is our territory" and the "Japanese government must apologize." Many of the women attending dressed in the traditional Korean garb known as the hanbok.
The protests marched from Topgol Park to Gwanghwamun Square. Oh says they handed out 50,000 flyers about the boycott. March 1 is a public holiday in South Korea which celebrates the launch of the independence movement from Japan in 1919.
Japan Tobacco, owner of Mild Seven, Winston and Camel, and Asahi Breweries declined to comment on the boycott.
CNN's Junko Ogura in Tokyo contributed to this report.

Today's five most popular stories
Part of complete coverage on
Asia's disputed islands

At first sight it looks like a scene from a post-apocalyptic movie. Journalist Tomas Etzler travels to one of the most remote locations in the South China Sea -- the front line of a dispute between the Philippines and China.
November 29, 2013 -- Updated 0521 GMT (1321 HKT)

President Xi Jinping has reshaped China's foreign policy by recalibrating its stresses on sovereignty and stability, writes Shen Dingli.
November 27, 2013 -- Updated 0412 GMT (1212 HKT)

Two U.S. military aircraft flew into China's new air defense zone, an action that could inflame power tensions, a U.S. official said.
November 27, 2013 -- Updated 0715 GMT (1515 HKT)

Tensions magnified among the world's top three economies over China's controversial new air defense zone.

CNN looks at the main flashpoints as tension simmers between rival countries over a series of scattered and relatively barren islands.
November 27, 2013 -- Updated 0024 GMT (0824 HKT)

CNN's David McKenzie reports from Beijing on why the Chinese claim sovereignty over an area in the East China Sea.
November 1, 2013 -- Updated 0042 GMT (0842 HKT)

Surprise, surprise, Japan and China are still not getting along, writes Jeff Kingston of Temple University in Japan.
October 25, 2013 -- Updated 0935 GMT (1735 HKT)

Japan is using YouTube to bolster assertions of ownership over islands also claimed by neighboring China and South Korea.
August 6, 2013 -- Updated 0100 GMT (0900 HKT)

Players join the ranks of the country's military to take on the enemy in China's first online game co-developed by the People's Liberation Army.
April 24, 2013 -- Updated 1016 GMT (1816 HKT)

The fragile relationship between China and Japan came under fresh strain as ships from both sides crowded around the disputed islands.
April 8, 2013 -- Updated 1753 GMT (0153 HKT)

Sightseeing cruises soon to set sail to China's newest city, Sansha, located on a disputed island in the South China Sea, a Chinese official said.

America's power and purpose are in jeopardy if the world's three largest economies cannot step back from the brink, writes Patrick Cronin.
November 15, 2012 -- Updated 0854 GMT (1654 HKT)

China uses perceived provocations as a chance to change the status-quo in its favor, writes Stephanie Kleine-Ahlbrandt.