STORY HIGHLIGHTS
EPL plans to introduce goal-line technology in time for the start of 2013/14 season
European body UEFA opposed to the use of technology in football
Four goal-line technology systems have been officially licensed by FIFA
GLT was used for the first time at December's Club World Cup in Japan
(CNN) -- The English Premier League is set to make history in August by becoming the first soccer league to introduce goal-line technology.
Goal-line technology (GLT) was used for the first time at the Club World Cup in Japan and the EPL plans to have it in place for the 2013-14 season.
"We are in ongoing discussions with two potential providers with a view to having GLT installed for the start of the '13-14 season," EPL spokesman Dan Johnson told CNN.
"The system, whichever one we choose, has to be installed and in use in all grounds to satisfy integrity of competition issues."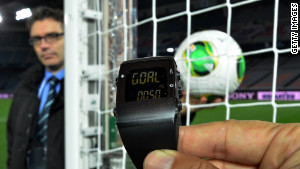 Goal line technology gets rave reviews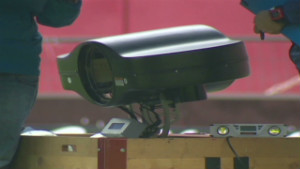 Goal-line technology approved by FIFA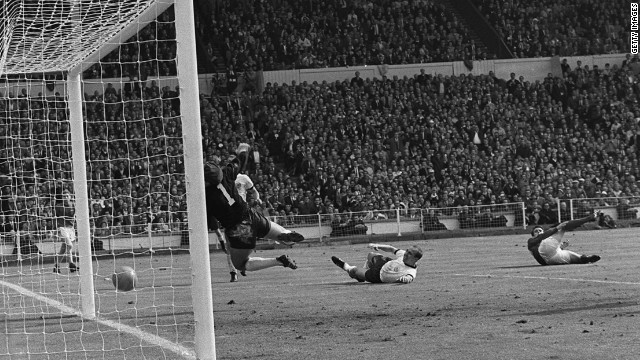 Deciding whether or not a shot has crossed the line has long been an issue in football. Arguably the most famous incident was in the 1966 World Cup final, when England's Geoff Hurst saw his shot in extra-time bounce down off the underside of the West Germany crossbar. A goal was awarded, giving England a 3-2 lead, with the hosts going on to win the match 4-2.
Hurst's goal was awarded after referee Gottfried Dienst consulted Azerbaijan linesman Tofik Bakhramov who judged the ball had bounced beyond the line. Azerbaijan's national stadium is named after folk hero Bakhramov, who even had a statue modelled in his honour.
England have been at the center of some of the most famous goal-line controversies. At the 2010 World Cup, England and Germany met again in the round of 16. With Germany leading 2-1, England's Frank Lampard hit a shot which struck the bar and landed well over the goal line, but no goal was awarded, and Germany won 4-1.
At the Euro 2012 tournament, England were involved in controversy for a third time. Co-hosts Ukraine needed to beat England to advance from the group stage, but fell behind to a Wayne Rooney header. Artim Milevskiy thought his shot had crossed the line before John Terry was able to hook it clear, but once again no goal was given and Ukraine crashed out.
Two months earlier Terry had been involved in another goal-line incident, this time for club team Chelsea. In an FA Cup semifinal with Tottenham Hotspur, Chelsea's Juan Mata hit a shot which was inadvertently blocked by Terry, but a goal was given and Chelsea won 5-1.
Hawkeye ball-tracking technology was first used in tennis in 2006, with players able to challenge calls by umpires and line judges. Each player is allowed three challenges in each set, but they do not lose a challenge if it the technology shows the umpire or line judge made the wrong call.
Other sports have embraced video technology. Cricket uses the Decision Referral System (DRS) to rule on leg before wicket (lbw) calls. Hawkeye ball-tracking software is used to see whether a delivery was in line to strike the stumps before hitting the batsman's leg.
Both rugby codes -- league and union -- use a video referee to rule on whether a try should be awarded. The video referee was first introduced at the rugby league Super League World Nines tournament in 1996 and the "Television Match Official" is widely used in possible point-scoring situations.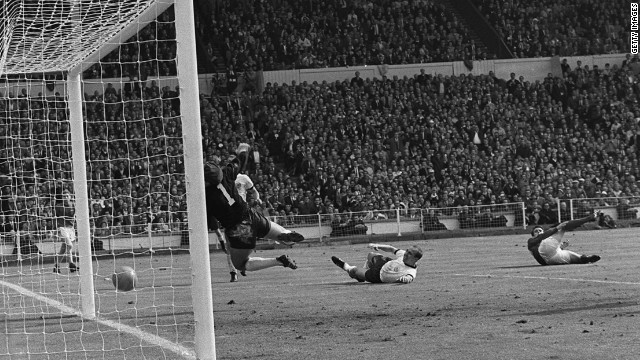 Football's goal-line controversies
Read: Will football regret opening can of worms?
However, the EPL's position on GLT is not mirrored throughout European football.
UEFA, which runs European competitions such as the Champions League and the Europa League, is opposed to the use of technology, instead preferring to continue with the use of extra officials behind the goal.
"UEFA and its president have made it clear on several occasions that we would not introduce goal-line technology in our competitions as we are completely satisfied with the additional assistant referees," read a statement issued to CNN.
Earlier this month, football's global governing body FIFA confirmed it will use GLT for June's Confederations Cup in Brazil.
The competition acts as a warmup for the 2014 World Cup in the same country, during which FIFA also intends to use GLT.
FIFA has so far granted four companies licenses to provide technology systems.
British firm Hawk-Eye, which already provides services to tennis and cricket, and German company GoalRef were both granted permission by FIFA following successful trials last year.
Both manufacturers had systems in place at December's Club World Cup in Japan.
Two further German systems have been approved this week: Cairos, which uses magnetic fields; and GoalControl, which relies on 14 high speed cameras positioned around the pitch.
A decision on which system will be used for the Confederations Cup will be made in early April.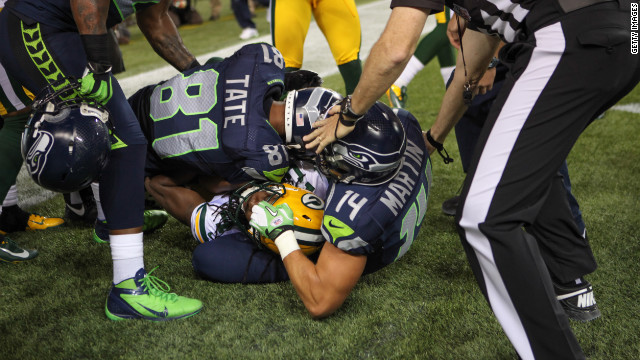 NFL fans were in uproar earlier this week, when refereeing mistakes led to a last-minute touchdown by the Seattle Seahawks being awarded, giving the franchise a win over the Green Bay Packers. Top-level officials have been locked out of the NFL over a new collective bargaining agreement.
Football has had numerous goalline controversies, leading to calls for the sport to adopt technology. Most notably at the 2010 World Cup, when England's Frank Lampard saw his "goal" disallowed in a match against Germany, despite the ball landing well over the line. The incident led to FIFA president Sepp Blatter admitting that the sport needed to embrace goalline technology.
But Blatter's European counterpart Michel Platini disagrees. The UEFA president would prefer football to expand the use of extra match officials.
Extra officials behind each goal have been used in football's Europa League since 2009 and five officials were used during the European Championships earlier this year.
Sports such as tennis, cricket and the codes of rugby union and league have also incorporated the use of technology to help officials make the correct decisions.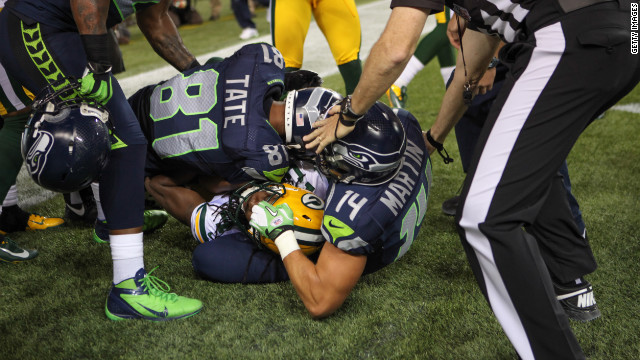 Officiating technology in sport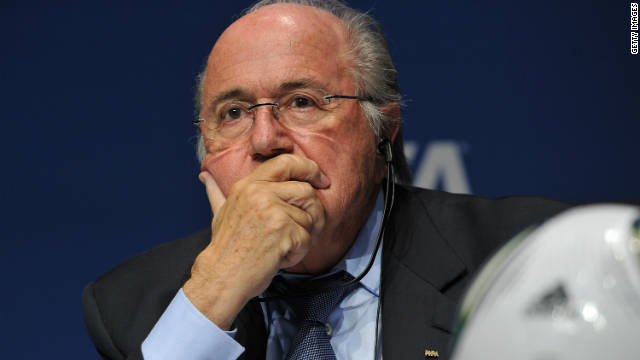 FIFA president Sepp Blatter's 2011 remarks on racism in football -- that on-pitch abuse can be solved with a handshake -- were just one of a series of controversial quotes to be attributed to the head of world soccer.
In 2004, Blatter -- seen here with Brazil star Marta -- angered female footballers with his suggestion for how the women's game could be made more appealing. "They could, for example, have tighter shorts," said the Swiss. "Let the women play in more feminine clothes like they do in volleyball."
In 2010, when England captain John Terry, who is married, was reported to have slept with the partner of his former Chelsea teammate Wayne Bridge, Blatter responded: "If this had happened in, let's say, Latin countries then I think he would have been applauded."
In 2008 Blatter was ridiculed after defending the desire of Manchester United's highly-paid star Cristiano Ronaldo to join Real Madrid. He said: "I think in football there's too much modern slavery in transferring players or buying players here and there, and putting them somewhere." In 2013 he had to apologize to Ronaldo after a bizarre impersonation of the Madrid star.
Blatter performed a U-turn on the use of goal-line technology and apologized to the English Football Association after an incorrect decision during the 2010 World Cup. Despite replays showing a shot from England's Frank Lampard had clearly crossed the line in the last-16 clash with Germany, the goal was not awarded.
Blatter had earlier refused to take action when Thierry Henry's blatant handball denied the Republic of Ireland a place at the 2010 World Cup finals. Even the France striker admitted the fairest solution was to replay the playoff match.
In December 2010, Blatter was heavily criticized for suggesting gay football fans should "refrain from sexual activity" if they wished to attend the 2022 World Cup in Qatar, where homosexuality is illegal. Blatter later apologized and said it had not been his intention to offend or discriminate.
Blatter clashed with fellow members of FIFA's executive committee when he suggested the 2022 FIFA World Cup could be played in January to avoid high temperatures in Qatar. He said the move would "protect the players and also the spectators." Qatar flatly rejected Blatter's suggestion at the time, but FIFA is now reviewing whether to adopt it.
In December 2010 Blatter insisted that FIFA was "not corrupt ... there are no rotten eggs" despite two of his executive committee members -- Amos Adamu, pictured, and Reynald Temarii -- being suspended for accepting bribes in the lead-up to the vote for awarding hosting rights for the 2018 and 2022 World Cups. He called England "bad losers" after losing out to Russia.
Blatter stood unopposed for re-election in July after his former ally Mohamed bin Hammam quit the race days before the ballot after being accused of offering cash for votes. The Qatari, a top FIFA official, has been banned from football.
Blatter faced a criminal investigation after winning the 2002 FIFA presidential election, being accused of financial mismanagement by 11 former members of the ruling body's executive committee, including his 1998 election rival Lennart Johansson, right. However, prosecutors dropped the case due to a lack of evidence.
In January 2013, AC Milan midfielder Kevin-Prince Boateng led his team off the pitch after being subjected to racist chanting. His actions were hailed across the world. But Blatter was more cautious about the issue, refusing to support the move. "I don't think you can run away, because eventually you can run away if you lose a match," he said in an interview with a newspaper in the UAE. "This issue is a very touchy subject, but I repeat there is zero tolerance of racism in the stadium; we have to go against that." Others, like AC Milan president Silvio Berlusconi, have disagreed with him. "I am of the opposite view (to Blatter)," said Berlusconi. "I thanked and congratulated my players for their decision to leave the field."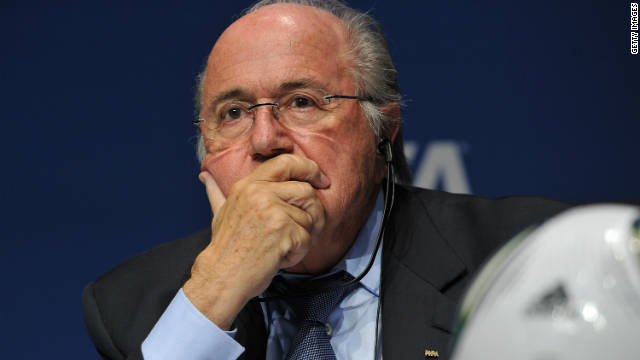 Blatter: A controversial leader
Meanwhile, the EPL's longest serving player, Manchester United veteran Ryan Giggs, has signed a new one-year contract on the eve of what could be the 1,000th game of his illustrious career.
The 39-year-old, who made his United debut 1991, could achieve the landmark when Alex Ferguson's EPL leaders take on Norwich City at Old Trafford on Saturday.
Giggs also collected 64 caps for Wales before retiring from international football in 2007 and played for the British Olympic team at London 2012.
The midfielder has made more appearances for United than any other player and is the most decorated footballer in English soccer history.
He has won 12 league titles, four FA Cups, the League Cup on four occasions and the Champions League in 1999 and 2008.
""I am feeling good, enjoying my football more than ever and, most importantly, I feel I am making a contribution to the team," Giggs told United's official website.
"This is an exciting team to be part of, with great team spirit, and we are again pushing for trophies as we head towards the business end of the season."
United will be looking to open up a 15-point lead over neighbors and reigning champions Manchester City when they entertain Norwich.
City, currently second in the table, travel to relegation-threatened Aston Villa on Monday.