Iraqi minister resigns amid protests
March 1, 2013 -- Updated 2041 GMT (0441 HKT)
STORY HIGHLIGHTS
Iraqi Finance Minister Rafaie al-Esawi announces his resignation
He says the government has not met the demands of protestors
The protests began after his bodyguards were arrested on government orders
(CNN) -- Iraqi Finance Minister Rafaie al-Esawi announced his resignation Friday, a move triggered by daily demonstrations by Sunnis over grievances they have against the Shiite-dominated government, his spokesman said.
Sunni demonstrators in provinces such as Anbar and Mosul have called for an end to what they consider second-class treatment.
The finance minister resigned because the government has not met the demands of the demonstrators to end the marginalization, spokesman Aysar Ali told CNN.
READ: Bombs target Shiite neighborhoods, claim 21lives in Iraq
The protests began in late December when Sunni demonstrators took to the streets in Anbar province to protest an order to arrest the bodyguards of al-Esawi, a Sunni.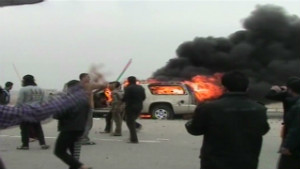 Iraqi soldiers fire on protesters
The arrest of al-Esawi's bodyguards came just hours after President Jalal Talabani, a Kurd who was widely viewed as a stabilizing political force in Iraq, left the country about two weeks after suffering a stroke.
The protesters also are demanding the release of detainees they say are being held without charges, calling the government corrupt and accusing it of unfairly targeting Iraq's Sunni people.
The protests grew in January, when at least seven people were killed in shootings during a protest by Sunnis in Falluja.
The Sunni protests have been countered by mostly Shiite, pro-government demonstrations, raising fears that the sectarian division could bring violence in the streets.
Sunnis make up about 20% of Iraq's estimated population of more than 27 million, whereas about 60% to 65% are Shiite.
Since the fall of Saddam Hussein's Sunni-dominated regime in 2003, Sunnis in Iraq have been largely disaffected. The gulf was widened in 2005 when Sunnis boycotted the country's election, opening the way to a heavily dominated Shiite government.
CNN's Mohammed Tawfeeq and Chelsea J. Carter contributed to this report.

Part of complete coverage on
May 24, 2013 -- Updated 0648 GMT (1448 HKT)

"It's always the one we feared, the lone wolf that can come from nowhere and not be on our radar," said ex-London police chief John Yates.

Learn about one woman's tireless battle against sex slavery in the Philippines, with Manny Pacquiao in her corner. Watch the full version here.
May 23, 2013 -- Updated 1043 GMT (1843 HKT)

Ai Weiwei, the controversial Chinese artist-activist, has released a music single and video inspired by his harrowing detention by the government.
May 24, 2013 -- Updated 0613 GMT (1413 HKT)

CNN's Christiane Amanpour and Nic Robertson give their insight on the brutal murder of a man in broad daylight.
May 23, 2013 -- Updated 1415 GMT (2215 HKT)

Imagine if you could paint a working light switch directly onto your wall, without any need for sockets, cables or wiring. Well, now you can.
May 23, 2013 -- Updated 1445 GMT (2245 HKT)

A rare Apple 1 computer, with only 50 in existence today, could sell at auction for $400,000.
May 21, 2013 -- Updated 1714 GMT (0114 HKT)

Did you know that hurricanes can also produce tornadoes? Read facts you didn't know about destructive twisters.
May 23, 2013 -- Updated 1119 GMT (1919 HKT)

The World Economic Forum has declared Egypt one of the most dangerous places for tourists, above Yemen and Pakistan in terms of risks for visitors.
May 23, 2013 -- Updated 2107 GMT (0507 HKT)

Doctors used an experimental technique never tried before on humans to save the life of a six-week-old baby from a rare lung condition.

Five years after the 2008 Olympics construction boom, new Beijing hotels have steadily cropped up.

Today's five most popular stories