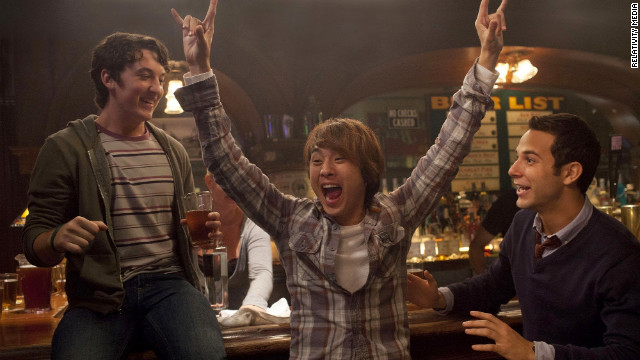 "21 and Over" is the latest movie about wild and crazy college students to hit theaters. "Animal House," "Old School" and others give the new comedy big shoes to fill. Re-live your college days with these hilarious flicks:
Greek life never looked so good. Anthony Edwards, left, Robert Carradine, center, and Curtis Armstrong starred in "Revenge of the Nerds." When the men are left without a place to live, they start their own fraternity, Lambda Lambda Lambda.
"Triple Lindy,"
the most challenging dive known to man.
Rodney Dangerfield played self-made millionaire Thornton Melon in the 1986 classic "Back to School." Melon, dubbed "the world's oldest living freshman" by Dean Martin, enrolls in college in support of his son. There he falls for his professor (Sally Kellerman) and performs the
When Breckin Meyer's Josh Parker, second from left, accidentally sends his long-distance girlfriend an incriminating tape, he and his buds drive across the country to retrieve it in Todd Phillips' "Road Trip." Paulo Costanzo, left, Seann William Scott, DJ Qualls and Tom Green, not pictured, also star.
Thanks to the magical marijuana they smoke before the THC exam (a play on the SATs and one of the chemicals in marijuana), Silas (Method Man) and Jamal (Redman) get into Harvard. Staying there, however, isn't so simple.
part-time job
, and what really goes on at band camp.
We didn't think life could get any crazier for Jim Levenstein (Jason Biggs) and friends after seeing "American Pie." Then the sequel hit theaters. During the summer before sophomore year of college, the gang showed us how to make the most of a
"National Lampoon's Van Wilder" introduced us to Ryan Reynolds. His character, Van, a longtime college student, is forced to clean up his act after his father (played by "Animal House's" Tim Matheson) informs him that he'll no long be paying his tuition.
Cool Ethan
, they're forced to set him up with the prettiest girl in school (Jaime King) to keep him from outing them to the administration.
Michael C. Maronna, left, Devon Sawa, center, and Jason Segel star as resourceful cheaters in Dewey Nicks' "Slackers." But when the men are found out by Jason Schwartzman's
Luke Wilson, Will Ferrell (aka. Frank the Tank) and Vince Vaughn prove you're never too old for college in "Old School." The men attempt to relive their college days by starting a fraternity and going head-to-head with the evil Dean Pritchard (Jeremy Piven.)
When Justin Long's Bartelby can't get into college, he invents the South Harmon Institute of Technology (we'll let you figure out why that's funny) in "Accepted." Blake Lively played his love interest and Jonah Hill, not pictured, played his best bud.
After being asked to leave the Playboy Mansion, Shelley (Anna Faris) finds work as a sorority housemother in "The House Bunny." Emma Stone stars as one of the Zeta Alpha Zetas that Shelley makes over, and Hugh Hefner makes an appearance.
'21 and Over' and other crazy college movies
'Animal House' (1978)
'Revenge of the Nerds' (1984)
'Back to School ' (1986)
'Road Trip' (2000)
'How High' (2001)
'American Pie 2' (2001)
'Van Wilder' (2002)
'Slackers' (2002)
'Old School' (2003)
'EuroTrip' (2004)
'Accepted' (2006)
'The House Bunny' (2008)