Retrial of Egypt's Mubarak starts next month
March 4, 2013 -- Updated 1335 GMT (2135 HKT)
STORY HIGHLIGHTS
Mubarak is serving a life sentence, which he appealed
He has suffered a wide range of physical problems
(CNN) -- Former Egyptian President Hosni Mubarak, his two sons and his former interior minister will be retried April 13, Egypt's state-run news agency Mena said Sunday.
Mubarak is serving a life sentence for his role in the killings of peaceful protesters during the revolution that eventually deposed him.
He and his former interior minister Habib al-Adly appealed their life sentences. And a judge agreed.
The judge also said that others facing charges should also be retried, including six interior ministry deputies.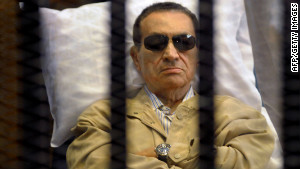 Hosni Mubarak's legacy in Egypt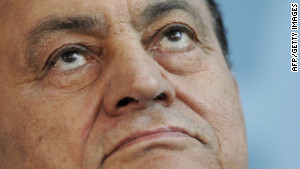 Hosni Mubarak's impact on Egypt
Essam El-Erian, a senior adviser to Egyptian President Mohamed Morsy, said in January that the government looked forward to a second trial.
"God willed the retrial would take place under Morsy's rule, with new evidence and new defendants," El-Erian said.
Mubarak, who ruled Egypt for 30 years, was found guilty in June of ordering the killing of protesters and was immediately transferred to Tora prison in southern Cairo to serve his life sentence.
The 84-year-old has suffered a range of physical problems since he was driven from office in February 2011, following weeks of protests by Egyptians demanding more freedom and reforms.
He attended his trial later that year on a gurney.
In December, Mubarak was transferred to a military hospital after suffering a head injury and a bruised chest when he slipped in a prison hospital bathroom, Egyptian state-run media reported.

Part of complete coverage on
Egypt
December 14, 2012 -- Updated 1618 GMT (0018 HKT)

In scenes reminiscent of the mass demonstrations that brought about the downfall of former president in 2011, thousands of protestors have turned out in Cairo.
November 26, 2012 -- Updated 1639 GMT (0039 HKT)

Egyptian President Mohamed Morsy's decree giving himself new powers has unified opposition groups that fear any moves toward Islamic rule, critics say.
November 27, 2012 -- Updated 1711 GMT (0111 HKT)

Morsy's decision to grant himself unquestioned authority was not the final phase in a Muslim Brotherhood plan to erect a holy autocracy, writes Tarek Masoud.
November 28, 2012 -- Updated 0218 GMT (1018 HKT)

Clashes between protesters and security forces build over Egyptian President Morsy's decrees. CNN's Reza Sayah reports.
November 28, 2012 -- Updated 0153 GMT (0953 HKT)

CNN's Reza Sayah goes into the heart of the evening crowd in Tahrir Square for a personal look at the anti-Morsy rally.
December 18, 2012 -- Updated 2240 GMT (0640 HKT)

Activists have been camping out in Tahrir Square to protest what they consider overreaching powers for the president.
November 22, 2012 -- Updated 1958 GMT (0358 HKT)

Morsy has won praise for his government's effort to bring about a cease-fire between Israel and Hamas.
November 27, 2012 -- Updated 1402 GMT (2202 HKT)

iReporter Ahmed Raafat tells CNN why he is protesting against Egyptian President Mohamed Morsy in Cairo.

Are you in Egypt? Share your stories, videos and photos with the world on CNN iReport.
Today's five most popular stories