U.S. investigates soldier shooting, car chase in South Korea
March 4, 2013 -- Updated 0657 GMT (1457 HKT)
STORY HIGHLIGHTS
The U.S. Army said Monday it "regrets" an incident in which a U.S. solider was shot
Yonhap: Soldier allegedly refused to stop for South Korean police and shot in shoulder
The solider and two others were involved in a late Saturday car chase through the streets of Seoul
(CNN) -- The U.S. Army said Monday it "regrets" an incident in which a U.S. solider was shot after allegedly refusing to stop for South Korean police, leading to a car chase through Seoul late Saturday night.
The 23-year-old private first class was shot in the shoulder after midnight on Saturday during the incident, according to Yonhap, a government-affiliated South Korean news agency.
South Korean police claim the soldier tried to run over a police officer on a dead-end street, according to Yonhap. The officer fired a warning shot and three shots into the car, but the car sped away and was later found near the Yongsan Garrison, home of the 8th U.S. Army in South Korea, Yonhap said.
The shooting victim -- whose name has not been released -- is in stable condition at the Brian Allgood Community Hospital in Seoul, according to the 8th U.S. Army Public Affairs office.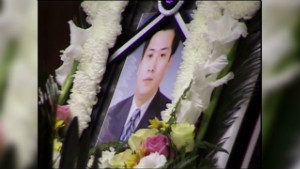 South Korean missionary dies in China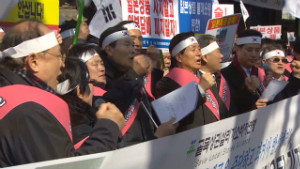 Island dispute leads to product boycott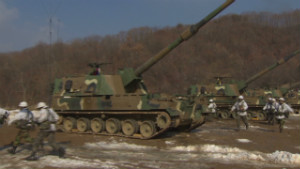 South Korea shows it's prepared for war
U.S. forces received a subpoena Monday morning for the two other individuals involved in the incident, U.S. military officials told CNN. The pair met with South Korean police later in the day, officials said.
The U.S. Criminal Investigation Command, who is responsible for investigating criminal incidents among U.S. forces anywhere in the world, are helping the Korean National Police with the investigation, the spokesperson said.
The serviceman was tested but "initial results do not indicate the presence of alcohol," the army said.
"Although the details of this incident are unclear, we take all incidents involving U.S. service members in the local community very seriously and will work closely with the Korean National Police as they continue their investigation," said Brig. Gen. Chris Gentry, Eighth Army deputy commanding general, in a news release.
The incident began when police received calls American soldiers were threatening people with an air rifle near Itaewon subway station, local police told Yonhap. The soldier, a U.S. Army staff sergeant and his wife then fled in a vehicle, beginning a high-speed pursuit with local police.
A police officer and two bystanders suffered minor injuries and four cars were damaged in the chase, Yonhap reported.
"Eighth Army's relationship with the Korean community is very important and we regret this unfortunate incident," the 8th U.S. Army Public Affairs office said in a news release. "We are thankful for the continued support to our soldiers and families by our Korean hosts as we continue to enforce the highest standards of professionalism among our service members."
There are about 28,500 U.S. soldiers in South Korea, a military ally of Washington. U.S. troops have been in the region since the Korean War, in which an armistice was signed in 1953 but a peace treaty never ratified. Tensions still flare on the Korean peninsula, as seen by the recent North Korean rocket launch and underground nuclear testing.

Part of complete coverage on
December 4, 2013 -- Updated 1338 GMT (2138 HKT)

Bolshoi Ballet artistic director Sergei Filin says no jail term for his attackers can give him back what he has lost: His eyesight.
December 4, 2013 -- Updated 1953 GMT (0353 HKT)

Michael Morton spent a quarter of a century in jail for killing his wife -- a crime he didn't commit.
December 4, 2013 -- Updated 1535 GMT (2335 HKT)
A fire that engulfed Paul Walker's Porsche did not erupt until a minute after the car crashed.
December 4, 2013 -- Updated 1236 GMT (2036 HKT)

When you've stood at the edge of space, regular life is always going to be a bit of a comedown.

Tensions between China and Japan are at their worst in half a century, the former top U.S. State Department official for East Asia told CNN's Amanpour.

Whatever business is generated in the West Bank seems to be derailed by the stalemate in peace talks and sporadic violence.
December 4, 2013 -- Updated 1048 GMT (1848 HKT)

How did an ex-mining town in northern France become an art haven?
December 4, 2013 -- Updated 1207 GMT (2007 HKT)

These photographic nuptials will either inspire, or mock, your own.

CNN's Amanda Davies gives her impression of the German Formula One racing driver and world champion.
December 3, 2013 -- Updated 1643 GMT (0043 HKT)

Heather Abbott is walking in four-inch heels seven months after losing her left leg in the Boston marathon bombing.
December 4, 2013 -- Updated 1208 GMT (2008 HKT)

Taking pot shots at Amazon's delivery drone ... CNN's Jeanne Moos reports on tickling the drone's funny bone.

Today's five most popular stories