U.S. investigates soldier shooting, car chase in South Korea
March 4, 2013 -- Updated 0657 GMT (1457 HKT)
STORY HIGHLIGHTS
The U.S. Army said Monday it "regrets" an incident in which a U.S. solider was shot
Yonhap: Soldier allegedly refused to stop for South Korean police and shot in shoulder
The solider and two others were involved in a late Saturday car chase through the streets of Seoul
(CNN) -- The U.S. Army said Monday it "regrets" an incident in which a U.S. solider was shot after allegedly refusing to stop for South Korean police, leading to a car chase through Seoul late Saturday night.
The 23-year-old private first class was shot in the shoulder after midnight on Saturday during the incident, according to Yonhap, a government-affiliated South Korean news agency.
South Korean police claim the soldier tried to run over a police officer on a dead-end street, according to Yonhap. The officer fired a warning shot and three shots into the car, but the car sped away and was later found near the Yongsan Garrison, home of the 8th U.S. Army in South Korea, Yonhap said.
The shooting victim -- whose name has not been released -- is in stable condition at the Brian Allgood Community Hospital in Seoul, according to the 8th U.S. Army Public Affairs office.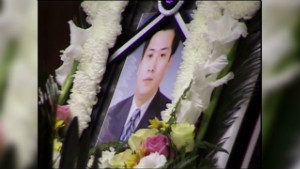 South Korean missionary dies in China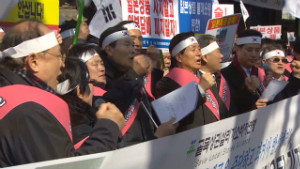 Island dispute leads to product boycott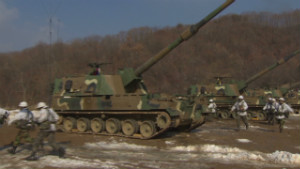 South Korea shows it's prepared for war
U.S. forces received a subpoena Monday morning for the two other individuals involved in the incident, U.S. military officials told CNN. The pair met with South Korean police later in the day, officials said.
The U.S. Criminal Investigation Command, who is responsible for investigating criminal incidents among U.S. forces anywhere in the world, are helping the Korean National Police with the investigation, the spokesperson said.
The serviceman was tested but "initial results do not indicate the presence of alcohol," the army said.
"Although the details of this incident are unclear, we take all incidents involving U.S. service members in the local community very seriously and will work closely with the Korean National Police as they continue their investigation," said Brig. Gen. Chris Gentry, Eighth Army deputy commanding general, in a news release.
The incident began when police received calls American soldiers were threatening people with an air rifle near Itaewon subway station, local police told Yonhap. The soldier, a U.S. Army staff sergeant and his wife then fled in a vehicle, beginning a high-speed pursuit with local police.
A police officer and two bystanders suffered minor injuries and four cars were damaged in the chase, Yonhap reported.
"Eighth Army's relationship with the Korean community is very important and we regret this unfortunate incident," the 8th U.S. Army Public Affairs office said in a news release. "We are thankful for the continued support to our soldiers and families by our Korean hosts as we continue to enforce the highest standards of professionalism among our service members."
There are about 28,500 U.S. soldiers in South Korea, a military ally of Washington. U.S. troops have been in the region since the Korean War, in which an armistice was signed in 1953 but a peace treaty never ratified. Tensions still flare on the Korean peninsula, as seen by the recent North Korean rocket launch and underground nuclear testing.

Part of complete coverage on
May 23, 2013 -- Updated 2302 GMT (0702 HKT)

When the former teacher Ingrid Loyau-Kennett saw the bloodied man wielding a knife, she tried to engage him in a conversation to distract him.
May 24, 2013 -- Updated 1053 GMT (1853 HKT)

A man dressed up as a woman to expose sexual harassment in Egypt -- and says he can't imagine how women put up with the daily abuse.
May 24, 2013 -- Updated 1029 GMT (1829 HKT)

The breakdown of the education system, growing youth unemployment and insecurity swelled Boko Haram, 'Funmi Olonisakin writes.
May 24, 2013 -- Updated 1251 GMT (2051 HKT)

"It's always the one we feared, the lone wolf that can come from nowhere and not be on our radar," said ex-London police chief John Yates.
May 24, 2013 -- Updated 0613 GMT (1413 HKT)

Christiane Amanpour and Nic Robertson give their insight on the brutal murder of a man in broad daylight. What's behind the horrific attack?
May 24, 2013 -- Updated 1054 GMT (1854 HKT)

In India, a child goes missing every eight minutes. What is behind this devastating statistic felt most by the parents left searching?

Learn about one woman's tireless battle against sex slavery in the Philippines, with Manny Pacquiao in her corner. Watch the full version here.
May 23, 2013 -- Updated 1043 GMT (1843 HKT)

Ai Weiwei, the controversial Chinese artist-activist, has released a music single and video inspired by his harrowing detention by the government.
May 24, 2013 -- Updated 1156 GMT (1956 HKT)

Meet Ugandan Ruganzu Bruno who uses recycled materials to create functional pieces of art, raising environmental awareness through his art.
May 24, 2013 -- Updated 1227 GMT (2027 HKT)

The Germans are coming, this time in the form of the first all-German Champions League football final -- and this time, London cannot wait.
May 23, 2013 -- Updated 1106 GMT (1906 HKT)

Bayern Munich's super fan Boris Becker takes a tour of London ahead of the 2013 Champions League final. What are his favorite spots?
May 23, 2013 -- Updated 1415 GMT (2215 HKT)

Imagine if you could paint a working light switch directly onto your wall, without any need for sockets, cables or wiring. Well, now you can.

Today's five most popular stories