Nuclear watchdog agency says Iran not cooperating
March 4, 2013 -- Updated 1156 GMT (1956 HKT)
STORY HIGHLIGHTS
IAEA says Iran is not allowing proper inspections of its nuclear program
The director's report shows Iran has upgraded its uranium enrichment centrifuges
Iran has rebuffed IAEA requests for years
Several diplomats met with Iranians last week; more meetings scheduled over next 5 weeks
(CNN) -- Iran is not cooperating, making it difficult for the UN's nuclear watchdog agency to provide "credible assurance" that the country doesn't possess undeclared nuclear material, the International Atomic Energy Agency Director General Yukiya Amano said Monday.
Speaking to the IAEA's board of governors, Amano said Iran should grant access "without further delay" to the Parchin military complex, where the Islamic Republic is believed to have tested rockets.
Since Iran has not provided such access to date, "The Agency therefore cannot conclude that all nuclear material in Iran is in peaceful activities," Amano said.
For about a decade, international observers have accused Iran of secretly pursuing a nuclear weapons program, which Iran consistently denies.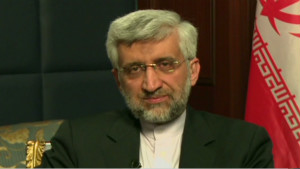 Negotiating with Iran over nuke program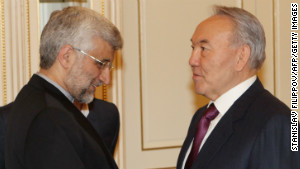 Will Iran nuclear talks end with a deal?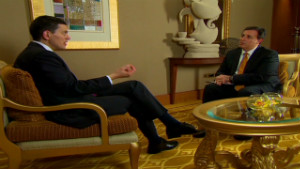 What should be done with Iran, Syria?
Amano noted that Iran has recently begun installing IR-2m centrifuges at its fuel enrichment plant at Natanz, and that those high-speed devices that rotate to enrich uranium are more advanced than the previously-installed centrifuges.
The IAEA board has been trying to negotiate cooperation from Iran for years.
On Wednesday, diplomats from the so-called P5+1 -- the six-nation diplomatic bloc consisting of the United States, France, Britain, Germany, China and Russia -- held secretive talks with Iranian representatives in Kazakhstan, and then announced future meetings on March 18 and April 5.
The Islamic Republic already faces sanctions from the United Nations Security Council for violating a U.N. resolution forbidding it from enriching uranium.
But Iran says since it signed the Nuclear Non-Proliferation Treaty, it should be able to enrich uranium for peaceful energy needs.
The IAEA was created in 1957 to promote "safe, secure and peaceful nuclear technologies," its website says. Among its endeavors, the agency tries to verify that countries correctly and completely account for their nuclear material and activities.
The agency says as of December 31, it had "safeguards agreements in force" with 179 official countries, and Taiwan.
CNN's Jennifer Deaton and Ivan Watson contributed to this report

Part of complete coverage on
May 21, 2013 -- Updated 2217 GMT (0617 HKT)

The image of the Gaza boy and his father under a hail of Israeli bullets became a powerful symbol. Now Israel insists its military is not to blame.
May 22, 2013 -- Updated 1232 GMT (2032 HKT)

The tornado that ripped through Oklahoma saw teachers rise to be surrogate parents, protectors and heroes, according to LZ Granderson.
May 21, 2013 -- Updated 1714 GMT (0114 HKT)

Did you know that hurricanes can also produce tornadoes? Read facts you didn't know about destructive twisters.
May 22, 2013 -- Updated 0441 GMT (1241 HKT)

Prime Minister Shinzo Abe calls women "Japan's most underutilized resource," yet traditions have been hard to overcome.
May 22, 2013 -- Updated 1121 GMT (1921 HKT)

Myanmar's Muslims have generally coexisted with the Buddhist majority. But ethnic fault lines are exposed as it emerges from military rule.
May 21, 2013 -- Updated 2130 GMT (0530 HKT)

CNN's Christiane Amanpour speaks with Foreign Minister Hoshyar Zebari about the new wave of violence rocking Iraq.
May 22, 2013 -- Updated 0521 GMT (1321 HKT)

A quarter century after his death, American pop artist Andy Warhol has popped up in China again after his first and only trip to the country in 1982.
May 22, 2013 -- Updated 0925 GMT (1725 HKT)

Revolutionary "bionic exoskeletons," like the metal suit worn by comic book hero Tony Stark, may be closer than you think.
May 21, 2013 -- Updated 1951 GMT (0351 HKT)

Photos: From Sharon Stone to Matt Damon, browse through the best from the Cannes red carpet this year.

Damnit we have work to do ... but not before we have another go at this annoyingly difficult web-based game.

Today's five most popular stories