STORY HIGHLIGHTS
Chavez will be remembered for improving the wealth and political participation of the poor
The inequal distribution of wealth dropped to the lowest in the Americas during his tenure
While Venezuela has the world's largest oil reserves, production dropped under Chavez
Venezuela devalued its currency by 30% last month and is saddled with high inflation
(CNN) -- Hugo Chavez, the man who built his powerful persona on a populist platform of sharing Venezuela's vast oil wealth with the poor and disenfranchised, leaves his nation with a greater distribution of cash to the poor.
But his death also leaves an economy in tatters, some analysts say, as the country had to step in and massively devalue its currency 30% to the U.S. dollar last month. While the OPEC-member nation is sitting on the world's largest oil reserves and is among the biggest oil exporters, oil production has declined.
An influential leader with a mixed record
Chavez built his political base in the barrios of Venezuela, and his pledge to share the wealth among the nation's poorest is the strongest measure of his success during 14 years in office. The inequal distribution of wealth dropped to among the lowest in the Americas during his tenure. In 2011, the Gini coefficient -- which measures income inequality --was .39, down from nearly .5 in 1998, according to the CIA Factbook. That is behind only Canada in the Western Hemisphere.
"He's made Venezuelans feel proud to be Venezuelan again. And that is something I think that really no other leader in that country has done there before -- in fact, they were doing the opposite," Eva Golinger, a former Chavez advisor, told CNN.
Chavez's death draws sympathy, anger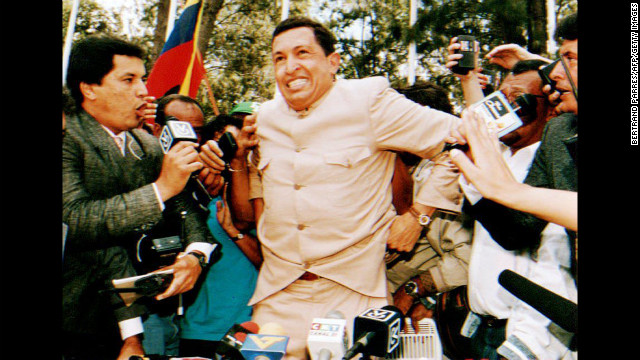 Army Lt. Col. Hugo Chavez, who led a 1992 attempted coup, speaks to reporters on March 26, 1994, after he was freed from jail. Chavez was freed after charges were dropped against him for leading the first of two attempted coups against the government of former President Carlos Andres Perez, who was later removed from office.
Venezuelan president-elect Chavez visits Bogota, Colombia, on December 18, 1998. On December 6, Chavez had been elected the youngest president in Venezuela history.
President Chavez greets supporters with his then-wife, Marisabel Rodriguez de Chavez, beside him as he arrives to preside over a parade in his honor on February 4, 1999, in Caracas. Chavez was sworn in as president on February 2.
Chavez inspects military maneuvers of the national Air Force on March 17, 2001, in Catilletes near the border with Colombia. In June 2000, Chavez was re-elected to the presidency for a six-year term, under the new constitution created by his government in 1999.
People try to take shelter from gunshots fired near Altamira Square in Caracas on August 16, 2004. At least three people were wounded by gunshots after Chavez supporters fired on opposition demonstrators, police said. A vote to recall Chavez as president failed on August 15.
Chavez, left, stands in front of supporters with Fidel Castro of Cuba, center, and Evo Morales of Bolivia, right, during a rally at the Plaza de la Revolucion in Havana, Cuba, on April 29, 2006.
Chavez meets with Pope Benedict XVI at his private library on May 11, 2006, in Vatican City.
Chavez embraces Iranian President Mahmoud Ahmadinejad, right, in Tehran, Iran, on July 1, 2007. The two presidents have enjoyed a close relationship and Chavez has referred to Ahmadinejad as his "ideological brother."
Chavez speaks during a rally in Caracas on November 18, 2008. Chavez pushed to change term limits in Venezuela through a referendum that passed on February 15, 2009, clearing the way for him to run for a third six-year term.
Chavez, right, gives a copy of the book, "The Open Veins of Latin America" by Eduardo Galeano to President Barack Obama during a multilateral meeting at the Summit of the Americas in Port of Spain, Trinidad, on April 18, 2009.
Chavez, right, greets Russian Prime Minister Vladimir Putin during his visit to the presidential palace in Caracas on April 2, 2010.
Chavez salutes to the audience after passing a law in Caracas on November 12, 2011. Chavez has undergone several rounds of cancer treatment in Cuba, beginning in 2011.
Chavez participates in a ceremony at the Miraflores presidential palace in Caracas on January 27, 2012.
Chavez, left, jokes with American actor Sean Penn, right, during his visit to Miraflores presidential palace in Caracas on February 16, 2012. Penn thanked Chavez for the support given by the Venezuelan government to his nongovernmental organization, which benefits victims of the 2010 Haiti earthquake.
Chavez acknowledges supporters on the streets of Caracas while on his way to the airport to travel to Cuba for ongoing cancer treatment on February 24, 2012.
Chavez gestures to the crowd during his closing campaign rally in Caracas on October 4, 2012. The leftist leader won a fourth term on October 7, extending his presidency to 2019.
A handout picture released by the Venezuelan presidential press office on Friday, February 15, 2013, shows Chavez surrounded by his daughters and holding the February 14 edition of the official Cuban newspaper Granma at a hospital in Havana, Cuba.
Chavez supporters gather in Caracas' Bolivar Square to mourn Chavez's death on March 5, 2013.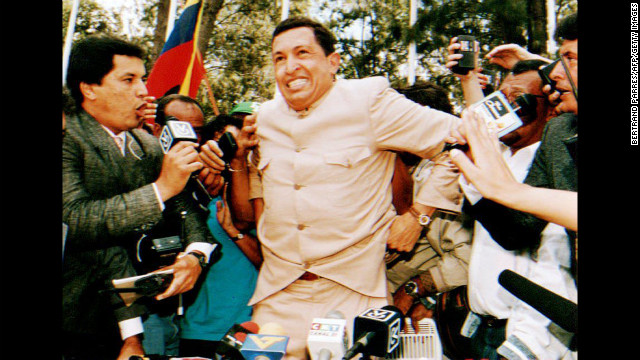 Photos: Political career of Hugo Chavez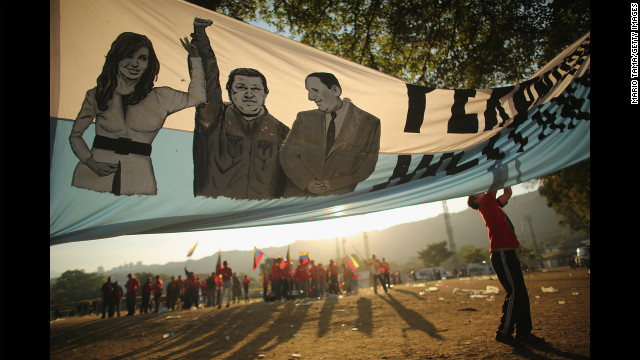 A man adjusts a banner before the start of Venezuelan President Hugo Chavez's funeral outside the Military Academy on Friday, March 8, in Caracas. Uncertainty swirled around what happens next in Venezuela as the deeply divided South American country mourned its late leader. Chavez, 58, died Tuesday, March 5, after a battle with cancer.
A woman wraps up in Venezuela's flag to stay warm as she and others wait in line before the start of Chavez's funeral on March 8 in the capital.
Chavez's coffin is carried Wednesday, March 6, to the Military Academy for his funeral in Caracas.
Throngs of Chavez supporters accompany the coffin of the deceased Venezuelan president as it arrives at the Military Academy in Caracas on March 6.
Crowds in Quito, Ecuador, gather around a large photograph of Chavez to pay their respects to the deceased president on March 6. Ecuador's left-leaning president, Rafael Correa, was a Chavez ally.
A woman watches as Chavez's casket is driven through the streets of Caracas on March 6.
A man reacts at Plaza Bolivar of Caracas, on March 6.
Members of the military escort Chavez's casket down the streets of Caracas on March 6.
Riot police contain the crowds looking on as Chavez's casket is driven through the streets of Caracas on March 6.
Palestinians hold portraits of Chavez during a rally in front of the Venezuelan Embassy, in the West Bank city of Ramallah, on March 6.
Supporters of Chavez light candles while gathering in front of the Venezuelan Embassy in Santiago, Chile, on Tuesday, March 5.
Venezuelans in Caracas react to the news of Chavez's death on March 5.
Venezuelan Defense Minister Diego Molero speaks in Caracas on March 5. He said that the Venezuelan people must fight for Chavez's legacy.
Chavez supporters hold pictures of the late president as they gather on March 5 in front of the Military Hospital in Caracas.
Venezuelans ride motorcycles through Caracas after the announcement of Chavez's death on March 5.
A man mourns the death of Chavez outside the Military Hospital in Caracas on March 5.
Venezuelans shout in the streets of the capital on March 5.
A Venezuelan woman adjusts the television while watching the news of Chavez's death on March 5 inside a Venezuelan restaurant in Panama City, Panama.
Many people in Caracas wept openly as news of Chavez's death spread on March 5.
A man walks past a mural in Caracas portraying the South American liberator Simon Bolivar, the Venezuelan flag and Chavez on March 5.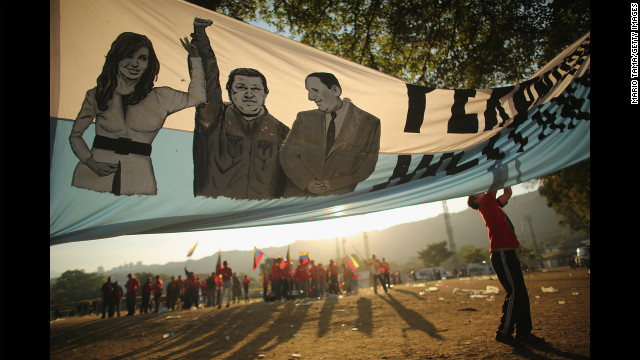 Photos: Venezuela in transition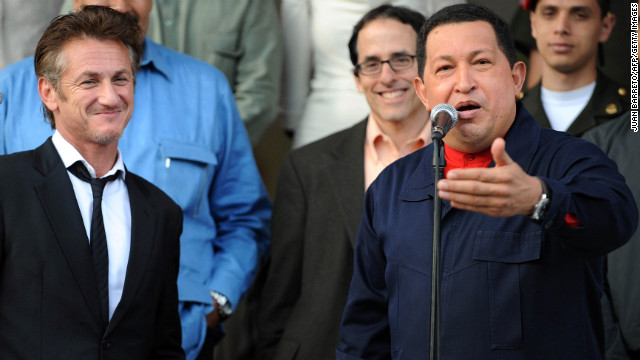 Venezuelan President Hugo Chavez greets actor Sean Penn after a meeting at the Miraflores presidential palace in Caracas on March 5, 2011. Penn thanked Chavez for the support given by the Venezuelan government to his nongovernmental organization, which benefits victims of the 2010 Haiti earthquake.
Chavez kisses the hand of British supermodel Naomi Campbell during a meeting in Caracas on October 31, 2007.
Director Oliver Stone and Chavez attend the "South of the Border" premiere during the 66th Venice Film Festival on September 7, 2009, in Venice, Italy.
Chavez speaks to actor Kevin Spacey during a meeting at the Miraflores presidential palace on September 24, 2007.
Actor Danny Glover and Chavez embrace while attending the The CITGO-Venezuela Heating Oil Program inauguration ceremony in Harlem, New York, on September 21, 2006. Chavez addressed the United Nations General Assembly a day earlier.
Actress Susan Sarandon poses for a picture with Chavez and his daughter, Rosa, at the afterparty of the "South of the Border" premiere in New York on September 23, 2009.
After attending the premiere of his film "Che," actor Benicio del Toro meets with Chavez at the Miraflores palace on March 4, 2009.
Boxing promoter Don King speaks with Chavez and an unidentified woman at the presidential palace in Caracas on February 2, 2004.
Argentine soccer legend Diego Maradona shares a laugh with Chavez at a press conference in Caracas on July 22, 2010.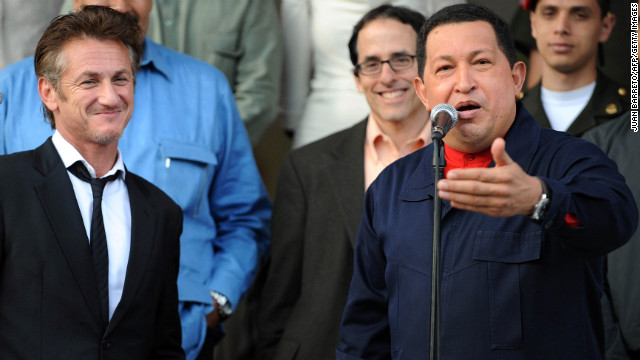 Photos: Celebrities and Hugo Chavez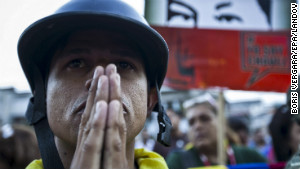 Venezuelans remember Hugo Chavez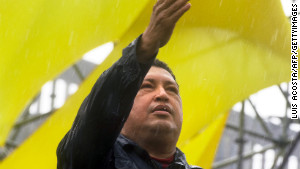 Chavez: From failed coup to presidency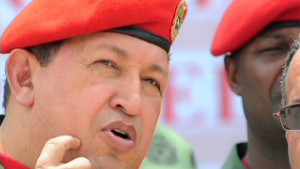 Amanpour: Hugo Chavez had cult following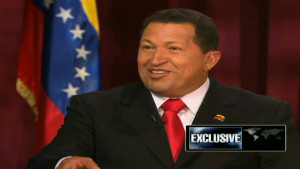 Hugo Chavez's 2009 interview with CNN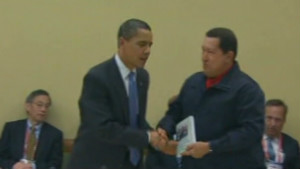 The relationship between Chavez and U.S.
Those living below the poverty line fell to 36.3% in 2006 from 50.4% in 1998, according to the World Bank, and infant mortality fell from 20.3 per thousand births when Chavez came to power, to 12.9 by 2011. Education also became more accessible, with the number of children enrolled in secondary education rising from 48% in 1999 to 72% in 2010, according to UNESCO figures.
"He has changed the lives dramatically of the majority of Venezuelans, he's altered the country forever, his policies have reduced poverty more than half and have brought people out of dire circumstances (who) today enjoy a decent standard of living," Golinger said. "His policies have implemented widespread national healthcare for all Venezuelans fee of charge."
Chavez's death leaves many questions
But "Chavismo" and his program of "21st Century Socialism" have been bankrolled by the national energy company, Petróleos de Venezuela (PDVSA). Critics say Chavez used the state oil company like a piggy bank for pet government project funding homes, healthcare and food while neglecting oil infrastructure and production.
"He is supporting social programs by bleeding the state oil company PDVSA, which accounts for 95% of export revenues and 12% of the GDP," William Ratliff, a research fellow at the Hoover Institution, recently wrote.
"Chavez came into power in Venezuela promising the people that had been left on the margins and ignored by the political class in that country a new opportunity to participate in the economy, participate in the decision-making in the country," said Roger Noriega, a fellow at the American Enterprise Institute, a conservative think tank.
"Unfortunately he's destroyed the economy and centralized all power in his hands, decimated the democratic institutions in the country and left the Venezuelan democracy in even worse shape."
Under Chavismo, oil specialists were sacked and replaced by party loyalists, foreign oil contracts were radically altered or canceled, making investment in Venezuela risky business for international firms.
"These factors have really led to shortages in basic staples. So, Venezuelans for example suffer from a lack of in some cases, baby diapers, or flour, or corn meal, which is the basic daily dietary of the Venezuelan diet, so this is just an example of the distortions in the economy that have been a result of Chavismo," Kathryn Rooney Vera of Bulltick Capital told CNN.
Chavez leaves Venezuela saddled with high inflation -- 22.2% year-on-year in January, according to the Central Bank of Venezuela
After Chavez nationalized foreign-run oil fields, critics say oil production has slowed.
"Venezuela in 2008 was producing 3.2 million barrels per day. One of the most recent statistics I have shows Venezuela producing 2.5 million -- so that shows you a decrease of the last four to five years," Vera said.
Simon Hooper and CNN's Maggie Lake, Paula Newton and Jim Clancy contributed to this report.