Ikea finds horse meat in Russian hotdogs
March 7, 2013 -- Updated 1629 GMT (0029 HKT)
STORY HIGHLIGHTS
Ikea says horse meat has been found in hotdogs produced for sale in Russia
The company says testing has shown the vast majority of its products are not affected
The horse meat scandal has extended across Europe in recent weeks
(CNN) -- It's another case of horse meat being found in products that are not supposed to contain it.
Furniture giant Ikea said Thursday it pulled hotdogs from its stores in Russia after tests revealed they contained rogue horse meat.
Dozens of processed meat products have been pulled by European suppliers, retailers and food outlets in the past several weeks after the discovery of unauthorized horse meat in them.
Opinion: Scandal shines spotlight on murky horse trade
Ikea said in a statement Thursday it had undertaken wide-scale testing of its meat products from different suppliers in all its markets.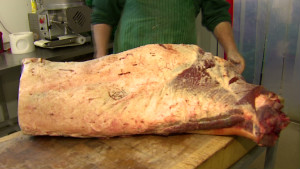 From the farm to your freezer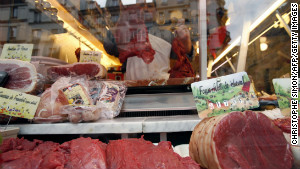 Horse meat coming to America?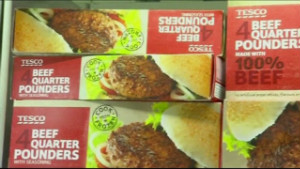 Horse, pig meat found in frozen burgers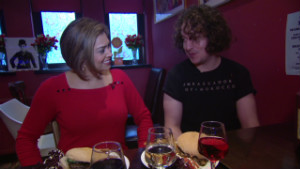 Burger taste test: Beef vs. horse
"The vast majority of these tests show no indication of horse meat. However, there are also a few tests that do. In those cases we remove the product from sales," the company said.
"IKEA Group is committed to serving and selling high quality food that is safe, healthy and produced with care for the environment."
The test result from Russia concerns locally produced hotdogs and only affects the Russian market, Ikea said.
The alert over the hotdogs has added to what has been a difficult couple of weeks for Ikea.
What's behind the horsemeat contamination scandal?
Ten days ago, the company suspended sales of its Swedish meatballs after testing in the Czech Republic revealed traces of horse DNA.
Testing since has revealed the presence of horse meat in a few samples of Ikea meatballs from a supplier in Sweden, the firm said Thursday.
Ikea also said Tuesday it was withdrawing its almond cake with chocolate and butterscotch from sale in 23 countries after traces of coliform bacteria -- organisms found in the environment and in the feces of warm-blooded animals and humans -- were found in two batches.
The horse meat scandal has extended across Europe, with questions raised over slaughterhouses and food suppliers in a number of countries.
The UK Food Standards Agency released the results Friday of the latest round of testing ordered on products labeled beef across the UK food industry.
Horse: Coming soon to a meat case near you?
So far, more than 99% of tests continue to show no horse DNA at or above the level of 1%, it said.
Horse meat is not harmful in itself but authorities are concerned by its unauthorized presence in case it is tainted with a veterinary drug used to treat horses. Phenylbutazone, also known as bute, is not allowed to enter the food chain because it can pose a risk to humans.
The European Union said last month it intends to begin testing meat across all 27 member states.

Part of complete coverage on
December 13, 2013 -- Updated 1644 GMT (0044 HKT)

Put aside out-of-date views of Africa and see it the way Africans seem to: With a high level of optimism, a CNN survey shows.
December 13, 2013 -- Updated 0937 GMT (1737 HKT)

The all too real political theater playing out in Pyongyang may offer another tantalizing glimpse behind the opaque curtain of the North Korea.

Read the journal of Mira Sorvino, a human rights activist and Oscar winning actress, who went to Cambodia with the CNN Freedom Project.
December 13, 2013 -- Updated 0757 GMT (1557 HKT)

Kenya could reinvent itself as a center for innovation. But it needs to build new research universities and expand its education, one expert argues.
December 12, 2013 -- Updated 1819 GMT (0219 HKT)

The sign language interpreter widely ridiculed for his performance at the Nelson Mandela memorial stands by his work.
December 12, 2013 -- Updated 1456 GMT (2256 HKT)

Behind the scenes in Cambodian karaoke bars -- a common front for child prostitution.
December 12, 2013 -- Updated 0446 GMT (1246 HKT)

A global risk firm surveys the most politically explosive countries.
December 12, 2013 -- Updated 1509 GMT (2309 HKT)

On Tuesday, I was free. On Wednesday, I became a criminal. India's high court just made being gay illegal, writes Tushar Malik.
December 12, 2013 -- Updated 1046 GMT (1846 HKT)

A Japanese actor says playing villians in Chinese films has helped the China-Japan divide. CNN's Ivan Watson reports.
December 11, 2013 -- Updated 1524 GMT (2324 HKT)

Pope Francis is Time's person of the year. His papacy has drawn adulation from people around the world for his man-of-the-people ways.

He was imprisoned for life but that did not quiet him. Nelson Mandela became South Africa's first black president, and an icon and inspiration.
December 13, 2013 -- Updated 1333 GMT (2133 HKT)

Browse through images you don't always see in news reports, taken by CNN teams all around the world.

Today's five most popular stories