Ikea finds horse meat in Russian hotdogs
March 7, 2013 -- Updated 1629 GMT (0029 HKT)
STORY HIGHLIGHTS
Ikea says horse meat has been found in hotdogs produced for sale in Russia
The company says testing has shown the vast majority of its products are not affected
The horse meat scandal has extended across Europe in recent weeks
(CNN) -- It's another case of horse meat being found in products that are not supposed to contain it.
Furniture giant Ikea said Thursday it pulled hotdogs from its stores in Russia after tests revealed they contained rogue horse meat.
Dozens of processed meat products have been pulled by European suppliers, retailers and food outlets in the past several weeks after the discovery of unauthorized horse meat in them.
Opinion: Scandal shines spotlight on murky horse trade
Ikea said in a statement Thursday it had undertaken wide-scale testing of its meat products from different suppliers in all its markets.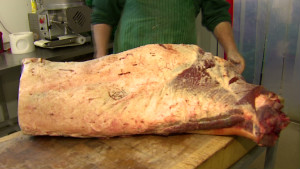 From the farm to your freezer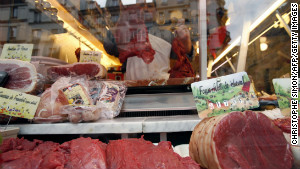 Horse meat coming to America?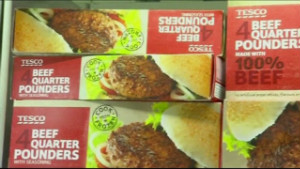 Horse, pig meat found in frozen burgers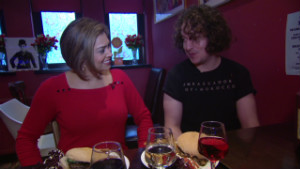 Burger taste test: Beef vs. horse
"The vast majority of these tests show no indication of horse meat. However, there are also a few tests that do. In those cases we remove the product from sales," the company said.
"IKEA Group is committed to serving and selling high quality food that is safe, healthy and produced with care for the environment."
The test result from Russia concerns locally produced hotdogs and only affects the Russian market, Ikea said.
The alert over the hotdogs has added to what has been a difficult couple of weeks for Ikea.
What's behind the horsemeat contamination scandal?
Ten days ago, the company suspended sales of its Swedish meatballs after testing in the Czech Republic revealed traces of horse DNA.
Testing since has revealed the presence of horse meat in a few samples of Ikea meatballs from a supplier in Sweden, the firm said Thursday.
Ikea also said Tuesday it was withdrawing its almond cake with chocolate and butterscotch from sale in 23 countries after traces of coliform bacteria -- organisms found in the environment and in the feces of warm-blooded animals and humans -- were found in two batches.
The horse meat scandal has extended across Europe, with questions raised over slaughterhouses and food suppliers in a number of countries.
The UK Food Standards Agency released the results Friday of the latest round of testing ordered on products labeled beef across the UK food industry.
Horse: Coming soon to a meat case near you?
So far, more than 99% of tests continue to show no horse DNA at or above the level of 1%, it said.
Horse meat is not harmful in itself but authorities are concerned by its unauthorized presence in case it is tainted with a veterinary drug used to treat horses. Phenylbutazone, also known as bute, is not allowed to enter the food chain because it can pose a risk to humans.
The European Union said last month it intends to begin testing meat across all 27 member states.

Part of complete coverage on

Syrian refugees fleeing into Lebanon tell CNN's Nick Paton Walsh how they stepped over dead bodies in their flight -- and now face the a biting winter.
December 11, 2013 -- Updated 1629 GMT (0029 HKT)

It looked plausible to most, but to deaf people watching the Mandela memorial -- it was all nonsense. The interpreter has been dubbed "a fake."
December 11, 2013 -- Updated 1524 GMT (2324 HKT)

Pope Francis is Time's person of the year. His papacy has drawn adulation from people around the world for his man-of-the-people ways.
December 11, 2013 -- Updated 0541 GMT (1341 HKT)

They hoped for playful weekend outing in the snow. The moments of adventure dissolved into a fight for survival for the family of six.
December 12, 2013 -- Updated 1023 GMT (1823 HKT)

Yahoo's teen star Nick D'Aloisio sells the new digital future -- with vanishing content.
December 11, 2013 -- Updated 1328 GMT (2128 HKT)

Denmark's PM Helle Thorning-Schmidt made headlines when she snapped a selfie with PM David Cameron and President Barack Obama.
December 11, 2013 -- Updated 1311 GMT (2111 HKT)

Mars kits, a triple nipple baby bottle and extinct animal DNA are just some of things you'd find inside the "99¢ Store of the Future."
December 11, 2013 -- Updated 0958 GMT (1758 HKT)

They say necessity is the mother of invention. Here are 11 of the most mind-boggling inventions ever submitted to the U.S. patent office.
December 11, 2013 -- Updated 0242 GMT (1042 HKT)

Uruguay is set to become the first country in the world to have a system regulating legal production, sale and consumption of the drug.
December 9, 2013 -- Updated 2311 GMT (0711 HKT)

Until he returned home this weekend, Merrill Newman -- an American held in North Korea -- had no idea what a story he'd become.
December 11, 2013 -- Updated 1756 GMT (0156 HKT)

Browse through images you don't always see in news reports, taken by CNN teams all around the world.

He was imprisoned for life but that did not quiet him. Nelson Mandela became South Africa's first black president, and an icon and inspiration.

Today's five most popular stories