STORY HIGHLIGHTS
Sam Raimi's "Oz the Great and Powerful" is a prequel to "Wizard of Oz"
Instead of Dorothy, James Franco's Oscar Diggs is the focus
Director Sam Raimi takes care to honor the original in spirit and style
Critic: "Oz" is short on charm and innocence but astute and suspenseful
Editor's note: This review may contain spoilers.
(CNN) -- A country girl finding her feet in the big (Emerald) city, Dorothy Gale is one of the most enduring and endearing characters in movie history.
Part of what she discovers on her voyage over the rainbow is that apparently heroic, magical and/or much-admired folk -- such as the Wizard of Oz -- will probably turn out to be no better than anybody else.
Now that I'm a parent, I realize that Oz is the father figure in the movie: He's not a bad man but not someone who can solve all his children's problems for them, either. All he can really do is appreciate them for who they are, so that they learn to appreciate themselves.
But is Oz someone we care to know more about? Maybe.
As much as I enjoyed Sam Raimi's new movie, which is breezy and bright in myriad dimensions, I doubt his story will exert a comparable hold on the popular imagination for generations to come. Dads just aren't that interesting -- not even to other dads.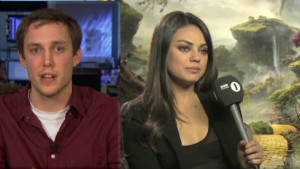 BBC Radio's Kunis interview goes viral
L. Frank Baum wrote 13 sequels to his most popular novel, but so far as I know, he never hit on the idea of a prequel. Ingeniously scripted by Mitchell Kapner and David Lindsay-Abaire, "Oz the Great and Powerful" mimics the movement and character arc of the original. It begins in the Midwest in black-and-white and then falls to a Technicolor Neverland in the eye of a twister.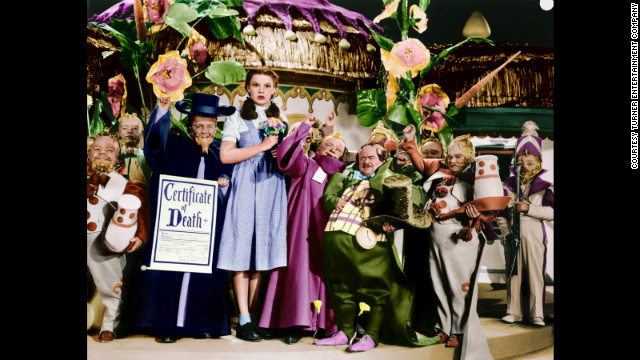 Moviegoers first went to Oz in 1939. Click through to see behind-the-scenes images and publicity shots from the classic "The Wizard of Oz." Check Turner Classic Movies' "Wizard of Oz" page to see when the classic will air next.
Judy Garland as Dorothy Gale, Ray Bolger as the Scarecrow, Jack Haley as the Tin Man, Frank Morgan as the Wizard, Bert Lahr as the Cowardly Lion and Terry as Toto with an oversized prop book of "The Wizard of Oz."
Judy Garland, dressed as Dorothy, poses with a turkey to promote the movie during Thanksgiving.
Judy Garland and Terry pose for a publicity shot.
Judy Garland and Mickey Rooney set out for a "Wizard of Oz" tour at a Pasadena, California, train station in 1939.
The actors who portrayed the Munchkins aboard a bus headed to the studio for filming.
Judy Garland reads a copy of Life magazine on set as three of the actors playing Munchkins stand by.
A wardrobe test shot of Judy Garland in a rejected Dorothy costume with a blonde wig.
Frank Morgan as the Wizard.
Margaret Hamilton poses as the Wicked Witch for a publicity shot. The character's hair was changed for the final production of the film.
Frank Morgan as the Guardian of the Gates.
Karl Kosiczky dressed as the Munchkin Herald during a wardrobe test.
Ray Bolger in a reversed shot during a wardrobe and makeup test.
Gale Sondergaard as the Wicked Witch during a makeup and wardrobe test.
A full wardrobe and hair test shot for Judy Garland as Dorothy Gale.
Judy Garland as Dorothy Gale, Ray Bolger as the Scarecrow, Bert Lahr as the Cowardly Lion and Jack Haley as the Tin Man.
The beauty parlor set from the Emerald City.
Judy Garland as Dorothy Gale and Ray Bolger as the Scarecrow, with Jack Haley as the Tin Man during a rehearsal.
Judy Garland records a vocal track on the MGM orchestra stage.
Costumes are put away in the women's wardrobe department.
Director Victor Fleming instructs the cast during filming.
Ray Bolger in costume as the Scarecrow, seated with director Victor Fleming, choreographer Bobby Connolly and producer Mervyn LeRoy.
Ray Bolger as the Scarecrow visits with Mickey Rooney.
Myrna Loy visiting with Olga Nardone, one of the actresses playing a Munchkin.
An actor hangs up a Munchkin costume.
A wide shot of the Witch's castle set.
A technician photographs an opening title concept for "The Wizard of Oz" that was not used.
Two men carry the sound and visual tracks for a preview of the film. A composite print was made after the previews and final edit decisions had been made.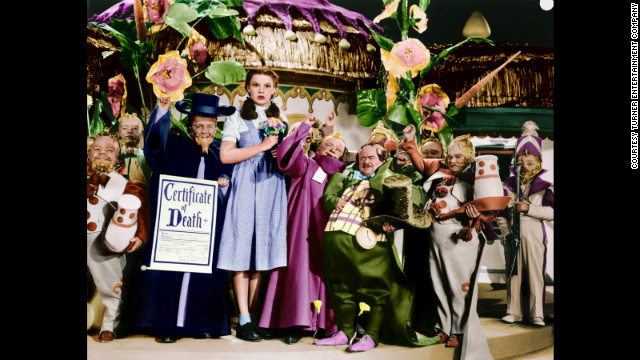 Behind the scenes of 'Wizard of Oz'
But we're no longer watching Dorothy, an innocent abroad. Instead, we have James Franco's Oscar Diggs ("Oz" for short), a charismatic charlatan and a two-bit showman with an eye for the ladies -- any lady, really; wiccans welcome! If there's a throne and a treasure trove at the end of the rainbow, maybe he'll stick around the next morning.
He's not all heel, though. At least he has the decency to be embarrassed that he's not the magical savior everyone seems to be expecting. He says he aspires to greatness, even if he never seems likely to stretch for it.
Franco doesn't quite get there, for me, in this role.
He's an unconvincing fraud and a shaky charlatan -- too young, perhaps, to fool anyone except himself. Or, maybe he's just too contemporary to pass as a 19th century illusionist. Reportedly, Robert Downey Jr. and Johnny Depp turned down the role, and either might have played him with more aplomb.
Presumably they were wary of messing with a solid gold classic, but while "Oz" does present a wide target for critics, they shouldn't have worried: Director Sam Raimi ("The Amazing Spider-Man," "The Evil Dead") takes care to honor the original in spirit and in style. It may be an impossible job, but he's surpassed reasonable expectations.
The production design and the saturated colors are close enough that this movie really does work as a prequel (albeit in 3-D), and while the CGI is unmistakably 21st century, Raimi's unironic celebration of pure artifice does suggest a continuum of sorts. Today's fashion for green screen and chroma key is not so far removed from the back projection and studio sets of Hollywood's Golden Age. Because the Land of Oz exists outside our reality, even the most ersatz effects -- butterfly trees and flowers that toll like bells -- are fair game.
In this place of garish, unnatural wonders and exotic fauna (Zach Braff turns up in the form of a diminutive winged monkey), the bewildered magician is swept off his feet by not one, but three magnificent witches -- Mila Kunis, Rachel Weisz and Michelle Williams -- one after the other, each appealing to his better judgment and worst instincts, and none copping to the wickedness that we know will show its hand eventually.
Will our flawed hero measure up to the fix in which he finds himself? And how, with nothing but an army of peaceniks to counter the witches' Winkies?
The new "Oz" falls short of the 1939 "Oz" in charm and innocence and certainly in songs (there is only one, a brief, jokey number from the Munchkins). But as family entertainment, it's hard to fault such a rapturous spectacle and astute, suspenseful piece of storytelling.
A true fantasist, Raimi has conjured up a valentine to the imagination, to smoke and mirrors and to the movies as a magical space where we might envisage, and possibly even realize, our better selves.
That's more than good enough.