Who you gonna call? New York reinvents the pay phone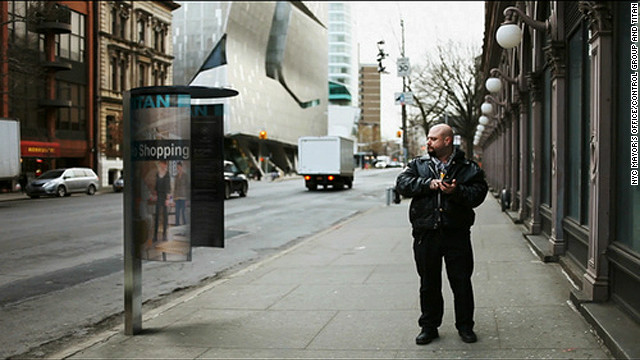 One of six finalists in New York's Reinvent Payphones contest, the "NYC I/O" phone booth aims to provide an open, urban-scale computing platform which provides access to real time data on important local information and civic events.
"Windchimes" was designed by a collective of students and graduates from colleges in the New York area. The minimalist device comes equipped with environmental sensors which aim to collect important eco-information on the likes of rainfall and pollution levels in the city.
The "Beacon" pay phone is a 12-foot-tall voice and gesture controlled kiosk that acts as a public information display system in times of emergency as well as a public phone.
The "NYfi" phone box was designed by Sage and Coombe Architects and aims to serve as a hub for free wireless internet access as well as an interactive portal for public information, goods, and services.
The "NYC Loop" offers a hi-tech private space for users to make video calls while an "information puddle" projected onto the sidewalk can be used to display advertisements or interactive artworks.
The sleek looking "Smart Sidewalks" phone booth is powered by a solar panel and enables users to view local maps and information on a futuristic touch-screen.
Other cities around the world have already introduced hi-tech phone booths to their busy streets and thoroughfares. In this picture, a woman makes a phone call at a pay phone equipped with a touchscreen and Internet connection on the Champs-Elysees in Paris, France.
It's not all about the ultramodern. Some phone booths have been redesigned to take on all manner of cool and interesting artistic concepts, like this kiosk that doubles up as a customized aquarium in Lisbon, Portugal.
Another artistic statement. People take photographs of decorated replica telephone boxes on display in Trafalgar Square in central London.
A Hong Kong phone box was commandeered by Greenpeace in 2011 to encourage passers-by to call their government and ask them to ban nuclear weapons.
Competition to reinvent NYC pay phones
Paris, France
Lisbon, Portugal
London, UK
Hong Kong
STORY HIGHLIGHTS
New York holding contest to reinvent the city's public phone booths
Six finalists selected with a winner to be announced on March 15
Entries include devices powered by solar panels and others that collect environmental data
Other cities around the world have also introduced new pay phone concepts in recent years
(CNN) -- The public pay phone is an iconic landmark of some of the world's greatest cities.
London has its unmistakeable red kiosks while the perspex glass boxes with sliding doors -- long favored as a changing room by Superman -- have been a familiar site in urban locations across the U.S. for decades.
With the inexorable rise of cell phones however, the humble pay phone has become less of an important public utility and more an archaic inner-city remnant.
In an attempt to keep the devices relevant in the 21st century, New York City has been soliciting designs for potential phone boxes of the future.
The Reinvent Payphones contest launched in December last year, encouraged design professionals, students and tech lovers to send in their futuristic visions of the phone booth.
Read: Is the pay phone making a comeback?
Six finalists have been selected, including a device powered by solar panels and another which collects important environmental information.
A public vote will select the winner which will be announced on March 15.
The Big Apple isn't the only city figuring out how to make the phone box relevant to the modern citizen.
A host of cool, practical and artistic concepts have been devised, displayed and implemented in cities around the world in recent years.
Check out the finalists of the New York competition alongside a selection of the best from the rest of the world in the gallery above.