Syrian rebels free 21 U.N. peacekeepers
March 9, 2013 -- Updated 2111 GMT (0511 HKT)
STORY HIGHLIGHTS
NEW: Ban Ki-moon "welcomes" the peacekeepers' release
Twenty-one U.N. peacekeepers are handed to Jordanian officials at border with Syria
Rebels initially said peacekeepers, all Filipinos, were trying to aid their enemy
Then they said they were just trying to keep them out of harm's way
(CNN) -- Twenty-one U.N. peacekeepers detained by Syrian rebels this week have been handed over to Jordanian authorities at the border with Syria, the Free Syrian Army told CNN Saturday.
Jordanian officials confirmed the release and added their government had no coordination nor agreement in the handover, said spokesman Samih Maaytah. Official protocol was followed, he added.
The 21 peacekeepers were turned over at the Syrian-Jordanian border at Yarmouk valley on Saturday, Free Syrian Army chief of staff General Salim Idris told CNN.
Rebels had detained the peacekeepers, identified by the Philippine government as Filipino, in a Syrian village near the Golan Heights.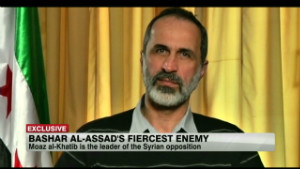 Interview with Syrian Opposition Pres.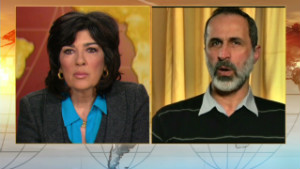 Syria opposition: U.N. peacekeepers safe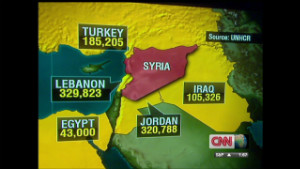 One million Syrians now refugees
Syrian opposition coalition President Moaz al-Khatib says the rebels took the peacekeepers for their own safety due to fighting there. The peacekeepers reportedly are unharmed.
U.N. Secretary-General Ban Ki-moon "welcomes" the release of the peacekeepers, the organization said in a statement. The peacekeepers have an impartial role, the statement said, and the secretary-general called for both sides in the conflict to respect the freedom of movement and security of his personnel.
Fighting in the area resumed in the villages near the Jordanian border following the handover, the opposition Local Coordination Committees of Syria reported.
The group reported 63 deaths across Syria on Saturday.
International tension had grown this week after about 30 Syrian rebels detained the peacekeepers and refused to let them go.
The United Nations and Filipino government demanded their release.
The consul general of Philippine embassy in Jordan confirmed the release, and said the peacekeepers were being transported to Amman.
The rebels initially said that the peacekeepers were trying to aid their enemy -- the regime of President Bashar al-Assad -- when they entered a Syrian village near the Israeli-occupied Golan Heights, an area where peacekeepers should not be and where intense fighting has been raging for days between rebels and government forces.
Al-Khatib then said the peacekeepers were taken to protect their safety and that of a U.N. convoy in an area under bombardment for seven days.
CNN's Caroline Faraj contributed to this report.

Part of complete coverage on
Syrian crisis
March 4, 2014 -- Updated 1328 GMT (2128 HKT)

Syria has submitted a revised proposal "that aims to complete the removal of all chemicals" from the country before the end of April.
February 18, 2014 -- Updated 1032 GMT (1832 HKT)

CNN's Arwa Damon reports on ISIS defector who says destroying ISIS as critical as defeating regime.
February 18, 2014 -- Updated 0353 GMT (1153 HKT)

The U.S. wants a United Nations resolution that will, among other things, bring humanitarian aid for refugees in Syria.
February 17, 2014 -- Updated 1259 GMT (2059 HKT)

When the radical Islamist militia ISIS arrived in the Syrian town of Addana a year ago, many welcomed them. What followed changed their minds.
February 17, 2014 -- Updated 1449 GMT (2249 HKT)

CNN obtained video clips from Syrian activists documenting the atrocities committed by members of the Islamic State in Iraq and Syria, known as ISIS.
February 18, 2014 -- Updated 2017 GMT (0417 HKT)

On Crossfire, Danielle Pletka discusses what the U.S. needs to do to resolve the Syria crisis.
February 6, 2014 -- Updated 0101 GMT (0901 HKT)

Her almond-shaped brown eyes shine through her sunken face as a doctor lifts her sweater to reveal a tiny rib cage pushing against her skin.
February 4, 2014 -- Updated 1746 GMT (0146 HKT)

The Zaatari refugee camp in Jordan is home to around 100,000 Syrian refugees. CNN spent several days meeting the residents of the camp.
January 22, 2014 -- Updated 1959 GMT (0359 HKT)

Renowned war crimes prosecutors and forensic experts have found "direct evidence" of "torture and killing" by the Assad regime.

Traumatized children who have witnessed the horrors of war are being helped to read -- and rebuild a normal life. CNN's Becky Anderson reports.
January 23, 2014 -- Updated 1207 GMT (2007 HKT)

A battle zone tour organized by the Syrian government for CNN and several other media outlets Wednesday was more than bizarre.
January 22, 2014 -- Updated 1735 GMT (0135 HKT)

CNN's Atika Shubert meets with the family of a little girl who was wounded in Syria, now living in a refugee camp.
January 27, 2014 -- Updated 1456 GMT (2256 HKT)

110 year old, Jabari Alawali walked for over 10 hours to reach Jordan from Syria.
Today's five most popular stories