Syrian rebels free 21 U.N. peacekeepers
March 9, 2013 -- Updated 2111 GMT (0511 HKT)
STORY HIGHLIGHTS
NEW: Ban Ki-moon "welcomes" the peacekeepers' release
Twenty-one U.N. peacekeepers are handed to Jordanian officials at border with Syria
Rebels initially said peacekeepers, all Filipinos, were trying to aid their enemy
Then they said they were just trying to keep them out of harm's way
(CNN) -- Twenty-one U.N. peacekeepers detained by Syrian rebels this week have been handed over to Jordanian authorities at the border with Syria, the Free Syrian Army told CNN Saturday.
Jordanian officials confirmed the release and added their government had no coordination nor agreement in the handover, said spokesman Samih Maaytah. Official protocol was followed, he added.
The 21 peacekeepers were turned over at the Syrian-Jordanian border at Yarmouk valley on Saturday, Free Syrian Army chief of staff General Salim Idris told CNN.
Rebels had detained the peacekeepers, identified by the Philippine government as Filipino, in a Syrian village near the Golan Heights.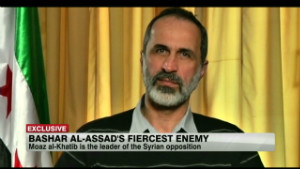 Interview with Syrian Opposition Pres.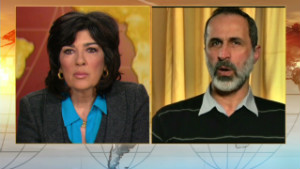 Syria opposition: U.N. peacekeepers safe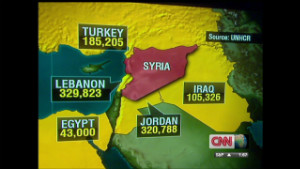 One million Syrians now refugees
Syrian opposition coalition President Moaz al-Khatib says the rebels took the peacekeepers for their own safety due to fighting there. The peacekeepers reportedly are unharmed.
U.N. Secretary-General Ban Ki-moon "welcomes" the release of the peacekeepers, the organization said in a statement. The peacekeepers have an impartial role, the statement said, and the secretary-general called for both sides in the conflict to respect the freedom of movement and security of his personnel.
Fighting in the area resumed in the villages near the Jordanian border following the handover, the opposition Local Coordination Committees of Syria reported.
The group reported 63 deaths across Syria on Saturday.
International tension had grown this week after about 30 Syrian rebels detained the peacekeepers and refused to let them go.
The United Nations and Filipino government demanded their release.
The consul general of Philippine embassy in Jordan confirmed the release, and said the peacekeepers were being transported to Amman.
The rebels initially said that the peacekeepers were trying to aid their enemy -- the regime of President Bashar al-Assad -- when they entered a Syrian village near the Israeli-occupied Golan Heights, an area where peacekeepers should not be and where intense fighting has been raging for days between rebels and government forces.
Al-Khatib then said the peacekeepers were taken to protect their safety and that of a U.N. convoy in an area under bombardment for seven days.
CNN's Caroline Faraj contributed to this report.

Part of complete coverage on
Syrian crisis

There's more to the Syrian civil war than rebels versus the regime. Syria's neighbors in the Middle East also have a stake in the conflict.
May 9, 2013 -- Updated 2113 GMT (0513 HKT)

Israel is taking steps to defend itself against threatened retaliation from Syria after claims it launched airstrikes on Damascus.
May 14, 2013 -- Updated 1636 GMT (0036 HKT)

Domestic political will is a necessary for intervention and polls show Americans are reluctant to support military interventions in Syria.
May 6, 2013 -- Updated 1738 GMT (0138 HKT)

Syria's claim that Israel launched airstrikes presents a dangerous escalation of Israel's involvement in Syria's war, writes Fawaz Gerges.
May 7, 2013 -- Updated 0941 GMT (1741 HKT)

The U.N. says a Syrian rebel group may have used a nerve agent -- it would not be the first time the al-Qaeda-affiliated group used chemical weapons.
May 1, 2013 -- Updated 1800 GMT (0200 HKT)

Having willfully avoided direct military involvement in Syria for the past two years, Obama may not be so lucky anymore, writes Aaron David Miller.
May 10, 2013 -- Updated 0944 GMT (1744 HKT)

What began as a protest movement became an uprising that metastasized into a war, a vicious whirlpool dragging a whole region toward it.

A devout man prays. A fighter weeps over a slain comrade. These are a few faces of the Syrian conflict captured by photographer LeeHarper.
April 25, 2013 -- Updated 0859 GMT (1659 HKT)

A group of pro-Syrian regime hackers that has targeted major news organizations but its cyber attacks can have real-life impact.
March 7, 2013 -- Updated 2324 GMT (0724 HKT)

The role of women in Syrian uprising is little reported, but many have played a key part as activists and medics since the bloodshed began.

Are you in Syria? Share your stories, videos and photos with the world on CNN iReport, but please stay safe.
Today's five most popular stories