Suu Kyi wins re-election as Myanmar opposition leader
March 11, 2013 -- Updated 0957 GMT (1757 HKT)
STORY HIGHLIGHTS
The pro-democracy activist spent years under house arrest
She is re-elected at the first conference of opposition members in 25 years
Yangon, Myanmar (CNN) -- Pro-democracy icon Aung San Suu Kyi won re-election as Myanmar's opposition leader at a gathering of opposition members Sunday.
It was the first conference of opposition members in 25 years -- another indication of the military junta loosening its reins and allowing such a gathering.
At the summit in Yangon, 120 members of the National League for Democracy voted for Suu Kyi on the third day of the party's meeting.
Myanmar is gradually emerging from decades of authoritarian military rule that resulted in internal oppression and international isolation.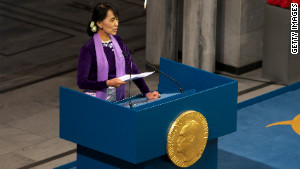 Suu Kyi: Try to create a peaceful world
Suu Kyi spent years under house arrest before authorities released her in 2011. Many members of her National League for Democracy party were imprisoned under the military junta.
President Thein Sein, a former military official, has overseen the introduction of greater political freedoms, peace talks with ethnic rebels and the successful participation of Suu Kyi and her party in legislative elections.

Part of complete coverage on
May 24, 2013 -- Updated 1545 GMT (2345 HKT)

When the former teacher Ingrid Loyau-Kennett saw the bloodied man wielding a knife, she tried to engage him in a conversation to distract him.
May 24, 2013 -- Updated 1053 GMT (1853 HKT)

A man dressed up as a woman to expose sexual harassment in Egypt -- and says he can't imagine how women put up with the daily abuse.
May 24, 2013 -- Updated 1029 GMT (1829 HKT)

The breakdown of the education system, growing youth unemployment and insecurity swelled Boko Haram, 'Funmi Olonisakin writes.
May 24, 2013 -- Updated 1251 GMT (2051 HKT)

"It's always the one we feared, the lone wolf that can come from nowhere and not be on our radar," said ex-London police chief John Yates.
May 24, 2013 -- Updated 0613 GMT (1413 HKT)

Christiane Amanpour and Nic Robertson give their insight on the brutal murder of a man in broad daylight. What's behind the horrific attack?
May 24, 2013 -- Updated 1054 GMT (1854 HKT)

In India, a child goes missing every eight minutes. What is behind this devastating statistic felt most by the parents left searching?

Learn about one woman's tireless battle against sex slavery in the Philippines, with Manny Pacquiao in her corner. Watch the full version here.
May 23, 2013 -- Updated 1043 GMT (1843 HKT)

Ai Weiwei, the controversial Chinese artist-activist, has released a music single and video inspired by his harrowing detention by the government.
May 24, 2013 -- Updated 1156 GMT (1956 HKT)

Meet Ugandan Ruganzu Bruno who uses recycled materials to create functional pieces of art, raising environmental awareness through his art.
May 24, 2013 -- Updated 1227 GMT (2027 HKT)

The Germans are coming, this time in the form of the first all-German Champions League football final -- and this time, London cannot wait.
May 23, 2013 -- Updated 1106 GMT (1906 HKT)

Bayern Munich's super fan Boris Becker takes a tour of London ahead of the 2013 Champions League final. What are his favorite spots?
May 23, 2013 -- Updated 1415 GMT (2215 HKT)

Imagine if you could paint a working light switch directly onto your wall, without any need for sockets, cables or wiring. Well, now you can.

Today's five most popular stories