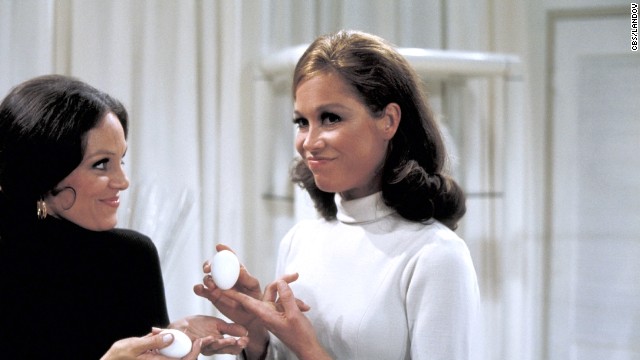 Valerie Harper stopped by "
Piers Morgan Live
" on Tuesday in a prime-time exclusive. The actress, who played Mary Richards' best friend, Rhoda Morgenstern, on "The Mary Tyler Moore Show," recently revealed to
People
magazine that she has terminal brain cancer. The following is a celebration of some of TV's other most beloved sidekicks:
Vivian Vance's Ethel Mertz was always there to help her best friend out of a jam on "I Love Lucy." Unless, of course, she and Lucy Ricardo (Lucille Ball) were in a jam together -- in which case hilarity was certain to ensue.
Before becoming the breakout star of "Family Matters," Jaleel White's Steve Urkel was just the Winslow family's nerdy neighbor. Madly in love with Laura, Urkel routinely offered to help out her brother Eddie.
Andrew Koenig played "Boner" on a mere 25 episodes of "Growing Pains," but he left a lasting impression as the best friend of Mike Seaver (Kirk Cameron).
Jay Silverheels played faithful companion Tonto to Clayton Moore's Lone Ranger on "The Lone Ranger," which ran from 1949 to 1957 on ABC.
Steven Van Zandt portrayed Silvio, consigliere of Tony Soprano (James Gandolfini), on HBO's "The Sopranos." The Bada Bing strip club owner was known for always keeping his cool.
Gilligan (Bob Denver) was always there for his captain, the Skipper (Alan Hale Jr.), on "Gilligan's Island." Despite occasionally conking his "Little Buddy" on the head, the Skipper remained friends with Gilligan to the end.
Don Knotts played Barney Fife on "The Andy Griffith Show." Despite the occasional gaffe, the deputy sheriff was always there for Andy and Opie.
Burt Ward played Dick Grayson, also known as Batman's loyal sidekick Robin, on the 1966 series created by Bob Kane. Robin helped Bruce Wayne defend Gotham City on "Batman" until the show went off the air in 1968.
Jason Alexander's George Costanza plays Jerry's best friend on the hugely successful "Seinfeld," which ran for nine seasons on NBC.
On "The Many Loves of Dobie Gillis," Bob Denver played beatnik Maynard G. Krebs opposite Dwayne Hickman's Dobie Gillis.
Our favorite TV sidekicks
Our favorite TV sidekicks
Our favorite TV sidekicks
Our favorite TV sidekicks
Our favorite TV sidekicks
Our favorite TV sidekicks
Our favorite TV sidekicks
Our favorite TV sidekicks
Our favorite TV sidekicks
Our favorite TV sidekicks
Our favorite TV sidekicks