Mississippi governor reviews 'Anti-Bloomberg' bill
March 13, 2013 -- Updated 0001 GMT (0801 HKT)
STORY HIGHLIGHTS
The legislation would prevent efforts like the New York City soda ban
"We believe there's enough regulation," says the bill's author, a restaurant owner
Mississippi has the nation's highest rate of obesity
(CNN) -- Super size? Yes, please, say Mississippi lawmakers.
The same day a judge blocked a ban on the sale of large, sugary drinks in New York City, senators in Mississippi approved, by a 50-1 vote, a bill that would prevent similar efforts in their state.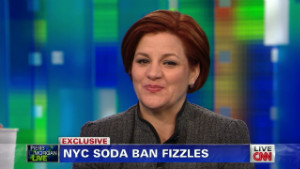 Christine Quinn on 'soda-gate'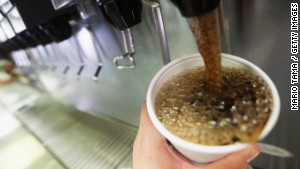 Piers: Sodas lead to 'drain on society'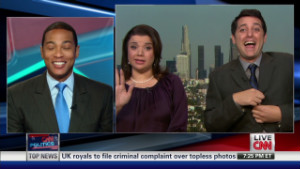 Politics of soda bans and calories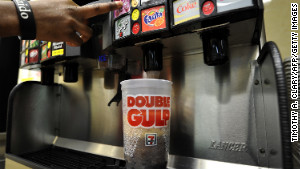 Judge puts a cap on NYC soda ban
The legislation is known as the "Anti-Bloomberg" bill because the proposed ban in New York is supported by New York City Mayor Michael Bloomberg.
"We believe there's enough regulation," said Mississippi state Sen. Tony Smith, the bill's author and a restaurant owner.
Large sugary drinks flow in NYC as officials appeal ruling
"If the market demands that I serve a more healthy food, I'll do that to meet to the market demand," he said. "But ... why should I risk my capital, my hard work, my efforts that I've put in to build a restaurant on the thinking of what a government official thinks?"
On Tuesday, one day after the bill passed the Senate, the office of Mississippi Gov. Phil Bryant said the proposal is under review.
If the governor signs it into law, the legislation would prevent Mississippi counties, districts and towns from banning food based on its nutritional information. It would also stop them from enacting rules that would cap portion sizes.
Smith said that he is confident Bryant will sign the bill, which passed the state House by a 92-26 vote.
How New Yorkers feel about big soda ban
"I am glad that it has happened. It's a step forward in the right direction to make sure that any future policy discussion be centralized at the state legislature," said Mike Cashion, executive director of the Mississippi Hospitality and Restaurant Association, a group that lobbied for the legislation.
"It doesn't prevent local government from promoting healthy foods. What it does do is prevent them from creating policy mandates for the sake of consistency and uniformity," he said.
According to the most recent report by Trust for America's Health and the Robert Wood Johnson Foundation, Mississippi had the nation's highest rate of obesity. Some 34.9% of the state's adult population was obese in 2011, it said.
On the other extreme, Colorado ranks as the skinniest state. An estimated 20.7% of that state's adult population was obese in 2011, the report said.
Ethicist: Health bans and 'sin taxes' can easily backfire

Part of complete coverage on
May 24, 2013 -- Updated 1545 GMT (2345 HKT)

When the former teacher Ingrid Loyau-Kennett saw the bloodied man wielding a knife, she tried to engage him in a conversation to distract him.
May 24, 2013 -- Updated 1053 GMT (1853 HKT)

A man dressed up as a woman to expose sexual harassment in Egypt -- and says he can't imagine how women put up with the daily abuse.
May 24, 2013 -- Updated 1029 GMT (1829 HKT)

The breakdown of the education system, growing youth unemployment and insecurity swelled Boko Haram, 'Funmi Olonisakin writes.
May 24, 2013 -- Updated 1251 GMT (2051 HKT)

"It's always the one we feared, the lone wolf that can come from nowhere and not be on our radar," said ex-London police chief John Yates.
May 24, 2013 -- Updated 0613 GMT (1413 HKT)

Christiane Amanpour and Nic Robertson give their insight on the brutal murder of a man in broad daylight. What's behind the horrific attack?
May 24, 2013 -- Updated 1054 GMT (1854 HKT)

In India, a child goes missing every eight minutes. What is behind this devastating statistic felt most by the parents left searching?

Learn about one woman's tireless battle against sex slavery in the Philippines, with Manny Pacquiao in her corner. Watch the full version here.
May 23, 2013 -- Updated 1043 GMT (1843 HKT)

Ai Weiwei, the controversial Chinese artist-activist, has released a music single and video inspired by his harrowing detention by the government.
May 24, 2013 -- Updated 1156 GMT (1956 HKT)

Meet Ugandan Ruganzu Bruno who uses recycled materials to create functional pieces of art, raising environmental awareness through his art.
May 24, 2013 -- Updated 1227 GMT (2027 HKT)

The Germans are coming, this time in the form of the first all-German Champions League football final -- and this time, London cannot wait.
May 23, 2013 -- Updated 1106 GMT (1906 HKT)

Bayern Munich's super fan Boris Becker takes a tour of London ahead of the 2013 Champions League final. What are his favorite spots?
May 23, 2013 -- Updated 1415 GMT (2215 HKT)

Imagine if you could paint a working light switch directly onto your wall, without any need for sockets, cables or wiring. Well, now you can.

Today's five most popular stories