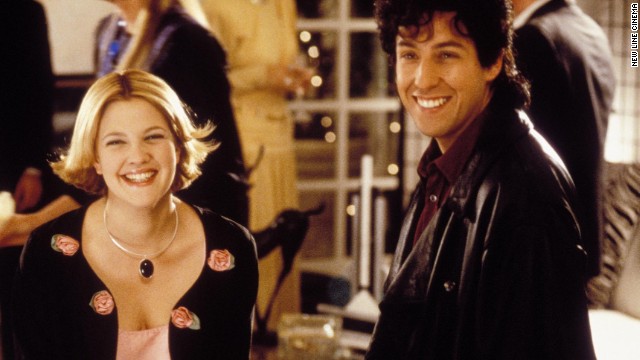 Even before Adam Sandler went on "50 First Dates" with Drew Barrymore in the 2004 flick, the actors got together in 1998's "The Wedding Singer." According to reports, the pair will soon
team up for a third time
. The untitled project is about a couple who go on a horrible blind date, only to end up stuck together at a family resort with their children from earlier marriages.
Woody Allen and Diane Keaton dated briefly before entering into a professional relationship in the early 1970s. The pair produced eight films together over two decades. Their most famous pairing, "Annie Hall" (1977), won four Academy Awards, including best picture, best actress for Keaton and best director for Allen.
If the Apatows are any indication, the family that works together stays together. Producer-writer-director Judd Apatow has cast his wife, Leslie Mann, and children, Maude and Iris, in "Knocked Up," "Funny People" and "This Is 40." Mann has also appeared in "The 40 Year Old Virgin" and an episode of "Freaks and Geeks."
If 1990's "Joe Versus the Volcano" didn't sell you on the chemistry of Meg Ryan and Tom Hanks, surely 1993's "Sleepless in Seattle" did the trick. The pair co-starred for a third time in 1998's "You've Got Mail."
Owen Wilson, left, and Vince Vaughn appeared together in 2004's "Starsky & Hutch" before co-starring in 2005's "Wedding Crashers." The pair will soon hit the big screen together again in "The Internship," set for theaters in June.
Ben Affleck, left, and Matt Damon are friends on- and off-screen. They've worked together on films such as 1997's "Good Will Hunting" and 2004's "Jersey Girl."
After making audiences laugh as NASCAR drivers in 2006's "Talladega Nights," Will Ferrell, right, and John C. Reilly joined forces for another Adam McKay-directed comedy, 2008's "Step Brothers."
Kate Hudson and Matthew McConaughey first teamed up in 2003 for "How to Lose a Guy in 10 Days." Five years later, the on-screen lovers reunited for "Fool's Gold," once again starring as a somewhat dysfunctional couple. But as in any good romantic comedy, the two find themselves back together in the end.
For obvious reasons, Jonah Hill, right, was referred to as Seth Rogen's Mini-Me when he first came on the scene. Since 2005, the pair have appeared together in four projects: "The 40 Year Old Virigin," "Knocked Up," "Superbad" and "Funny People." They'll next show up in "This Is the End," which Rogen co-wrote and co-directed. The comedy is expected to hit theaters in June.
We first saw the on-screen chemistry of Julia Roberts and Richard Gere when they co-starred in 1990's "Pretty Woman." Nine years later, the pair reunited for "Runaway Bride."
Jason Segel, left, and Paul Rudd have appeared together in a slew of Judd Apatow flicks, such as 2007's "Knocked Up," 2008's "Forgetting Sarah Marshall," 2009's "I Love You, Man" and 2012's "This Is 40." Next up for the co-stars is "This Is the End."
"Larry Crowne," which hits theaters in 2011, is the second film for Tom Hanks and Julia Roberts. The pair first appeared together on the big screen in 2007's "Charlie Wilson's War."
Brad Pitt, right, and George Clooney, who starred together in the "Ocean's Eleven" franchise, are known for being friends off-screen. They also co-starred in 2008's "Burn After Reading."
Leonardo DiCaprio and Kate Winslet first appeared together in James Cameron's "Titanic" in 1997. The pair, who are friends off-screen, starred alongside each other again in 2008's "Revolutionary Road." Winslet's then-husband, Sam Mendes, directed the film.
Sanaa Lathan and Omar Epps first appeared together in 1999's "The Wood." A year later, the pair reunited in "Love & Basketball." Let's just say their moves on the court aren't the only reason Lathan and Epps have captivated us.
The on-screen chemistry between Keanu Reeves and Sandra Bullock was evident in 1994's "Speed." The pair starred alongside each other again 12 years later in "The Lake House."
Nearly a decade after their "Vanilla Sky" romance in 2001, Cameron Diaz and Tom Cruise teamed up for "Knight and Day."
Drew Barrymore and Adam Sandler
Diane Keaton and Woody Allen
The Apatows
Meg Ryan and Tom Hanks
Owen Wilson and Vince Vaughn
Matt Damon and Ben Affleck
John C. Reilly and Will Ferrell
Kate Hudson and Matthew McConaughey
Seth Rogen and Jonah Hill
Richard Gere and Julia Roberts
Jason Segel and Paul Rudd
Tom Hanks and Julia Roberts
Brad Pitt and George Clooney
Leonardo DiCaprio and Kate Winslet
Sanaa Lathan and Omar Epps
Keanu Reeves and Sandra Bullock
Tom Cruise and Cameron Diaz