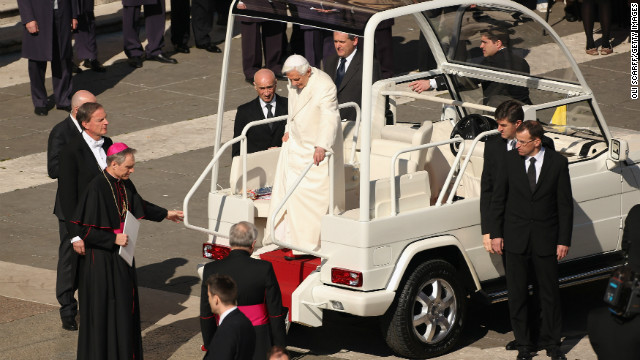 Benedict XVI disembarks the latest version of the Popemobile in St. Peter's Square on February 27, 2013, the day before he stepped down as pope.
This version of the Popemobile was used in September 2010 during the pope's visit to London, England.
This picture shows the way the pope enters a Popemobile. The back door is opened, revealing a small staircase to help him board smoothly.(September 17, 2010 in London, England)
Pictured here is the detail of the Popemobile licence plate. According to the Vatican, the letters on the plate stand for 'status civitatis Vaticanae.' (September 14, 2010 in London)
Pope Benedict XVI waves as he arrives in St. Peter's Square after leading the Te Deum prayer on December 31, 2009 in Vatican City, Vatican. The lights inside the Popemobile enable the crowds to see inside the vehicle.
This Popemobile (photographed in September 2011) is fitted with a religious image just above the pope's seat.
An Israeli worker drives the Popemobile during a rehearsal on May 6, 2009 at the foot of the Mount of Olives in Jerusalem. Israel's internal security agency was originally opposed to the pontiff using his Popemobile while in Nazareth on a tour of the Holy Land, according to a government document presented to the weekly Cabinet meeting on April 26.
2003: Pope John Paul II arrives in St. Peter's Square in his custom-made Fiat Popemobile on May 18, 2003.
Pope John Paul II salutes the crowd as he arrives for his weekly address in Vatican City on May 27, 1998.
In this version of the Popemobile, Pope John Paul II arrives at Sarajevo stadium on April 13, 1997.
1982: Pope John Paul II arrives at Westminster Cathedral in London in a modified Range Rover.
Pope John Paul II is shot by would-be assassin Mehmet Ali Agca in St. Peter's Square on May 13, 1981. Following the assassination attempt, the Popemobile was equipped with bullet-proof glass.
1980: Pope John Paul II waves to the crowds from his custom-built truck during a visit to his homeland Poland.
1966: Pope Paul VI blesses lorries from the back of a Mercedes-Benz in St. Peter's Square, Rome, before they are shipped to famine-stricken areas of India.
1964: During a visit to the John Bosco School in India, Pope Paul VI drives through the crowds with a convoy of bodyguards.
October 1962: Standing in an open Mercedes, Pope John XXIII receives an enthusiastic welcome from the crowds at Loreto.
1929: Papal nuncio Eugenio Pacelli, later created Pope Pius XII, arrives at Freiburg in Germany, accompanied by Dr. Sester.
Pope Pius IX, Giovanni Mastai Ferretti stands in an open salon coach at a railway station in Rome in about 1846.
The pope is pictured being carried in the Corpus Domini procession around St. Peter's Square in about 1840.
Emperor Karl V of Germany, King Charles I of Spain are pictured, circa 1550, with Pope Clement VII in Bologna.
Popemobiles through the years
Popemobiles through the years
Popemobiles through the years
Popemobiles through the years
Popemobiles through the years
Popemobiles through the years
Popemobiles through the years
Popemobiles through the years
Popemobiles through the years
Popemobiles through the years
Popemobiles through the years
Popemobiles through the years
Popemobiles through the years
Popemobiles through the years
Popemobiles through the years
Popemobiles through the years
Popemobiles through the years
Popemobiles through the years
Popemobiles through the years
Popemobiles throughout the years