Saudi Arabia beheads men for stealing
March 13, 2013 -- Updated 2359 GMT (0759 HKT)
STORY HIGHLIGHTS
Seven men did not get fair trials, United Nations says
Saudi official news source quotes passage in Quran about stealing
U.N. says men may have been tortured and forced to confess
(CNN) -- Seven men were executed by beheading Wednesday in Saudi Arabia for stealing, according to SPA, the official Saudi New agency.
The deaths came a day after the United Nations called for the kingdom not to carry out the punishment, in part because the men had allegedly not been given fair trials. The U.N. said the men were reportedly accused of organizing a criminal group, armed robbery, raiding and breaking into jewelry stores in 2005.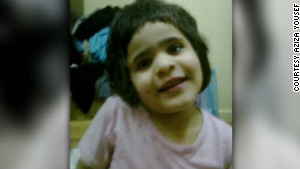 Growing anger over girl's horrific death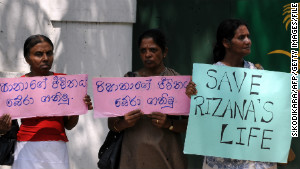 Outrage over beheading of Sri Lankan
The U.N. special rapporteur on torture, Juan E. Mendez, said there are also grave concerns that the men were tortured during detention and forced to sign confessions.
"This is not the only in breach of Saudi Arabia's international obligations under international law, which imposes an outright prohibition on torture, it is also in breach of the government's international obligation under the Convention against Torture that explicitly forbids the use of all forms of torture for the purpose of extracting confessions or acquiring information," he said.
SPA issued a statement on behalf of the Ministry of Interior that starts with a Quranic verse from the chapter "The Table Spread."
"The punishment of those who wage war against God and His Messenger, and strive with might and main for mischief through the land is: execution, or crucifixion, or the cutting off of hands and feet from opposite sides, or exile from the land: that is their disgrace in this world, and a heavy punishment is theirs in the Hereafter."
CNN's Hamdi Alkhshali contributed to this report.

Part of complete coverage on
December 13, 2013 -- Updated 1644 GMT (0044 HKT)

Put aside out-of-date views of Africa and see it the way Africans seem to: With a high level of optimism, a CNN survey shows.
December 13, 2013 -- Updated 0937 GMT (1737 HKT)

The all too real political theater playing out in Pyongyang may offer another tantalizing glimpse behind the opaque curtain of the North Korea.

Read the journal of Mira Sorvino, a human rights activist and Oscar winning actress, who went to Cambodia with the CNN Freedom Project.
December 13, 2013 -- Updated 0757 GMT (1557 HKT)

Kenya could reinvent itself as a center for innovation. But it needs to build new research universities and expand its education, one expert argues.
December 12, 2013 -- Updated 1819 GMT (0219 HKT)

The sign language interpreter widely ridiculed for his performance at the Nelson Mandela memorial stands by his work.
December 12, 2013 -- Updated 1456 GMT (2256 HKT)

Behind the scenes in Cambodian karaoke bars -- a common front for child prostitution.
December 12, 2013 -- Updated 0446 GMT (1246 HKT)

A global risk firm surveys the most politically explosive countries.
December 12, 2013 -- Updated 1509 GMT (2309 HKT)

On Tuesday, I was free. On Wednesday, I became a criminal. India's high court just made being gay illegal, writes Tushar Malik.
December 12, 2013 -- Updated 1046 GMT (1846 HKT)

A Japanese actor says playing villians in Chinese films has helped the China-Japan divide. CNN's Ivan Watson reports.
December 11, 2013 -- Updated 1524 GMT (2324 HKT)

Pope Francis is Time's person of the year. His papacy has drawn adulation from people around the world for his man-of-the-people ways.

He was imprisoned for life but that did not quiet him. Nelson Mandela became South Africa's first black president, and an icon and inspiration.
December 13, 2013 -- Updated 1333 GMT (2133 HKT)

Browse through images you don't always see in news reports, taken by CNN teams all around the world.

Today's five most popular stories