Saudi Arabia beheads men for stealing
March 13, 2013 -- Updated 2359 GMT (0759 HKT)
STORY HIGHLIGHTS
Seven men did not get fair trials, United Nations says
Saudi official news source quotes passage in Quran about stealing
U.N. says men may have been tortured and forced to confess
(CNN) -- Seven men were executed by beheading Wednesday in Saudi Arabia for stealing, according to SPA, the official Saudi New agency.
The deaths came a day after the United Nations called for the kingdom not to carry out the punishment, in part because the men had allegedly not been given fair trials. The U.N. said the men were reportedly accused of organizing a criminal group, armed robbery, raiding and breaking into jewelry stores in 2005.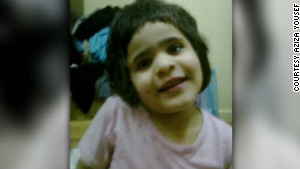 Growing anger over girl's horrific death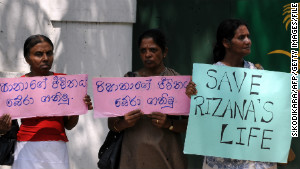 Outrage over beheading of Sri Lankan
The U.N. special rapporteur on torture, Juan E. Mendez, said there are also grave concerns that the men were tortured during detention and forced to sign confessions.
"This is not the only in breach of Saudi Arabia's international obligations under international law, which imposes an outright prohibition on torture, it is also in breach of the government's international obligation under the Convention against Torture that explicitly forbids the use of all forms of torture for the purpose of extracting confessions or acquiring information," he said.
SPA issued a statement on behalf of the Ministry of Interior that starts with a Quranic verse from the chapter "The Table Spread."
"The punishment of those who wage war against God and His Messenger, and strive with might and main for mischief through the land is: execution, or crucifixion, or the cutting off of hands and feet from opposite sides, or exile from the land: that is their disgrace in this world, and a heavy punishment is theirs in the Hereafter."
CNN's Hamdi Alkhshali contributed to this report.

Part of complete coverage on
May 21, 2013 -- Updated 2217 GMT (0617 HKT)

The image of the Gaza boy and his father under a hail of Israeli bullets became a powerful symbol. Now Israel insists its military is not to blame.
May 22, 2013 -- Updated 1247 GMT (2047 HKT)

The tornado that ripped through Oklahoma saw teachers rise to be surrogate parents, protectors and heroes, according to LZ Granderson.
May 21, 2013 -- Updated 1714 GMT (0114 HKT)

Did you know that hurricanes can also produce tornadoes? Read facts you didn't know about destructive twisters.
May 22, 2013 -- Updated 0441 GMT (1241 HKT)

Prime Minister Shinzo Abe calls women "Japan's most underutilized resource," yet traditions have been hard to overcome.
May 22, 2013 -- Updated 1137 GMT (1937 HKT)

According to the United Nations' mission in Iraq, 712 Iraqis were violently killed in April 2013. This is both normal and extraordinary.
May 22, 2013 -- Updated 1121 GMT (1921 HKT)

Myanmar's Muslims have generally coexisted with the Buddhist majority. But ethnic fault lines are exposed as it emerges from military rule.
May 22, 2013 -- Updated 1209 GMT (2009 HKT)

Actresses Carey Mulligan, Isla Fisher and Elizabeth Debicki tell CNN who gave them inspiration for their characters.
May 22, 2013 -- Updated 0521 GMT (1321 HKT)

A quarter century after his death, American pop artist Andy Warhol has popped up in China again after his first and only trip to the country in 1982.
May 22, 2013 -- Updated 0925 GMT (1725 HKT)

Revolutionary "bionic exoskeletons," like the metal suit worn by comic book hero Tony Stark, may be closer than you think.
May 21, 2013 -- Updated 1951 GMT (0351 HKT)

Photos: From Sharon Stone to Matt Damon, browse through the best from the Cannes red carpet this year.

Damnit we have work to do ... but not before we have another go at this annoyingly difficult web-based game.

Today's five most popular stories