Saudi Arabia beheads men for stealing
March 13, 2013 -- Updated 2359 GMT (0759 HKT)
STORY HIGHLIGHTS
Seven men did not get fair trials, United Nations says
Saudi official news source quotes passage in Quran about stealing
U.N. says men may have been tortured and forced to confess
(CNN) -- Seven men were executed by beheading Wednesday in Saudi Arabia for stealing, according to SPA, the official Saudi New agency.
The deaths came a day after the United Nations called for the kingdom not to carry out the punishment, in part because the men had allegedly not been given fair trials. The U.N. said the men were reportedly accused of organizing a criminal group, armed robbery, raiding and breaking into jewelry stores in 2005.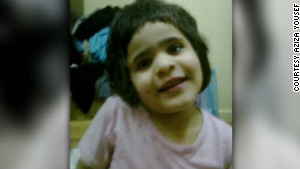 Growing anger over girl's horrific death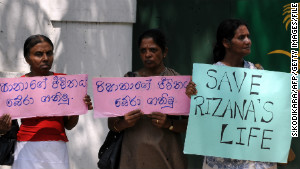 Outrage over beheading of Sri Lankan
The U.N. special rapporteur on torture, Juan E. Mendez, said there are also grave concerns that the men were tortured during detention and forced to sign confessions.
"This is not the only in breach of Saudi Arabia's international obligations under international law, which imposes an outright prohibition on torture, it is also in breach of the government's international obligation under the Convention against Torture that explicitly forbids the use of all forms of torture for the purpose of extracting confessions or acquiring information," he said.
SPA issued a statement on behalf of the Ministry of Interior that starts with a Quranic verse from the chapter "The Table Spread."
"The punishment of those who wage war against God and His Messenger, and strive with might and main for mischief through the land is: execution, or crucifixion, or the cutting off of hands and feet from opposite sides, or exile from the land: that is their disgrace in this world, and a heavy punishment is theirs in the Hereafter."
CNN's Hamdi Alkhshali contributed to this report.

Part of complete coverage on
December 9, 2013 -- Updated 1558 GMT (2358 HKT)

The Web is set to change our lives over the next decade. This will also question the use of personal data and balancing new powers with ethics.
December 9, 2013 -- Updated 0111 GMT (0911 HKT)

The image of the Shinkansen bullet train streaking past Mount Fuji is a powerful part of the iconography of the resurgent post-war Japan.
December 9, 2013 -- Updated 2023 GMT (0423 HKT)

Imagine the delight at unwrapping your Christmas present in 2043 and discovering you've been gifted a trip around the Moon.
December 9, 2013 -- Updated 0727 GMT (1527 HKT)

A new political party claiming to champion ordinary Indian voters makes a startling electoral debut.

Few words in Hungarian, including place names, are easily recognizable to foreigners.
December 9, 2013 -- Updated 1744 GMT (0144 HKT)

Browse through images you don't always see in news reports, taken by CNN teams all around the world.
December 9, 2013 -- Updated 1234 GMT (2034 HKT)

Walking into one of Yayoi Kusama's infinity rooms is like walking into a completely different universe.
December 9, 2013 -- Updated 1529 GMT (2329 HKT)

Meet Tony Allen -- famous for helping create Afrobeat by fusing different beats and patterns.
December 8, 2013 -- Updated 2116 GMT (0516 HKT)

Fans converged on the site where Paul Walker died to pay tribute to the actor. CNN's Paul Vercammen reports.

He was imprisoned for life but that did not quiet him. Nelson Mandela became South Africa's first black president, and an icon and inspiration.
December 9, 2013 -- Updated 1002 GMT (1802 HKT)

Watching digital artist Kyle Lambert's stunning photo-realistic iPad paintings emerge from a blank screen is an awe-inspiring experience.

Today's five most popular stories