Five stories you may have missed during the papal conclave
March 14, 2013 -- Updated 1312 GMT (2112 HKT)
STORY HIGHLIGHTS
Xi Jinping formally named as China's new president as part of once-in-a-decade change
Israel's Benjamin Netanyahu forms a coalition government excluding ultra-religious groups
Plans to embalm the body of Venezuelan President Hugo Chavez hit a snag
Ieng Sary, one of the leaders of the Khmer Rouge, dies while on trial for war crimes
London (CNN) -- The election of Jorge Bergoglio as Pope Francis, head of the Catholic Church and spiritual leader of the world's 1.2 billion Catholics, has dominated CNN.com's coverage over the past 24 hours.
You can read all about the first Latin American pope here. But while all eyes were on the Vatican, watching for the white smoke that signalled the announcement, there was plenty going on elsewhere. Here are five stories you may have missed while you were getting to know the new pontiff.
1. Xi Jinping was formally named as China's new president, as part of the country's once-in-a-decade leadership change. Xi, who took over as General Secretary of the Communist Party four months ago, replaces outgoing president Hu Jintao.
Xi's new role was rubber-stamped in a vote by 3,000 deputies at the National People's Congress. China's premier, Wen Jiabao, is also stepping down as part of the leadership overhaul; he will be replaced by Li Keqiang.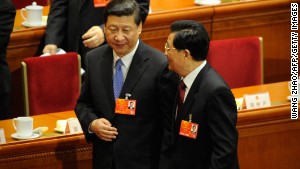 Xi Jinping set to take Chinese presidency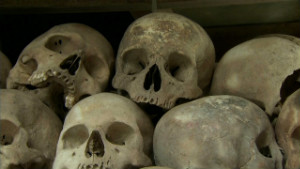 A look at Cambodia's 'killing fields'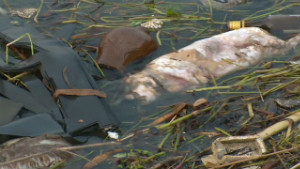 Why were dead pigs floating in river?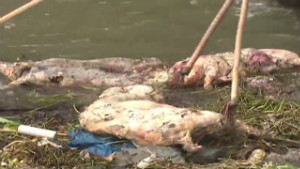 Dead pigs found floating in river
2. Israel's Benjamin Netanyahu formed a new government following weeks of negotiations. Netanyahu and his conservative Likud Beitenu Party forged a coalition deal with centrists and ultra-conservatives, which excludes ultra-religious parties.
The ultra-orthodox Shas Party will join the Labor Party on the opposition benches of the Knesset, Israel's parliament, while former opposition leader and government minister Tzipi Livni makes a return to government, as the coalition's Justice Minister.
3. Plans to embalm the body of Venezuelan President Hugo Chavez and put it on public display like Lenin and Mao Zedong appear to have hit a snag, with acting president Nicolas Maduro admitting the process might be "quite difficult."
Maduro reported that scientists had said "the decision should have been taken much earlier," though it is not clear why. He insisted, though, that Chavez, who died earlier this month after a battle with cancer, would always remain in the country's collective memory.
4. One of the leaders of Cambodia's brutal Khmer Rouge died while on trial for war crimes at a U.N. tribunal. Ieng Sary, who served as foreign minister of the regime, was the brother-in-law of infamous dictator Pol Pot.
Ieng Sary's passing, at the age of 87, leaves just two defendants facing judgment by the tribunal investigating the actions of the Khmer Rouge, which terrorized Cambodia in the 1970s, killing more than one million people.
5. The bloated carcasses of 6,000 pigs were found in China's Huangpu River, sparking health fears over contamination, after traces of porcine circovirus were found in a water sample.
Sanitation workers, clad in masks and plastic suits, were called in to fish the bodies from the river, as Chinese state media reported that a farm had admitted dumping the dead pigs.

Part of complete coverage on
March 12, 2014 -- Updated 0412 GMT (1212 HKT)

Until clearer information comes to light, here's a summary of what we know, and what we don't.
March 11, 2014 -- Updated 1453 GMT (2253 HKT)

Turns out it's not as hard as you think to board a plane with a stolen passport.
March 10, 2014 -- Updated 0300 GMT (1100 HKT)

Aaron Miller says even those with little knowledge of Ukraine should spot the myths we've heard.

Track star Oscar Pistorius is accused of killing his girlfriend, Reeva Steenkamp. Follow live updates of South Africa's trial of the century.
March 11, 2014 -- Updated 1611 GMT (0011 HKT)

CNN reveals it's not just trade in which Russian interests are strongly represented -- it's in some of the most lavish assets around the world.
March 12, 2014 -- Updated 0356 GMT (1156 HKT)

Browse through images you don't always see on news reports from CNN teams around the world.

What we commonly call the Web is really just the surface. Beneath that is a vast, mostly uncharted ocean called the Deep Web.
March 10, 2014 -- Updated 2359 GMT (0759 HKT)

On March 1, football's lawmakers, the International Football Association Board, met to debate the idea of a "sin-bin."
March 11, 2014 -- Updated 1756 GMT (0156 HKT)

"Don't ask me about her again," Justin Bieber tells lawyer after question on Selena Gomez.
March 11, 2014 -- Updated 1300 GMT (2100 HKT)

It seems architects are increasingly drawn to buildings you can see straight through.
March 11, 2014 -- Updated 1758 GMT (0158 HKT)

In the early 1960s, a young postdoctoral student stumbled onto something that puzzled him.
March 10, 2014 -- Updated 1923 GMT (0323 HKT)

Was it a bomb? Mechanical failure? A hijacking gone awry? Pilot error? Here are four scenarios that aviation experts are discussing.

Today's five most popular stories