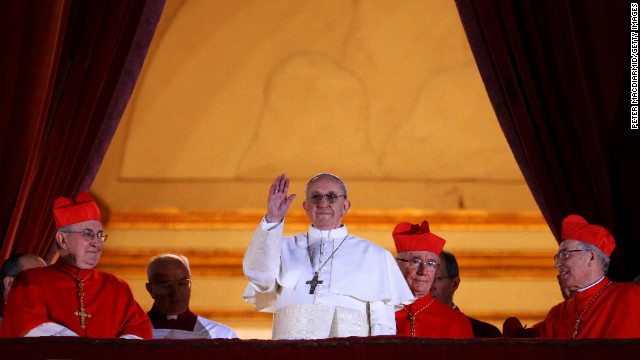 Before becoming Pope Francis, he was Argentinian Cardinal Jorge Mario Bergoglio, the former archbishop of Buenos Aires. The announcement for the selection of a new pope came on Wednesday, March 13, the first full day of the cardinals' conclave in the Sistine Chapel.
Bergoglio arrives for the congregation meeting at Synod Hall in the Vatican on March 7.
Bergoglio, right, draws the cross on the forehead of a parishioner during a Mass for Ash Wednesday, which begins the 40-day period of abstinence for Christians before the Holy Week and Easter, on February 13 at the Metropolitan Cathedral in Buenos Aires.
Bergoglio says a Mass in honor of the late ex-President Nestor Carlos Kirchner on October 27, 2010, in Buenos Aires.
During a Mass against trafficking in July 12, 2010, in Buenos Aires, Bergoglio speaks.
Bergoglio delivers his homily at the church of St. Cajetan in Buenos Aires on August 7, 2009.
Then-Archbishop of Buenos Aires Bergoglio is seen in Vatican City in this undated photo. He's the first non-European pope in the modern era and the first South American pope.
Pope Benedict XVI meets Bergoglio at the Vatican in January 2007.
Bergoglio, right, and Peru's Cardinal Juan Luis Cipriani Thorne attend the special "pro eligendo summo pontifice" (to elect supreme pontiff) Mass in Vatican City in April 2005.
Cardinal Bergoglio, center, officiates a Holy Mass for the eternal rest of Pope John Paul II on April 5, 2005, at Buenos Aires' Metropolitan Cathedral.
Bergoglio is shown washing the feet of a woman on Holy Thursday at the Sarda maternity hospital in Buenos Aires in 2005.
Bergoglio smiles during a news conference at the Vatican in October 2003. during celebrations marking the 25th anniversary of Pope John Paul II's election.
Pope John Paul II receives Cardinal Bergoglio, archbishop of Buenos Aires, Argentina, at the Vatican on February 21, 2001.
This undated photo shows Bergoglio, who was appointed a cardinal by Pope John Paul II.
Pope Francis
Pope Francis
Pope Francis
Pope Francis
Pope Francis
Pope Francis
Pope Francis
Pope Francis
Pope Francis
Pope Francis
Pope Francis
Pope Francis
Pope Francis
Pope Francis