STORY HIGHLIGHTS
Rafael Nadal defated Roger Federer 6-4 6-2 in quarterfinal at Indian Wells
Nadal will play Tomas Berdych in the semifinals
Federer could lose World No.2 spot to Andy Murray
Maria Sharapova and Caroline Wozniacki into women's semifinals
(CNN) -- Roger Federer refused to blame an ongoing back problem after being dumped out at Indian Wells by long-term rival Rafael Nadal.
Federer, who could now drop to World No.3 should Andy Murray reach the final, was beaten 6-4 6-2 by the Spaniard.
The 31-year-old looked to be playing through the pain barrier during his last-16 win over compatriot Stanislas Wawrinka just 24 hours earlier.
But the 17-time grand slam winner did not use his back complaint as an excuse for his performance as his quest for a record fifth triumph at Indian Wells fell flat.
Federer, Nadal to renew rivalry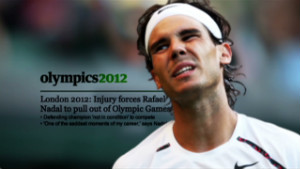 Rafael Nadal's injury heartache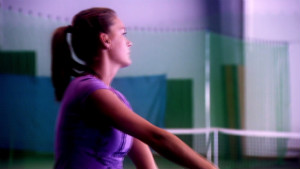 In Krakow with the Radwanska sisters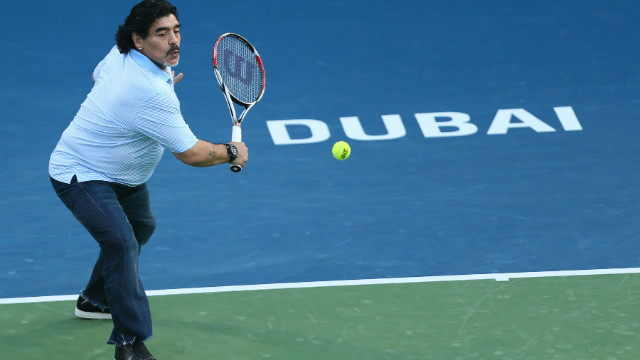 Diego Maradona, the man who led Argentina to World Cup glory in 1986, showed off ball skills of a different kind as he enjoyed a few rallies with fellow countryman Juan Martin del Potro at the Dubai Open Wednesday.
Maradona's infamous hand ball goal against England at the 1986 World Cup was labeled as the 'Hand of God' after he managed to fist the ball into the net. But his divine powers were stretched as he shared the court with the World No. 7.
The 52-year-old was in the stands to watch Del Potro's 6-3, 6-3 second round win over Somdev Devvarman before treating the crowd to a five minute exhibition.
Maradona recently revealed that tennis was his second favorite sport and has visited the tournament for the past 10 years. He showed plenty of enthusiasm as the watching crowd lapped up his presence.
Maradona and del Potro embrace following the short cameo session. The former Barcelona and Napoli star, who is in Dubai on ambassadorial duties, left the court to huge applause for the watching spectators.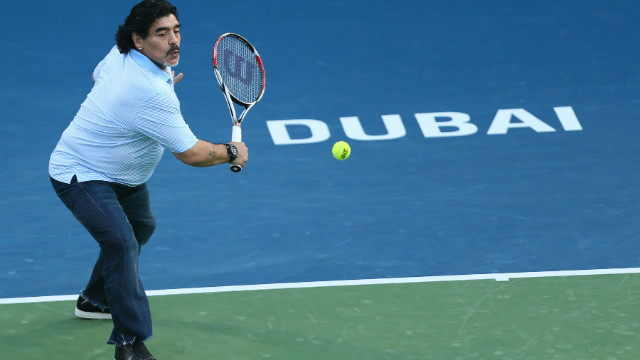 When Diego met del Potro
"[It was the] same as against Stan. I mean, I could play," Federer told reporters.
"I'm happy to be out there and able to compete. But it's obviously a small issue."
Instead, Nadal avenged last year's semifinal defeat by the Swiss and took his record to 19-10 in matches against Federer.
But the manner of victory was not lost on Nadal, who was quick to acknowledge the limitations of his opponent.
"I played a fantastic first set, in my opinion. The second set was strange," said Nadal.
"The second set, I think Roger didn't fight as usual. He probably had some problems and he didn't feel comfortable enough to keep fighting.
"Both of us tried to play our best. I played much better than yesterday.
"My movements today were much, much better than yesterday, so I'm very happy for that, especially after a long match yesterday, to be able to compete well the next day."
Federer: Good to have Rafa back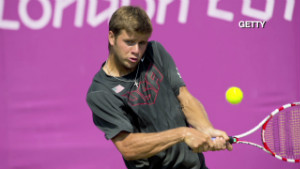 Rising star inspired by Sampras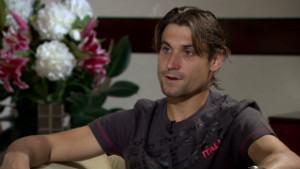 Tennis stars take on the quick fire quiz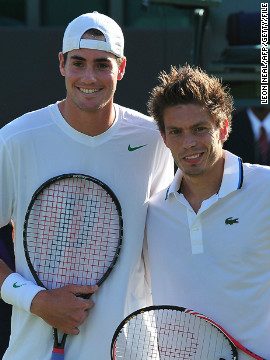 American John Isner and Nicolas Mahut will forever be bonded together by their singles clash at Wimbledon in 2010 which became the longest match in tennis history.
Their "marathon match" lasted 11 hours and five minutes and stretched over three days. Both men went through the mill physically and emotionally as the demands of an eight-hour deciding set took their toll.
The game that started as a low key first round encounter at 6:13pm on Tuesday 22 June finally finished at 4:48pm on Thursday 24 June, by which time the two protagonists were heroes the world over. Isner finally won 6-4 3-6 6-7 7-6 70-68.
Isner and Mahut embraced at the end of the game and nearly three years on from the match the pair are still close friends. Isner says of Mahut: "He's one of the nicest, classiest guys on the tour."
The final set went on so long that it broke the scoreboard. Twice. It first became locked at its maximum 47-47, before it locked again at 50-50 and was reset. Spectators were asked to add 50 games onto the score.
Mahut was heartbroken in defeat and suffered another defeat when the pair were drawn to face each other the following year. The 2011 clash ended 7-6 6-2 7-6, took a full nine hours less and featured 149 fewer games.
There is a plaque outside Court 18 at Wimbledon to mark Isner and Mahut's slice of history.
Isner's main weapon is his powerful serve helped by his towering height of 6ft 9ins, aptly demonstrated here by CNN Open Court host Pat Cash. To date he has won five singles titles on the ATP Tour but he's hoping success in some of the major tournaments will eclipse the "marathon match" that he's best known for.
Isner is now the top ranked American player in the world and has become an important part of the country's David Cup team. He recently recorded victory over 17-time grand slam winner Roger Federer when the USA took on Switzerland.
Isner made his first grand slam quarterfinal at the U.S. Open in 2011 and relishes the big stage: "I think that's one of the main reasons why I beat Federer, I beat Djokovic and I almost beat Rafa at the French Open of all places. That's why you play this game -- to get a crack at those guys. Try to take it to them."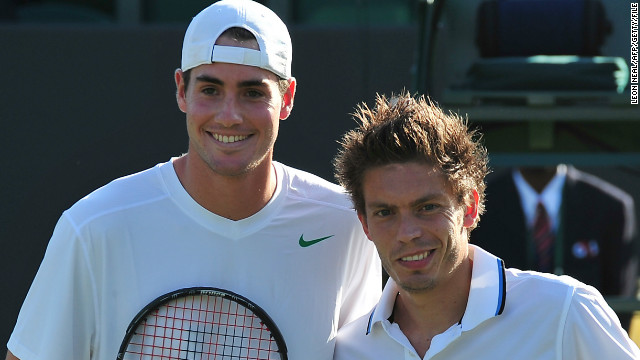 The marathon men: An unlikely bromance
This was the earliest the pair had met in a regular tournament since 2004, when Nadal won their first meeting in the third round of the Sony Open Tennis in Miami.
The 26-year-old will now face Tomas Berdych in his eighth consecutive semifinal at Indian Wells.
The women's quarterfinals were blighted by injury after defending champion Victoria Azarenka and seventh seed Sam Stosur both pulled out with injury.
Djokovic, Azarenka extend unbeaten runs
Azarenka, ranked two in the world, was forced to withdraw with tendinitis and inflammation in her right foot and ankle.
"That's frustrating for me as a player, not knowing," Azarenka told reporters after revealing she is unsure of her recovery time.
"Sometimes you think, OK, well, I rest three days and I'm going to be fine with it. But when you don't know the healing process it's a little bit frustrating."
Stosur's calf injury gifted Germany's fourth seed Angelique Kerber a place in the last four where she will now play Caroline Wozniacki.
In the other semifinal, 2006 winner Maria Sharapova will face fellow Russian Maria Kirilenko.
It is the first time Kirlenko has made the final four at Indian Wells following wins over Agnieszka Radwanska and former Wimbledon champion Petra Kvitova.