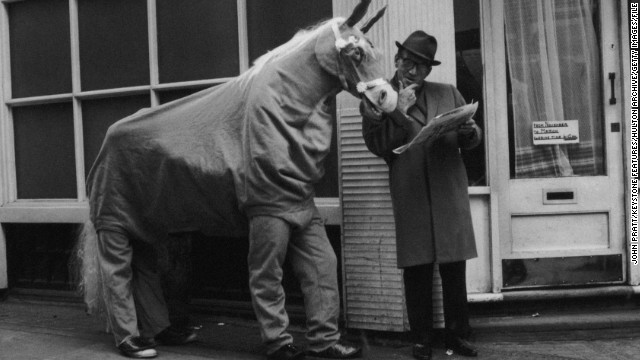 Despite English comedian Arthur Askey's take on horse racing punters, betting is no laughing matter in Britain with more than £12 billion ($18 billion) wagered annually. But what are the legendary gambling stories of the track?
Enter Irish billionaire businessman JP McManus (left). The property mogul and horse owner and breeder from Limerick is a renowned big better. "A lot of his prize money goes back into the industry -- he keeps so many stables in employment across Ireland and Britain," says Betfair spokesman Barry Orr.
McManus is a big player at Britain's Cheltenham Festival. More than $820 million is bet during the four-day meet, second only to the Grand National race. "It's known as the Olympics of jumps racing, with the very best horses from across Europe competing," Orr says.
Irish punters make up around 20% of Cheltenham race goers, helping to create a unique atmosphere of green-clad Guinness-drinking revelry. "They're fearless punters," Ladbrokes bookmaker David Williams says. "Cheltenham without the Irish would be like Sunday roast without Yorkshire pudding."
The luck of the Irish was certainly on stable boy Conor Murphy's side when he won $1.5 million at last year's Cheltenham Festival. The 29-year-old from Cork placed $75 on famous trainer Nicky Henderson's (right) five horses, winning in an accumulator bet.
Australian media mogul Kerry Packer, pictured here chatting to former Prime Minister John Howard, was a towering figure -- both in statue and business. The billionaire was an infamous gambler who as a young man reportedly lost $10,000 to illegal operators and had to be bailed out by his influential father, Frank Packer.
No one could quite believe it when three-year-old colt Donerail won the 1913 Kentucky in a record time of two minutes and four seconds. Least of all the bookmakers who had given him 91-1 odds. It remains the highest odds of any winner in the 137-year history of the race.
Jockey Frankie Dettori made history after winning all seven races at Ascot in 1996. "We've been racing thoroughbreds for 300 years and I'm the first one to get there, and good luck to the guy who follows me," he told CNN.
Horse play
Mcmanus: Myth, legend
Jumping for joy
Luck of the Irish
Stable bet
The big fella
Odd choice
Dettori's stunning seven
STORY HIGHLIGHTS
Legendary billionaire gambler JP McManus big player at Cheltenham
More than $820m bet at four-day British horse racing festival
Top betting stories include stable boy turned millionaire
Lucky punter who won $1.5m on horse called A Dream Come True
Editor's note: Winning Post is CNN's monthly horse racing show. Click here for program times and latest features.
(CNN) -- For a legendary gambler who thinks nothing of betting a million dollars on one horse, Irish businessman JP McManus is by all accounts a surprisingly reserved man.
From humble beginnings as a bookmaker, McManus earned a reputation as the fearless man on the track who would take on any wager -- no matter how big.
"He's an absolute legend. He's got balls of steel when it comes to placing bets," says Barry Orr, spokesman for Betfair, the world's biggest online betting exchange.
Now worth an estimated $1 billion, the 62-year-old property mogul and horse owner was a big player at this week's Cheltenham Festival -- one of the biggest betting events in the Britain.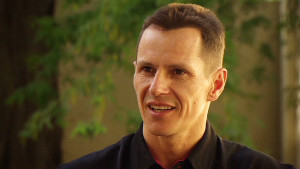 Life as an expat jockey in Doha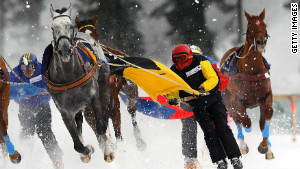 Man + horse + skis = ??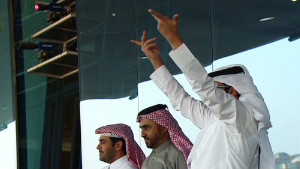 Transforming the desert into a racetrack
Described as the "Olympics of jumps racing," more than $820 million is bet during the four-day festival, with many punters taking their lead from the almost-mythical McManus.
"McManus is a legendary figure because of how brave he is," Ladbrokes bookmaker David Williams says. "He's one of those faces that when he walks into a betting ring, everyone is wondering what he's going to do.
"But you'd never believe he's such a big, brazen better -- he's very polite, very unassuming, a real gentlemen."
Read: Buying a race horse: A safe bet?
Nicknamed the "Sundance Kid" for his bold gambling, McManus famously won $1.3 million in just one day at Cheltenham in 2006, in series of wagers with similarly daring bookmaker "Fearless" Freddie Williams.
As Cheltenham wraps up for another year on Friday, CNN's Winning Post takes a look at five of the most incredible horse racing betting stories of all time.
Stable boy-turned-millionaire
This time last year, 29-year-old Conor Murphy was a stable boy -- until one lucky bet at Cheltenham changed his life forever.
The Irishman could have been accused of letting his heart rule his head when he bet $75 on all five of his boss's horses winning.
But Murphy happily proved the skeptics wrong, scooping $1.5 million in an accumulator -- a single bet which relies on all horses winning.
Horse racing terminology

Accumulator -- A bet involving more than one horse with the winnings from each selection going onto the next.

Ante-Post -- Placing a bet before the day of the race.

Drift -- When the horse's odds become larger, due to a lack of support.

Jolly -- The favorite in a race

Odds On -- Betting odds where the winnings are less than the stake.

Tic-Tac -- The hand signals, or sign language, used by bookmakers to communicate with each other.

Trifecta -- When the bettor must predict the first, second, and third horses.

Walkover -- A race involving one horse.


Read: Qatar's six-star luxury hotel...for horses
Murphy placed the wager online three months before the race, giving him greater odds -- and greater returns -- than those betting on the day.
The huge windfall helped finance his lifelong ambition of working as a trainer in Louisville, home of the prestigious Kentucky Derby, he told British newspaper The Telegraph.
Against the odds
If ever there was an opportunity to step back in time and place a bet, it would surely be on the Kentucky Derby's 1913 winner Donerail.
The three-year-old colt remains the highest odds winner in the history of the race, placed at 91-1, said the Kentucky Derby Museum.
One hundred years ago, those putting $2 on Donerail would have collected $184.90 in winnings. By today's standards, it's roughly the equivalent of placing a $46 bet and getting $4,300 back.
Read: Kentucky Derby's godfathers of black American sport
Surprise winner Donerail pulled away at the last stretch, setting a new track record with a time of two minutes and four seconds, beating his nearest rival by half-a-length.
It was a rare victory for the thoroughbred, who won just 10 of his 62 races.
The biggest loser
Australian media tycoon Kerry Packer wasn't known as "The Big Fella" of gambling for nothing, famously halving betting odds in a matter of minutes with his million-dollar wagers.
Packer, who had an estimated fortune of $6.7 billion at the time of his death in 2005, was a legendary figure on the track who struggled to find individual bookmakers with enough money to take him on.
In the late 1980s a consortium of Sydney bookmakers joined forces to accept Packer's awesome bets, which could be around $5 million on a single race.
McManus is a legendary figure because of how brave he is
David Williams, bookmaker
But the bookmakers were rubbing their hands at Sydney's Golden Slipper Stakes in 1987 when Packer lost around $7 million throughout the day -- including $2 million on his own horse, called Christmas Tree -- reported Melbourne newspaper The Age.
Read: Black Caviar makes winning return to Melbourne
Dettori's magnificent seven
In 1996, jockey Frankie Dettori left bookmakers in tears after defying 25,000-1 odds of winning all seven races at Britain's Ascot Festival.
The Italian rider got the record-breaking day underway with a win on the aptly named three-year-old colt, Wall Street.
One lucky punter, Darren Yeats, placed a £59 ($89) accumulator bet on all of Dettori's races -- despite being warned off by his wife.
But the bold gamble paid off and Yeats left the track £550,000 ($830,000) richer.
"The atmosphere in the winners' enclosure was amazing," Nick Smith, head of public relations at Ascot, told CNN.
"We actually had champagne for him after the sixth win, and then after the seventh the whole place just erupted."
Five years later, Ascot erected a lifesize bronze statue of the jockey at the entrance of the famous racecourse, in honor of his historic wins.
A Dream Come True
The heart rules the head when it comes to betting
David Williams, bookmaker
It's become one of the fabled wins in horse racing history -- and the elusive dream that lingers in the back of every punter's mind.
It started with a horse called Isn't That Lucky and ended with one called A Dream Come True, for one lucky punter from Yorkshire in Britain.
In 2008, the unnamed man placed just 75 cents on eight horses winning in an accumulator bet, said the BBC.
Despite the 2,000,000-1 odds, every horse won, granting the gambler a whopping $1.5 million windfall.
He became the first person in Britain to win £1 million ($1.5 million) in a betting shop.