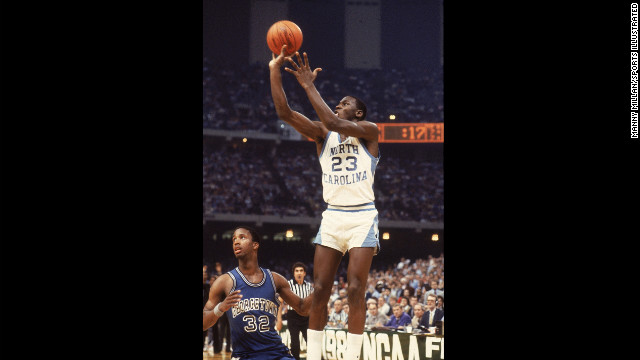 Michael Jordan of the University of North Carolina at Chapel Hill takes the game-winning shot to beat Georgetown 63-62 in the final of the NCAA tournament in New Orleans on March 29, 1982.
Christian Laettner of Duke University shoots the game-winning shot with 2.1 seconds remaining to beat Kentucky 104-103 in overtime during the tournament on March 28, 1992, in Philadelphia.
Lorenzo Charles' dunk at the buzzer gave North Carolina State a stunning upset victory over Houston in the 1983 championship game.
From left, Gordon Hayward, Ronald Nored, Shelvin Mack and Matt Howard of the Butler Bulldogs celebrate after defeating the Murray State Racers 54-52 in the second round of the NCAA men's basketball tournament on March 20, 2010, in San Jose, California. Butler went on to advance to the Final Four for the first time in the school's history, but they were defeated by Duke 61-59.
The Villanova Wildcats celebrate after Scottie Reynolds made the game-winning shot to beat the Pittsburgh Panthers 78-76 during the East Regionals of the tournament on March 28, 2009, in Boston.
Jason Williams of Duke drives to the basket for a layup against Maryland during the semifinal tournament game at the Metrodome in Minneapolis on March 31, 2001. Duke overcame a 22-point deficit at one point to beat Maryland 95-84 and advance to the championship game.
Bryce Drew of the Valparaiso Crusaders talks to father and coach Homer Drew during a Midwest Regional game against the Florida State Seminoles in the second round of the tournament in Oklahoma City on March 15, 1998. Drew sunk a three-pointer with seconds to go to beat the Seminoles 83-77.
From left, UCLA players J.R. Henderson, Tyus Edney and Toby Bailey celebrate after beating UConn 102-96 in the NCAA West Regional final in Oakland, California, on March 25, 1995. UCLA went on to take the title by defeating Arkansas 89-78.
Tate George of the UConn Huskies sinks the game-winning shot at the buzzer to beat Clemson 71-70 on March 22, 1990, in East Rutherford, New Jersey, moving them to the Elite Eight for the first time since 1964.
Memorable March Madness moments
Memorable March Madness moments
Memorable March Madness moments
Memorable March Madness moments
Memorable March Madness moments
Memorable March Madness moments
Memorable March Madness moments
Memorable March Madness moments
Memorable March Madness moments
STORY HIGHLIGHTS
America goes mad for college basketball in playoffs during March, April
Office productivity falls as employees tune into the games
Overheard all over the U.S.: "Brackets, Cinderellas and Sweet Sixteen"
Editor's note: CNN World Sport anchor Mark McKay explains to our international audience why they may find America is preoccupied at the moment with students playing basketball.
Atlanta, Georgia (CNN) -- Are you coming to the United States soon? Welcome to America -- or between now and the second Monday of April, "Welcome to March Madness."
Turn on a TV and it will be hard to avoid it. Eavesdrop on a conversation in a restaurant, bar or office and chances are you'll be hearing phrases like "Sweet Sixteen" and "Final Four."
For nearly three weeks, the field will shrink until two teams are left to play for the right to be crowned national champion, on April 8 here in Atlanta's Georgia Dome.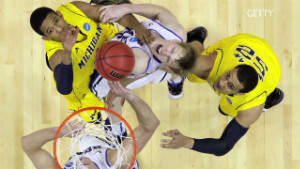 CNN Explains: March Madness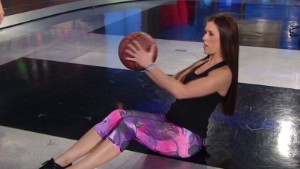 March Madness workout
This is the annual rite of spring that American college basketball fans live for after they've trudged through the cold, dark days of winter. It's when hope springs eternal for 68 teams that compete in something called the NCAA men's tournament.
During this time, keep in mind that productivity in many offices drops precipitously as workers find themselves covertly, and in many cases, quite openly searching to see how their bracket picks are progressing. Managers tend to give their workers passes this time of year as they too have, in all likelihood, caught "Hoops Fever."
Bracket picks? We'll get to that in a minute.
Why all the fuss over a college basketball tournament? Many of my British colleagues through the years have told me that they're not used to having the kind of attention shown on so-called "university" sport as the U.S. places on college basketball. Once they experience March Madness they're hooked. These are amateur athletes who are playing sport at its purest level and not locked into a multimillion-dollar professional contract.
Add to that the possibility that a collection of collegiate "unknowns" in a far-flung part of the U.S. could rise up and pull off a series of shocking upsets in the tournament is part of the beauty of this unscripted springtime story.
It may sound simple enough, but the road to the national championship game can be filled with shocking surprises -- hence the "madness."
Since I grew up loving college basketball, I'm here to help you understand what's going on so that you can bluff your way through a meeting with American clients or hold your own in the hotel bar, at least for a few minutes. Here is my glossary.
Bracketology -- the science of predicting the winners and losers. Before the first games tip off, the teams are paired against each other by a selection committee. Some play close to home at the start, while others may have to trek across the country to chase their dream. Teams are placed in a bracket, like a glorified flow chart, which will follow their progress throughout the tournament. Fans take the fun to a whole new level by filling out their own personal brackets, predicting all the winners through to the final. President Barack Obama does his. Bracket competition breaks out between friends and co-workers, with entire offices often fielding entries. Does money change hands? Yes. By some estimates $2.5 billion every year. Let's call them "friendly wagers."
Cinderella -- the surprise team. You may hear this tournament being referred to as "The Big Dance." Inevitably, there's always a Cinderella, or two, that crashes the ball. These are the overachieving players who pull off a series of upsets that can result in an unexpected champion.
Sweet 16 -- the taste of survival. After the first weekend, 16 teams will have made their way through the first two rounds. Reaching the last 16, as it's referred to for instance in football's Champions League, brings with it a sweet sense of accomplishment for the players and coaches. It's only temporary. Soon they will be back on the hard courts hoping to reach the Elite Eight, then the Final Four.
Final Four -- where the magic really happens. By now even non-college basketball fans get caught up in the frenzy, even if their team isn't playing. Many of the losing fans sell their tickets for the title game and leave town, dreaming of what might have been.
I hope this helps. And if you come across strange mascots, painted faces and people wearing cutout basketballs as head gear, it's just par-for-the course during one crazy but special time of the year.