STORY HIGHLIGHTS
Kimi Raikkonen won Australian Grand Prix in Melbourne
Ferrari's Fernando Alonso and Red Bull's Sebastian Vettel also on the podium
Lewis Hamilton finished fifth on debut drive for Mercedes
Round two takes place in Malaysia next weekend
(CNN) -- "Easy."
That's how Kimi Raikkonen summed up his victory at Sunday's Formula One season-opener at Melbourne.
The Lotus driver came from seventh on the grid to claim maximum points and beat Ferrari's Fernando Alonso into second with reigning world champion and polesitter Sebastian Vettel third.
Raikkonen, nicknamed "The Ice Man", kept his cool throughout to see off the attentions of Alonso, the man who replaced him at Ferrari at the end of the 2009 season.
And the 33-year-old believes his opening day triumph could shape Lotus' season ahead of next week's Malaysian Grand Prix.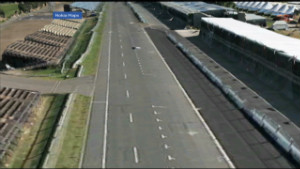 Australian GP: Albert Park flyover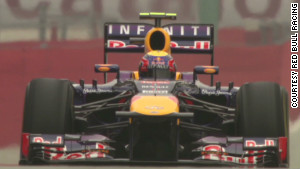 Formula One season off to a racing start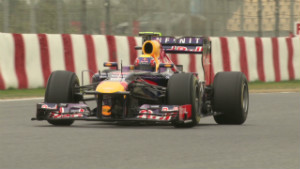 Engines on, Formula 1 returns!
Read: Raikkonen -- Lotus can win F1 title
"I made a few places at the start and then had a good battle with Lewis [Hamilton] before I eventually managed to get past," Raikkonen told his team's official website.
"After that it was quite simple; probably one of my easiest wins.
"You can't start the season much better than winning the first race and of course we hope we can be fighting at the front of the Championship.
"But there's a long way to go still and we need to keep pushing hard all the way through.
"I think it will be two or three race before we really see where all the teams are.
"Hopefully we can qualify a bit better at the next race and have a similar performance."
Raikkonen has been here before.
Six years ago, wearing the red of Ferrari for the very first time, Raikkonen illuminated Albert Park with a debut victory which would catapult him towards his first and so far only, world title.
Race results top 10

1. Kimi Raikkonen - Lotus 1:30:03.225

2. Fernando Alonso - Ferrari +00:12.451

3. Sebastian Vettel - Red Bull +00:22.346

4. Felipe Massa - Ferrari +00:33.577

5. Lewis Hamilton - Mercedes +00:45.561

6. Mark Webber - Red Bull +00:46.800

7. Adrian Sutil - Force India +01:64.068

8. Paul di Resta - Force India +01:67.449

9. Jenson Button - McLaren +01:80.630

10. Romain Grosjean - Lotus +01:81.759
Time has passed but the class remains. His sole victory last season came in the 18th round at Abu Dhabi, while he also claimed second place on three separate occasions.
Two years away from the sport, where he spent time racing in NASCAR and the World Rally Championship, appears to have done little harm to the confidence of a man who finished 74 points off champion Vettel last season.
With all the focus on whether Ferrari can finally end Red Bull's dominance and whether Alonso can finally overtake Vettel, Raikkonen has faded into the background.
It is not a position he would be unhappy with. Raikkonen has always been a quieter man, one to do his talking on his track and away from the media and public opinion.
Read: Ecclestone wants female driver revolution
Last year's third place finish in the drivers' standings at least gave encouragement that Lotus was on to something, although it is far too soon to say whether its challenge be sustained over an entire season.
At least at Melbourne it proved the real deal, with Raikkonen's two-stop strategy enough to see off his rivals, who elected to head into the pits on three occasions.
"We've had a quick car all weekend and there were no issues with it either, so we could just focus on trying different things and getting the setup how we wanted," he added.
"I'm really pleased with how the car performed here; I felt like I could push when I wanted to and it was never too difficult to find the speed.
"The team got the strategy perfect; apart from maybe Force India I don't think the others looked like they could do the same thing."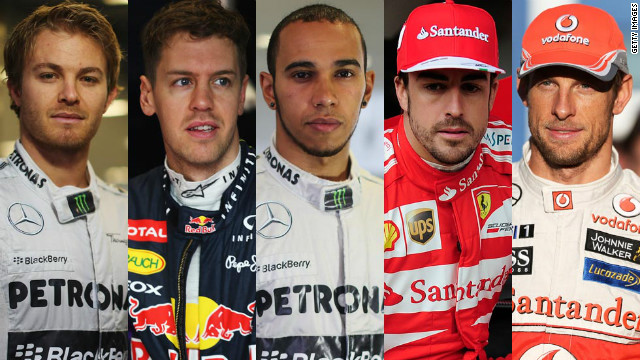 After 15 years with McLaren, Lewis Hamilton has flown the nest and landed in the Mercedes garage. The 2008 world champion is being tipped for success in 2013, with his new teammate Nico Rosberg showing in preseason that the new Mercedes is capable of topping the timesheets.
But if Hamilton is to win a second drivers' championship, he will have to overcome triple world champion Sebastian Vettel. The German has taken the title in each of the last three years, with his Red Bull team also leaving other manufacturers trailing in their wake.
The title race will not be as simple as Vettel vs. Hamilton. A fired-up Fernando Alonso missed out on the 2012 crown by just three points, and the double world champion will be looking to challenge at the front of the grid given the improvements in his Ferrari following last season's design problems.
Five rookies will be on the grid at the Australian Grand Prix, including Valtteri Bottas (pictured) who will be behind the wheel for Williams. Caterham drafted in Giedo van der Garde, while Esteban Gutierrez makes his debut for Sauber and Marussia boast an all-rookie line up of Jules Bianchi and Max Chilton.
Pirelli will serve as the official tire supplier in the final season of its three-year contract. The new tire is made of a softer rubber than its 2012 equivalent, with lap times expected to increase by up to half a second.
There will be 11 teams lining up for the first race in Melbourne following the collapse of Spanish outfit HRT after three seasons without scoring a point.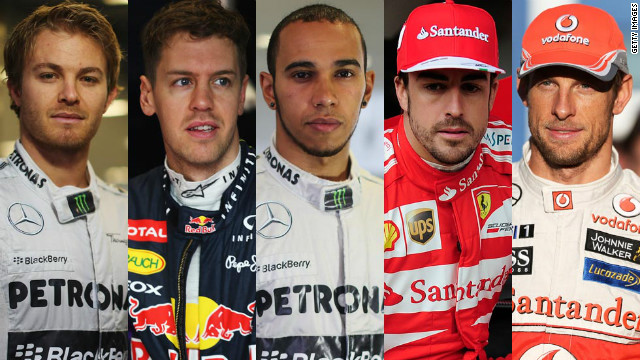 F1: 2013 season preview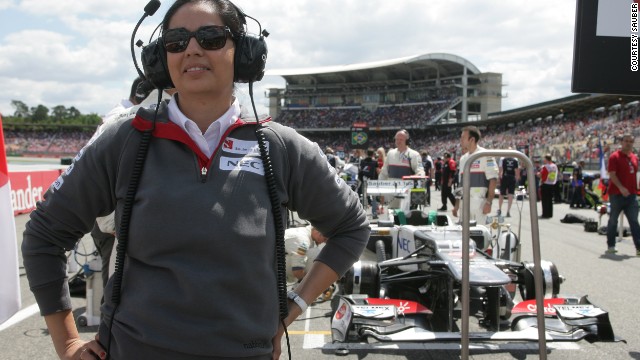 Monisha Kaltenborn, seen here at the German Grand Prix at Hockenheim in July 2011, is the first woman to become CEO and team principal of a Formula 1 team.
Kaltenborn said she grew up watching Grand Prix as a child but never imagined it would become her career.
"The first time I came to the factory and saw what it takes to make a Formula 1 car, it became a passion," said Kaltenborn.
Even before taking over as team principal, Kaltenborn played a key trackside role in Grand Prix races.
Kaltenborn said she is not disturbed by the use of "grid girls", seen here at the 2011 Korean Grand Prix, in Formula 1. "I think girls are prettier to look at than if you had men in those roles," she said.
Kaltenborn, seen here at a school in Delhi, India, is involved in the FIA's F1 In Schools project, which teaches students about all roles in motorsport from engineering to marketing to finance.
Kaltenborn with Japanese driver Kamui Kobayashi at the 2011 Brazilian Grand Prix. Kobayashi competed for Sauber from 2010 to 2012, but has now been replaced by Esteban Gutierrez and Nico Hulkenberg.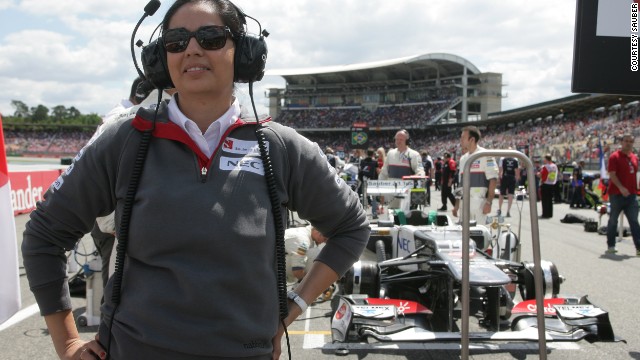 Monisha Kaltenborn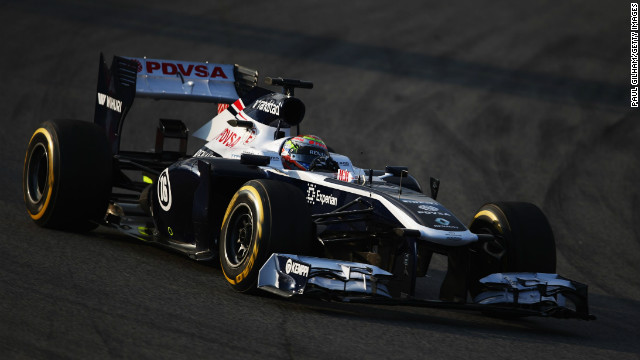 Pastor Maldonado took the new Williams for a spin at Barcelona on February 19 following the launch at Circuit de Catalunya.
The new Infiniti Red Bull Racing RB9 was launched at the Austrian-owned Formula One team's English headquarters in Milton Keynes on February 3.
Mark Webber, left, and triple world champion Sebastian Vettel pose with the Red Bull they will be driving this year.
Title rivals Ferrari launched the new F138 which they hope will power Fernando Alonso to glory in 2013.
British team McLaren unveiled its car on January 31. New driver Sergio Perez (right) poses with 2009 world champion Jenson Button and the new MP4-28.
Former McLaren star Lewis Hamilton, left, and new teammate Nico Rosberg pose with the new Mercedes W04 on February 4.
Sauber's new C32 was launched in Switzerland on February 2. It will be driven by Perez's replacement Esteban Gutierrez and Nico Hulkenberg, who left Force India in 2012.
Force India's Paul Di Resta with the new VJM06 which was launched on February 1 at Silverstone. His new teammate had yet to be named.
Charles Pic and Dutch rookie Giedo van der Garde launched Caterham's new CT03 car on the first day of preseason testing at Circuito de Jerez on February 5.
Romain Grosjean was third-fastest on the opening day in Jerez for Lotus, which was the first team to launch its new car -- the E21 -- on January 28.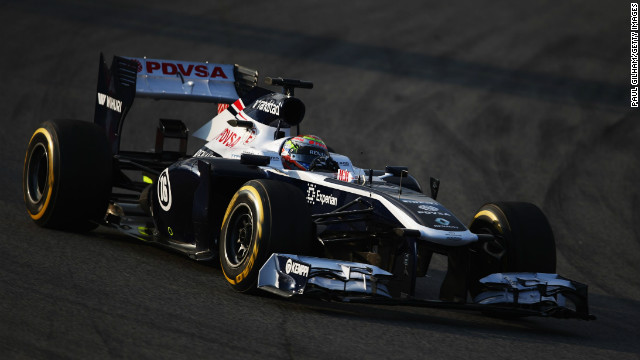 F1 teams unveil 2013 cars
Read: Ferrari revved up for F1 title fight
While Raikkonen managed to hold off Alonso's challenge, the Spaniard is remaining philosophical after Ferrari managed to finish ahead of rival Red Bull.
"Finishing ahead of the Red Bull tastes like a win, even if we know that despite today's race result, they are still the quickest," he told reporters.
"Now we can expect another weekend (in Malaysia) with very changeable weather and one that also puts a lot of stress on the cars from a mechanical point of view and on the drivers, from a physical one.
"But we can tackle it calmly on the back of this good result."
"We can claim to have started this season on the right foot, immediately in the fight with the best," he said.
Read: New F1 season, new thrills?
Vettel had hoped his achievement in securing pole position in Saturday's rescheduled qualifying session would help his quest for a fourth successive title get off to the perfect start.
But the Red Bull driver felt that tire degradation cost him as the race went progressed.
"I think you're always a little disappointed when you start first and don't finish first, but overall it was a good weekend for us," he told reporters.
"We had a good day today with a pole and a podium - but in the race we were a little too aggressive with the tires and lost the front and the rears, while others did a little better.
"There are always areas where you can improve, but the result we got today is fair.
"We didn't see Kimi on the track, he was too quick and Fernando (Alonso) jumped us at a vulnerable time - but we can be happy with third."
Read: Hamilton brushes off title talk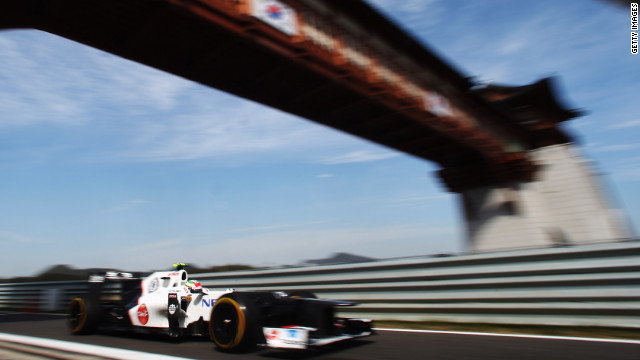 Sergio "Checo" Perez has been the surprise package of the 2012 Formula One season -- just his second year in the elite division of motorsport.
Perez's second place at the Malaysian GP in March was the Mexican's first podium finish in F1. He followed that up with third in Canada and another runner-up position in Italy.
After Lewis Hamilton (left) opted to join Mercedes for the 2013 season, McLaren signed Perez to partner Jenson Button (right) next year.
"Bear in mind that when we took on Lewis he was the same age as Sergio is today and he was incredibly young, incredibly raw and incredibly talented," said McLaren Team Principal Martin Whitmarsh. "Now when Sergio gets to Australia in 2013 he will arrive with the kind of pressure that he can't imagine right now."
Seen here driving in an exhibition through the streets of his home city Guadalajara, Perez was already winning kart races by the age of six.
Manchester United forward Javier Hernandez was also born in Guadalajara -- and Perez is close friends with the footballer, whose nickname is "Chicharito."
Mexico is embroiled in a battle against drugs, which in the last six years has accounted for 60,000 deaths, with 16,000 bodies remaining unidentified and 24,000 people missing. "My country is really only in the media for drugs and violence, which is sad," said Perez.
Perez's father, center, leaves the paddock after the F1 driver's crash during qualifying for the Monaco GP in 2011. Perez's younger brother Antonio is also involved in motorsport and drives in the NASCAR-sponsored race league in Mexico.
When Perez joined Sauber he was sponsored by telecommunications giant Telmex, which is owned by world's richest man and fellow Mexican Carlos Slim.
Ahead of this weekend's U.S. Grand Prix, the penultimate race of 2012, Perez was 10th in the drivers' standings with 66 points.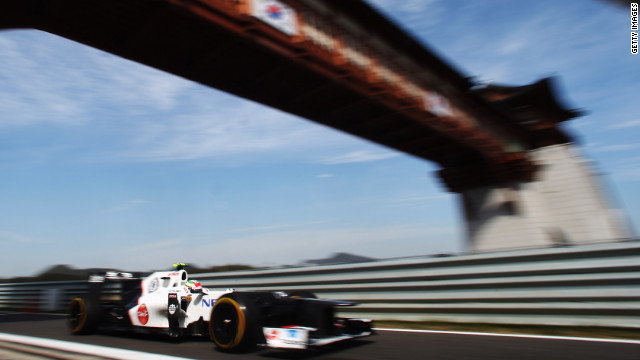 The rise and rise of Sergio Perez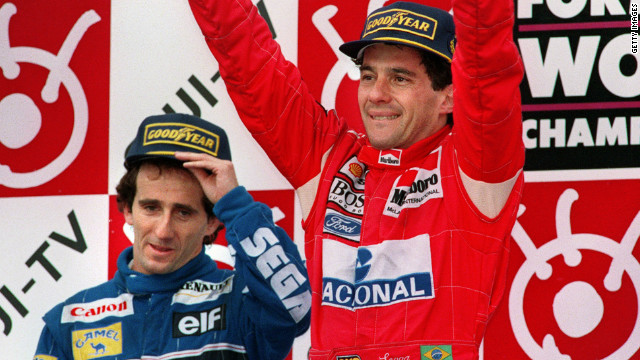 Ayrton Senna and Alain Prost were long-time rivals before they became teammates at McLaren.
Prost and Senna (No.1) clash at the Japanese Grand Prix at Suzuka in 1989. Prost clinched the title after the Brazilian was controversially disqualified after winning the race.
As they both battled for world titles at McLaren, Prost and Senna's relationship came under great strain.
Stand off: Senna and Prost walk away after the early crash at Suzuka in the final race of the 1990 season which left the Brazilian as world champion.
Prost's time with McLaren proved the most fruitful of his career as he captured three world titles.
Prost earned the nickname 'The Professor' for his thoughtful and studied approach to Formula One racing.
Prost competing in wet conditions at the Monaco Grand Prix which he won four times during his glittering career.
Prost and Senna formed a united team in 1988 as the latter won the championship for McLaren.
The medical team at Imola tend to the stricken Senna after his fateful crash in the San Marino Grand Prix in 1994.
Prost joined a pantheon of Formula One greats at Senna's funeral in Sao Paulo in 1994.
In the latter part of career Prost had to battle with the youthful exuberance of future seven-time champion Michael Schumacher.
Prost is a keen cyclist and is pictured here at the end of the 2009 L'Etape du Tour. The race enables 8,500 amateur cyclists to attempt a mountain stage of the Tour de France each year. The 2009 event was staged between Montelimar and Mout Ventoux, with Prost finishing 258th.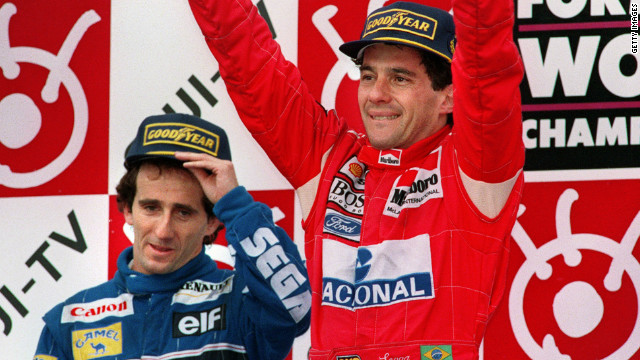 United in rivalry: Prost and Senna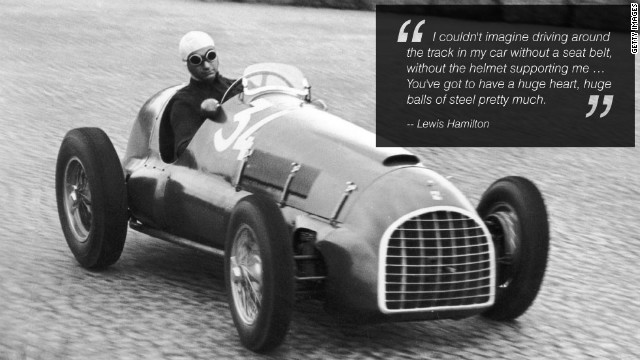 Click here to return to the story.
Click here to return to the story.
Click here to return to the story.
Click here to return to the story.
Click here to return to the story.
Click here to return to the story.
Click here to return to the story.
Click here to return to the story.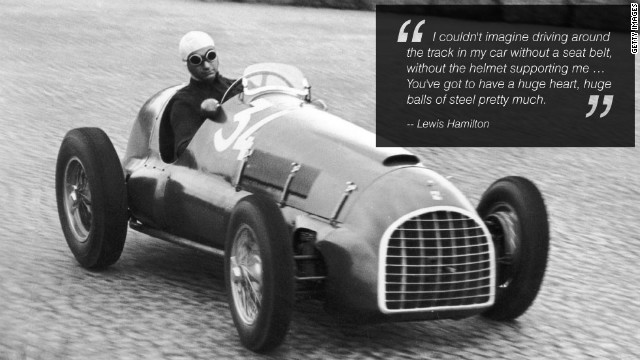 Senna vs. Fangio: Who is the greatest?
Meanwhile, Lewis Hamilton believes his opening race success with new team Mercedes is a sign of things to come.
Hamilton, who left McLaren at the end of last season, claimed a fifth place finish after teammate Nico Rosberg had suffered electronic problems on lap 26.
"I'm happy with our result today and it's much better than we expected for the first race of the season," Hamilton told reporters.
"The important thing is that we have a car that we can really work with and the team have done a fantastic job to get us to this position.
"Now we'll look forward to Malaysia and hopefully build on this positive start with an improved performance."
Read: F1 revolution ahead after 'identikit' 2013 season
Hamilton's former team ended a miserable weekend with lead driver Jenson Button only managing a ninth place finish while new teammate Sergio Perez finished outside of the points in 11th.
"Having won the Australian Grand Prix three times so far in my career -- in 2009, 2010 and 2012 -- you'd have to say that today's ninth place isn't really much to write home about," Button told reporters.
"Having said that, I think we should be pretty satisfied with what we achieved in Melbourne today.
"It was a tricky race and our car isn't yet quick enough, so I think the team did a great job to achieve even as much as we did."
"Looking forward to Malaysia next weekend, I think we've got a tough few days ahead of us, but hopefully we can now do some number-crunching in an effort to understand our car a bit better and extract a bit more performance out of it there."