In Cirque du Soleil, home is where the show is
March 18, 2013 -- Updated 0347 GMT (1147 HKT)
STORY HIGHLIGHTS
Cirque du Soleil's Kooza show is on the road for 300 days a year
A large part of the planning is making sure everyone's documents are in order
Each person is allowed three suitcases and must pack for all seasons
Young performers receive schooling on the road
(CNN) -- On the road for 300 days a year, a Cirque du Soleil touring troupe of 175 relies on the same precise planning for its travel arrangements as it does for its acrobatic moves and dare devil routines.
"Right now, we're in London, in the U.K., and we're working on making sure we have documents ready for Spain, for Russia, for France, because we're visiting those countries by the end of the year," said Geneviève Deslandes, the manager of the Canadian performing group's traveling show Kooza.
To plan for its visit to each city, one of the first orders of business is finding a place to stay. During their time in London earlier this year, the cast and crew stayed in the London Bridge area in 85 apartments.
"For London, it's really nice that we have everyone in the same place, but in Madrid, we're in 24 different places," said Jerome Vezina, the travel and lodging coordinator. He says they work on housing for about three cities at the same time.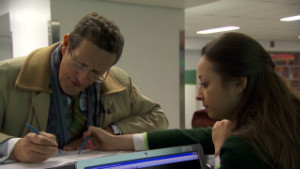 Car rental and cost-cutting secrets
Everyone must pack for all seasons, taking everything they will need all year round. Each of these ultimate road warriors is allowed three suitcases -- two to send ahead and one to travel with.
"We don't live in the present -- sometimes it's sad to say like that -- we really live in the future," Deslandes said.
More than just a circus, Kooza is a community that includes two physiotherapists and four chefs. Teachers provide schooling for the younger performers.
For 15-year-old Mongolian contortionists, it's straight from math class to warm-ups for the next show.
But learning on the road has its benefits, according to Thierry DeGagne, one of the teachers. "My student is reading about Rosetta Stone, and we're going to visit it," she said.

Today's five most popular stories
September 12, 2014 -- Updated 0701 GMT (1501 HKT)

It's been a big week for makeovers in the world of aviation.
August 29, 2014 -- Updated 1525 GMT (2325 HKT)

Aviation isn't known as the most eco-friendly industry; running an airline produces an incredible amount of waste. But some are doing something about it.
August 19, 2014 -- Updated 1514 GMT (2314 HKT)

Airports aren't exactly stress-free zones, but drones, tracking and virtual reality could help make them better places.
August 12, 2014 -- Updated 0906 GMT (1706 HKT)

In many ways, airplanes are a retailer's dream come true. They serve a captive -- often bored -- audience with a disposable income.
July 30, 2014 -- Updated 1835 GMT (0235 HKT)

Takeoff on one of Airbus' new A350WXB test planes is a strangely quiet experience.
July 30, 2014 -- Updated 0034 GMT (0834 HKT)

What do you pack when you travel? Take a look inside other people's luggage.
July 17, 2014 -- Updated 0339 GMT (1139 HKT)

Few airline routes are as cutthroat as the one between London and New York.
July 15, 2014 -- Updated 1515 GMT (2315 HKT)

If it ain't broke, don't fix it, the old adage goes; Airbus unveils revamped A330 airliner.
July 8, 2014 -- Updated 0248 GMT (1048 HKT)

Show us how you travel with twitpics and instagram via #howipack
July 7, 2014 -- Updated 0923 GMT (1723 HKT)

Could airlines drop fossil fuel in favor of cooking oil?
July 1, 2014 -- Updated 0940 GMT (1740 HKT)

How do you kill time during flight delays?