Earliest ever cherry blossoms in Tokyo
March 18, 2013 -- Updated 0656 GMT (1456 HKT)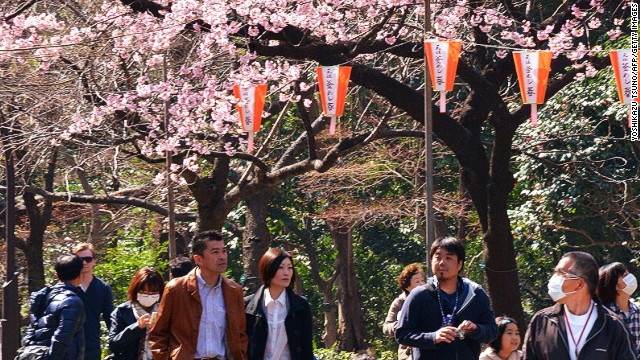 Tokyoites hit the parks over the weekend as sakura (Japanese cherry blossom) season got off to a record early start.
Parts of Japan, including Tokyo, have seen record high spring temperatures, leading to the early blooming.
Viewing the sakura is so popular that at most of Tokyo's best cherry blossom parks, wannabe picnickers need to arrive by 8 a.m. just to reserve some turf.
Hanami parties, usually a walk in a park or a picnic under the trees, date back centuries to when it was primarily a royal or aristocratic activity. There are more than one hundred cherry tree varieties in Japan. The most popular variety is the Yoshino Somei.
Japan takes cherry blossom blooming very seriously. National news services publish maps and weather reports relevant to prime flower hotspots.
The sakura season is short and lasts only one to two weeks after the first flowers bloom. Next weekend is expected to be the highlight of the season, where scenes like this (from last year) will be commonplace.
Early bloomers
Unusual warmth
Picnic in the park
Hanami party
National event
Crowd pleasing
STORY HIGHLIGHTS
Unusually warm weather leads to early blooming
Coming weekend predicted to be season highlight
(CNN) -- Japan's prettiest national pastime of hanami, or cherry blossom viewing, has got off to its earliest start ever.
The Japan Meteorological Agency announced the beginning of cherry blossom, or 'sakura,' season over the weekend.
The declaration came after the agency's designated index tree at Tokyo's Yasukuni Shrine showed the first flowers in bloom on Saturday, the Daily Yomiuri reported.
That's 10 days earlier than average and 15 days earlier than last year -- and due to unusually warm weather.
Visitors contemplating a quick trip to see the sakura should take note: the best time to see the blooming cherry trees should be next weekend, when the flowers are expected to be at their full glory.
5 blooming great flower festivals