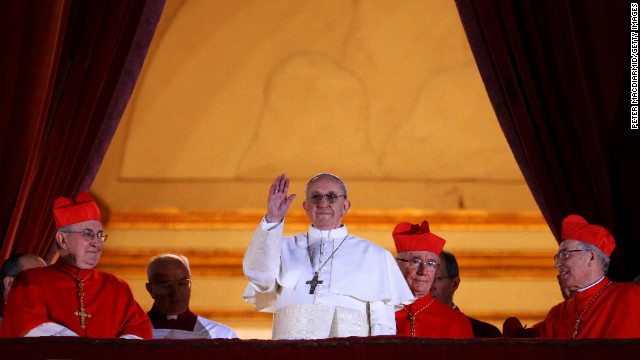 Before becoming Pope Francis, he was Argentinian Cardinal Jorge Mario Bergoglio, the former archbishop of Buenos Aires. The announcement for the selection of a new pope came on Wednesday, March 13, the first full day of the cardinals' conclave in the Sistine Chapel.
Bergoglio arrives for the congregation meeting at Synod Hall in the Vatican on March 7.
Bergoglio, right, draws the cross on the forehead of a parishioner during a Mass for Ash Wednesday, which begins the 40-day period of abstinence for Christians before the Holy Week and Easter, on February 13 at the Metropolitan Cathedral in Buenos Aires.
Bergoglio says a Mass in honor of the late ex-President Nestor Carlos Kirchner on October 27, 2010, in Buenos Aires.
During a Mass against trafficking in July 12, 2010, in Buenos Aires, Bergoglio speaks.
Bergoglio delivers his homily at the church of St. Cajetan in Buenos Aires on August 7, 2009.
Then-Archbishop of Buenos Aires Bergoglio is seen in Vatican City in this undated photo. He's the first non-European pope in the modern era and the first South American pope.
Pope Benedict XVI meets Bergoglio at the Vatican in January 2007.
Bergoglio, right, and Peru's Cardinal Juan Luis Cipriani Thorne attend the special "pro eligendo summo pontifice" (to elect supreme pontiff) Mass in Vatican City in April 2005.
Cardinal Bergoglio, center, officiates a Holy Mass for the eternal rest of Pope John Paul II on April 5, 2005, at Buenos Aires' Metropolitan Cathedral.
Bergoglio is shown washing the feet of a woman on Holy Thursday at the Sarda maternity hospital in Buenos Aires in 2005.
Bergoglio smiles during a news conference at the Vatican in October 2003. during celebrations marking the 25th anniversary of Pope John Paul II's election.
Pope John Paul II receives Cardinal Bergoglio, archbishop of Buenos Aires, Argentina, at the Vatican on February 21, 2001.
This undated photo shows Bergoglio, who was appointed a cardinal by Pope John Paul II.
Pope Francis
Pope Francis
Pope Francis
Pope Francis
Pope Francis
Pope Francis
Pope Francis
Pope Francis
Pope Francis
Pope Francis
Pope Francis
Pope Francis
Pope Francis
Pope Francis
STORY HIGHLIGHTS
The pope's sister says she had previously prayed that her brother wouldn't be picked
"I didn't want my brother to leave (Argentina)," Maria Elena Bergoglio says
Now, the pope's proud sister says he will be a pope for the people
On the selection of her brother: "The church opened its doors."
Buenos Aires (CNN) -- Maria Elena Bergoglio was in her home west of Buenos Aires last week when she heard the shocking news: Jorge Mario Bergoglio -- her brother -- was the new pope.
In the past, she had prayed that the cardinals wouldn't pick him.
"During the previous conclave, I was praying for him not to be elected ... because I didn't want my brother to leave," she told CNN en Español on Monday. "It's a position that was a little selfish."
But this time around, Bergoglio said she changed her tone.
"I prayed that the Holy Spirit would intervene and not listen to me. And it didn't listen to me," she said, laughing. "It did what it wanted."
Last week, soon after the white smoke billowed out from the Sistine Chapel chimney, she heard her brother's voice crackling through the telephone line.
"I almost died," she said. "The telephone rang and my son answered. I heard him say, 'ooooh, God.' I couldn't believe it."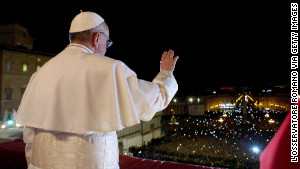 Argentina's reaction to the new pope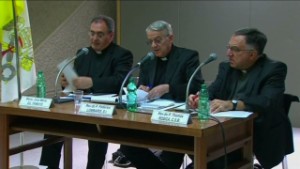 The new pope and Argentina's 'dirty war'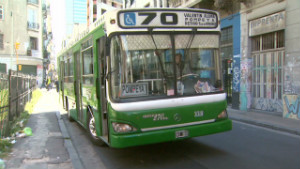 Pope Francis' humble beginnings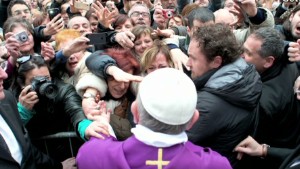 Spontaneous pope raises security concerns
Her brother, who chose the name Pope Francis, told her not to worry and reassured her he was well -- something she's also seen watching his face as the events of recent days unfolded on television.
"I told him I wanted to hug him," she said, "and he told me that we are already embracing from a distance, which is also something that I feel and that is real."
Then, the pope told her to pass along his warm greetings to the rest of the family.
"He said, 'I cannot call everyone. We are a very big family, so please send them my love. Because if I call everyone, it will empty the Vatican coffers,' " Bergoglio said.
Standing outside her house in a middle-class area about 45 minutes from Argentina's capital, she laughed Monday as she described his comments.
She said it was a sign that even now, thousands of miles away in Europe and in the highest office in the hierarchy of the Roman Catholic Church, her brother showed the same sense of humor he displayed since their childhood growing up in Argentina.
"I think that's why he became pope ... if he had to be firm in something, he was," she said. "But he was always like that, with a sense of humor."
It's clear, Bergoglio said, that her brother -- the first pope from Latin America -- will be a pope for the masses.
"I feel like the church opened its doors, and said to the world, "Here I am. I belong to everyone. I am not from one continent, but absolutely belong to everyone.'"
She dismissed concerns raised by critics who accuse Francis of being complicit with Argentina's brutal military dictatorship from the 1970s -- an accusation the Catholic Church denies.
"I am sure, and that is where my calmness is born, that my brother didn't participate in that," she said.
"I don't like to get involved in destructive and scandalous matters. Those rumors are destructive and my purpose is to construct," she said. "So let them say what they want."
Why Francis? New pope explains his new name
CNN en Español's Jose Manuel Rodriguez reported from Buenos Aires. CNN's Catherine E. Shoichet wrote the story in Atlanta. CNN's Rafael Romo contributed to this report.