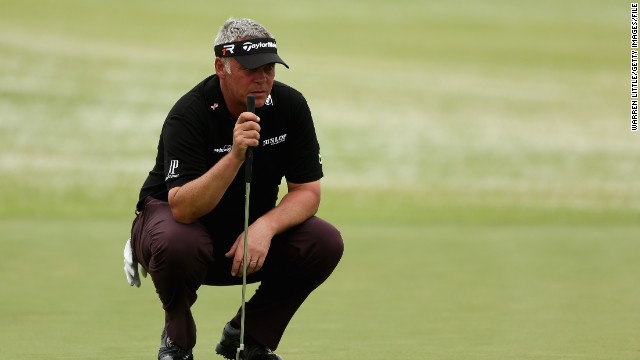 Darren Clarke, British Open winner in 2011, was one of the high-profile players to play in the Pearls Golf Premier League. As well as Northern Ireland's Clarke, two-time major winner Angel Cabrera and former U.S. Open champion Michael Campbell also took part. Clarke's Uttarakhand Lions won the inaugural event, with the franchise paying $55,000 for the veteran's services.
Nirat Chapchai played alongside Clarke for the Uttarakhand Lions. Thailand's Chapchai is a four-time winner on the Asian Tour and won the European Tour's TCL Classic in 2007.
Like Clarke, Cabrera also fetched $55,000 at the pre-tournament player auction. The Argentine was signed by the Maharashtra 59'ers.
The Indian Premier League is a short-form 20 over cricket competition. The T20 format attracts more glitz and glamor than cricket's traditional five-day matches. Bollywood star Shahrukh Khan is a part owner of the Kolkata Knight Riders, which won the IPL in 2012.
The Kolkata Knight Riders are welcomed back to the city after winning the IPL last year. The 2013 competition begins in April.
Major pedigree
Asian stars
Classy Cabrera
Bollywood glamor
Hero's welcome
STORY HIGHLIGHTS
The inaugural Pearls Golf Premier League took place in India last month
Eight franchises were pitted together in a cut down version of the sport
The format is similar to cricket's Indian Premier League, which was launched in 2008
Major winners Angel Cabrera and Darren Clarke were paid $55,000 to play in Golf Premier League
(CNN) -- To the casual onlooker golf is often perceived as behind the times due to the archaic rules and regulations which govern the game.
But even the most old-fashioned sport is powerless beneath the wheels of change and with the Pearls Golf Premier League, golf was recently given a 21st-Century makeover.
The inaugural competition took place recently in Aamby Valley City pitting eight city franchises against each other in a floodlit tournament which boasted a $400,000 prize fund and starred major winners Angel Cabrera and Darren Clarke.
The "Premier League" format is not new to sports fans, with cricket already having undergone a similar reinvention in the subcontinent with the lucrative Indian Premier League (IPL).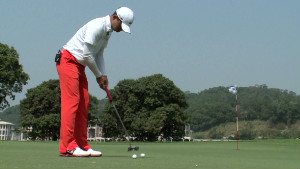 Should anchored putting be banned?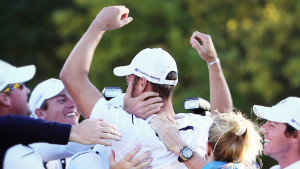 Kaymer's magical Medinah putt
The IPL is played in packed stadiums at a frantic pace, with superstar players on big-money short-term contracts letting rip in the 20-over competition.
Read: Lewis usurps Tseng to top world rankings
Both golf and cricket are sports which traditionally last for days at a time. But does that gentle sporting rhythm -- so reminiscent of yesteryear -- no longer excite a modern audience short on time and attention?
"It's all about thrills and spills these days," Edward Hawkins, author of Bookie Gambler Fixer Spy, told CNN. "Just look at the popularity of T20 cricket in India and the sell-out stadiums. Compare that to the empty spaces at five-day Test matches.
"It's not just India which has a thirst for 'immediate' action and a disinterest for the nuances and chess-like formats.
"Most countries have seen spikes in interest in shorter formats of cricket. Pakistan wants to set up a T20 league, so does the West Indies."
Read: Aiken seals win with a kiss
The financial benefits are obvious.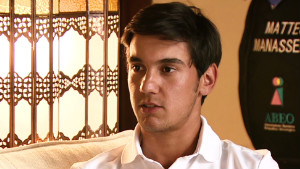 Manassero: Masters was incredible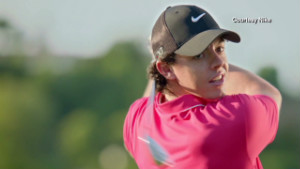 Inside McIlroy's mega deal with Nike
PepsiCo recently signed a deal worth Rs.396.8 crore ($71.93 million) to sponsor the nine-franchise IPL competition, which gets underway again in April, for five seasons.
Television money
That figure doubled the league's previous sponsorship agreement and Hawkins isn't surprised, suggesting shorter games are more appealing to broadcasters.
"There is money there, unlike Test matches," added Hawkins. "A broadcaster would far rather commit to a three-hour show than one over five days spanning seven hours each and have the possibility that it could be rained off or end two days early."
So now golf bravely follows where cricket has led.
Rather than 18 holes, players in the Pearls Golf Premier League played over just 14 with each golfer decked out in their team's jersey.
In the end, it was Clarke's Uttarakhand Lions which won the inaugural competition, with the franchise paying $55,000 for the services of the Northern Irishman during the event.
Does this new golf experiment signal the imminent demise of more traditional forms of sport?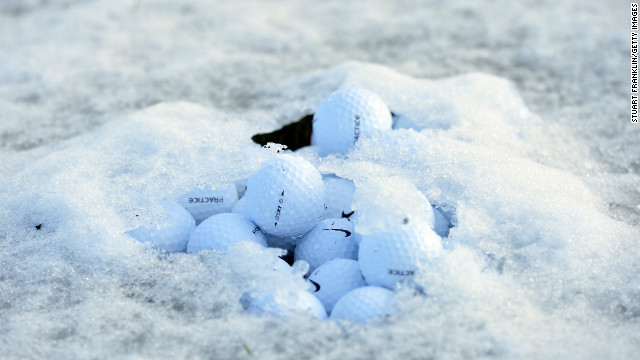 While forecasts hinted at a morning frost, few expected a deluge of snow at the World Golf Championships which is being played at 2,800 feet above sea level. Over two inches of snow fell in under 24 hours, leaving conditions unplayable.
This cactus must feel confused after being covered in snow. Used to living in extreme heat in the desert, this cactus is left with more than a smattering of the white stuff.
It's not just on the course where the snow caused havoc. Organizers were forced to get their scrapers out to make sure fans could sit down and enjoy a drink or two.
Just over three-and-a-half hours of golf was possible on Wednesday because of driving rain, sleet and then snow after 23 of the 32 matches had started with none finishing. Play eventually got back underway on Thursday after a four-and-a-half-hour delay.
Fancy a putting session on the ninth green? This was the scene Thursday as the players were forced to wait for the snow to melt and weather to clear.
"Frosty the Snowman" keeps cool while the players get back to work in Arizona. Frosty is modeling a new hat too.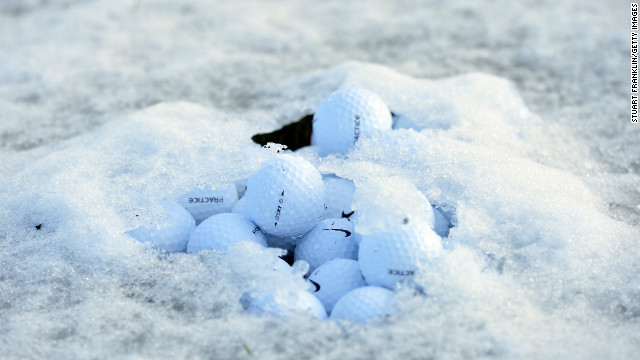 It's snow joke as desert gets a dusting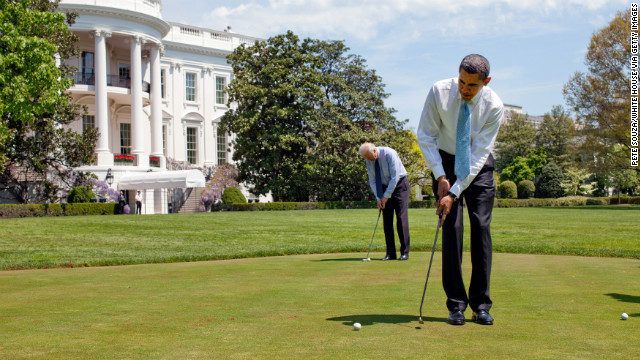 President Barack Obama and Vice President Joe Biden practice on the White House putting green in 2009. Fifteen of the past 18 presidents have played golf.
President George W. Bush tips his hat after teeing off on the first hole at the Andrews Air Force Base golf course on September 28, 2003.
President Bill Clinton watches as his first tee shot heads off the course and into the trees at the Farm Neck Golf Club of Martha's Vineyard during a family vacation on August 23, 1999. Known for taking mulligans, or friendly do-over shots, his second attempt landed in the same spot.
President George H. W. Bush tees off on the fourth hole at Spyglass Golf Course during the AT&T Pebble Beach National Pro-Am on February 28, 1994, in Pebble Beach, California.
President Ronald Reagan putts a golf ball on Air Force One on November 16, 1985.
President Gerald Ford plays golf during a working vacation on Mackinac Island in Michigan on July 13, 1975.
President Richard Nixon and Attorney General John Mitchell play golf at the Los Angeles Country Club in 1969.
President Dwight D. Eisenhower drives down the fairway at Turnberry golf course during a weekend stay at Culzean Castle on the Ayrshire coast of Scotland on September 5, 1959. Eisenhower often carried a club in the Oval Office and took swings while dictating to his secretary.
President Warren Harding, left, gets ready to golf on the Piping Rock Golf Links on Long Island, New York, in 1921. He's with Howard Whitney, second from left, president of the U.S. Golf Association; financier Percy Pyne; and industrialist J. Leonard Replogle.
President Woodrow Wilson plays a round of golf in 1916. He played more golf than any other president, reportedly logging more than 1,000 rounds in his two terms.
President William Howard Taft, the 27th U.S. president, putts on the green in Chevy Chase, Maryland, on June 28, 1909. He is said to be the first presidential golfer.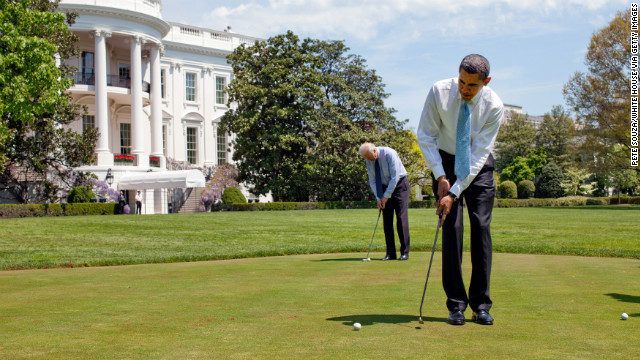 Photos: Presidents take a swing at golf
"This is significant and fundamental because it is changing the very nature of sport: the formats," Simon Chadwick, Professor of Sport Business Strategy and Marketing at Coventry University, told CNN.
"The rules, the way in which they are commercialized and marketed, the way in which sport has become a commodity and somehow seems to be morphing into an entertainment product, the way in which sport is consumed."
These fast-paced, short forms of sport are ideal for a country which, like its BRIC counterparts Brazil, Russia and China, is very much on the up.
"India is fast paced," continued Hawkins. "It's a society which wants everything and five minutes ago. It wants to be seen as leading new trends and in that regard quickfire golf certainly does that.
"It's a vibrant, cocksure country these days, a coming force and they are keen to show that off.
"Golf has its popularity in India but, frankly, every kid carries a cricket bat with them, not a five-iron and in that regard the sport has an 'elite' image.
"Now it could be that they are trying to shake off that stereotype but more likely I think this might be down to some rich folk wanting to have some fun and getting TV deals and sponsorships to pay for it."
Hybrid approach
Chadwick outlines how tinkering with the conventions of sport is an attempt to attract audiences whose interests might ordinarily lie elsewhere.
He also suggest the trend could continue, as Asia's financial power continues to grow.
"There's the development of new format sports that are intended to deliver a 'better product', which often border on entertainment and celebrity rather than pure sport," said Chadwick.
"There's the change in sporting model, with the rise of Asian markets resulting in the emergence of hybrid approaches to sport."