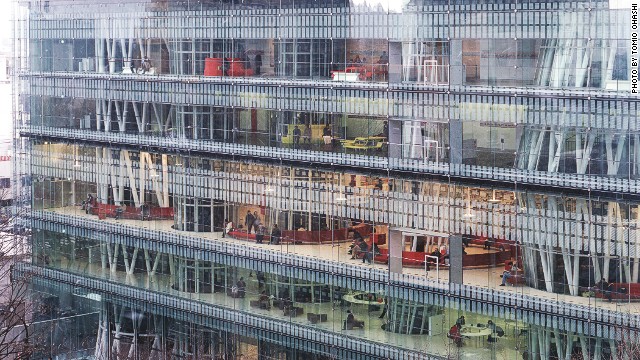 Toyo Ito calls the critically acclaimed Sendai Mediatheque -- an art gallery and library -- his favorite work. Completed in 2000, the building employs structural tubes in place of traditional walls. Built to withstand earthquakes, the library is significant for surviving the devastating quake of March 2011.
Ito designed the temporary Serpentine Pavilion Gallery, completed in London's Hyde Park in 2002. The seemingly random pattern is derived from an algorithm of a cube that expands upon rotation. The Evening Standard newspaper called it "a lesson in imagination."
Completed in 2004, this nine-floor theater and opera hall is made of steel and reinforced concrete, with an exterior that mimics a fluid wave. Ito's firm beat nine other bidders to win the competition to design the center.
The design for the arts center uses glass-inlaid panels for lighting that's "responsive to a variety of sequences" for a "random and natural" effect instead of a geometric one.
The design for this opera house, currently being built (Ito won the competition for it in 2005) incorporates the idea of a building merging with a surrounding park and its labyrinth-like open spaces.
The Sound Cave of the Taichung Opera House is a flexible "acoustic space" with three theaters connected to workshops, restaurants and other venues. "Architecture has to follow the diversity of society, and has to reflect that a simple square or cube can't contain that diversity," Ito has said.
Studying is a joy in this light, airy library located in the suburbs of Tokyo. Arches made of steel plates covered with concrete cross at several intersections, allowing the bottom of the arches to remain beautifully slender while still supporting the weight of the floors above.
Ito opted for a closed space built of steel-plate reinforced concrete when designing this public theater. The design allows the walls and ceiling to remain thin while providing optimal acoustics. The auditorium space allows for various stage and seating configurations. The building was completed in 2008.
The 8,844 solar panels on Ito's stadium roof generate 1.14 million kilowatts of electricity annually, making the building productive even when it's not in use. The novel design slopes outward at one end and was built using 100% reusable materials. Completed in time for the 2009 World Games, this is a significant work of sustainable architecture.
The architect's namesake museum is located on a small island in the Seto Inland Sea. In addition to displaying designs of his work, the museum also holds workshops for budding architects. Completed in 2011, the museum is made of two structures -- the Silver Hut and Steel Hut. The former is modeled after Ito's Tokyo home, which he built in 1984.
Sendai Mediatheque, Miyagi, Japan
Serpentine Gallery Pavilion, London
Matsumoto Performing Arts Centre, Nagano, Japan
Matsumoto Performing Arts Centre (exterior)
Taichung Metropolitan Opera House, Taiwan
Taichung Metropolitan Opera House, Taiwan
Tama Art University Library, Tokyo
Za-Koenji Public Theatre, Tokyo
Main Stadium for the 2009 World Games, Taiwan
Toyo Ito Museum of Architecture, Ehime, Japan
STORY HIGHLIGHTS
Seoul-born Japanese architect Toyo Ito wins highest prize for architecture
Ito oversaw reconstruction projects in Japan following the 2011 tsunami
His firm is currently working on projects in Taiwan, Singapore and Japan
(CNN) -- Seoul-born, 71-year-old Japanese architect Toyo Ito is this year's recipient of the industry's most coveted prize.
On Monday, the architect was announced the 2013 Pritzker Architecture Prize winner, joining past Pritzker Laureates that include Frank Gehry, Tadao Ando and Rem Koolhaas.
"As I did not expect it, I felt really grateful and honored to be awarded the prize," Ito told CNN.
In addition to his abstract, beautiful buildings, the Tokyo-based architect is also known for his extensive work on communal centers as part of the reconstruction in Japan following the 2011 tsunami.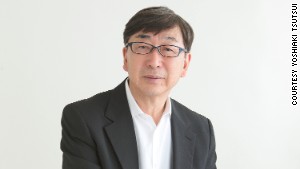 Toyo Ito, 2013 Pritzker Architecture Prize Laureate
Ito, whose family ran a miso (bean paste) factory following his father's early death when Ito was 12, has said he wasn't interested in architecture as a youth. He began taking an interest while attending the University of Tokyo.
Throughout his career, Ito's designs have been unusual, vivid and minimalistic -- from the aluminum house he designed for his sister to the Sendai Mediatheque in Miyagi, Japan, which he describes as his professional highlight.
20 of the world's most iconic skyscrapers
The Pritzker committee jury raved about his lifework of defying standard distinctions. It will officially bestow its award at a ceremony in Boston on May 29.
Together with the 40 employees of his namesake firm, Toyo Ito & Associates, the architect is currently working on projects in Taiwan, Singapore and Japan.
"I travel 50 to 60 times per year for work," says Ito. "I love any place where I work."
At Princeton in 2009, he lectured on the development of the grid system in architecture, pointing out that while the system allows for rapid construction, "it also made the world's cities homogenous" and that "it made the people living and working there homogenous, too."
His design aesthetic is "modifying the grid slightly" so buildings can have closer relationships to their environment.
"Not fixing my style, I keep extending the possibilities of architecture," he told CNN. "In other words, I would like to unbridle architecture from various restrictions and give it more freedom."
The photo gallery above illustrates how Ito is changing and influencing landscapes of cities around the world.
Where to see the buildings (numbered per the gallery above)
1. Sendai Mediatheque, 2-1 Kasugamachi, Aoba-ku, Sendai, Miyagi, Japan; +82 22 713 3171; open daily 9 a.m.-10 p.m., closed every fourth Thursday; www.smt.jp
3. Matsumoto Performing Arts Centre, Fukashi, Matsumoto, Nagano Prefecture, Japan; +81 263 33 3800; www.mpac.jp
7. Tama Art University Library (Hachioji campus), 2-1723 Yarimizu,Hachioji,Tokyo; +81 42 676 8611; open daily 9 a.m.-5 p.m.; www.tamabi.ac.jp
8. Za-Koenji Public Theatre, 2-1-2 Koenji-Kita, Suginami-ku, Tokyo; +81 3 3223 7300; za-koenji.jp
9. Main Stadium for 2009 World Games, No. 100, Shìyùn Blvd, Zuoying District, Kaohsiung City, Taiwan;+886 7 582 9000; open daily 8:30 a.m.-6 p.m.; www.nssac.gov.tw
10. Toyo Ito Museum of Architecture, 2418 Urado, Omishima-machi, Imabari, Ehime, Japan; +81 897 74 7220; open Tuesday-Friday 9 a.m.-5 p.m.; www.tima-imabari.jp