STORY HIGHLIGHTS
Tiger Woods says he revealed romance with Lindsey Vonn to limit paparazzi focus
World's No. 2 golfer and former skiing world champion confirmed their relationship Monday
Woods aiming to reclaim world No. 1 ranking with victory at Arnold Palmer Invitational
The 37-year-old says he is proud of the way he fought back towards top ranking
(CNN) -- Tiger Woods and Lindsey Vonn released news of their relationship to limit paparazzi intrusion on their romance, the world's No. 2 golfer said Wednesday.
The 14-time major champion is preparing for the Arnold Palmer Invitational tournament in Florida, where a win would see him reclaim the number one ranking for the first time in over two years.
Woods and Vonn -- a four time Alpine World Cup skiing champion -- released statements and a series of pictures confirming their relationship on Monday.
And the 37-year-old told a press conference at the Bay Hill course they had put out the snaps to prevent any invasion into their lives from photographers that he referred to as the "stalkerazzi."
Perfect match: When athletes date
"It's very simple, we're very happy where we are at but also we wanted to limit the stalkerazzi and all those sleazy websites out there following us," he told reporters.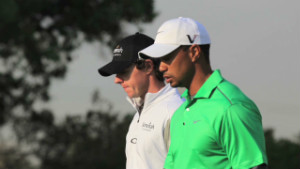 Exclusive: Tiger and Rory's 'bromance'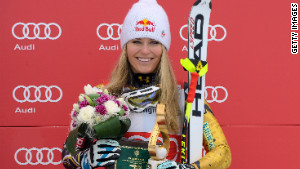 Vonn reflects on an 'amazing' year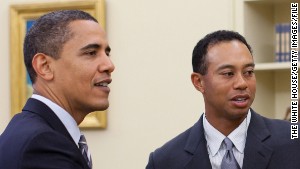 Obama tees off with Tiger Woods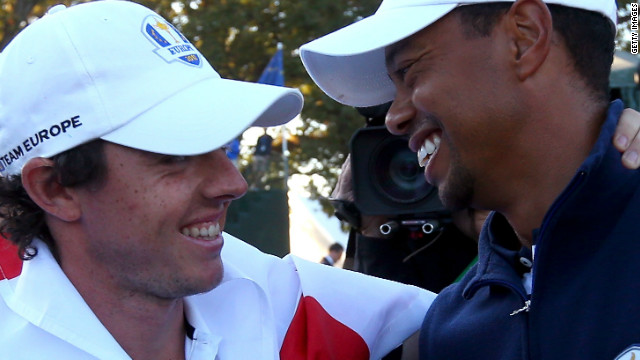 Tiger Woods, right, congratulates Rory McIlroy after Europe's remarkable victory over the U.S. on the final day of the 2012 Ryder Cup in September. The two are big rivals on the golf course, but a friendship has also blossomed this year.
Golf great Nick Faldo has questioned whether they should be so close. Sports psychologist Dan Abrahams says they would benefit from keeping a bit of distance. "In the heat of battle it becomes more difficult to emotionally detach yourself from that person's performance if you're good friends with that person," he told CNN.
McIlroy has admitted idolizing Woods as a boy, but has now usurped him as golf's No. 1. "Once they step on the first tee, those competitive juices are flowing and they're focused either on their own game or beating each other," Abrahams said.
They are following in golf's great tradition of rivalries -- most notably Jack Nicklaus, left, and Arnold Palmer. "The power of the mind and the capability of that mental discipline is what separates the good from the great," sports leadership expert Khoi Tu told CNN. "That might allow them to become friends with people off the course, but not on the course."
Formula One's greatest rivalry was between Alain Prost and Ayrton Senna. "They absolutely detested each other," Tu says. "They were two very different personalities, and often that's one of the features of great sporting rivalries: Fire and ice."
Fernando Alonso, left, has now twice been beaten to the F1 championship by Sebastian Vettel -- who is widely rumored to be his teammate at Ferrari come 2014. "When you get two No. 1 drivers together with no team rules, then the sparks can really fly," Tu says. "It's rare for them to be good mates. They may get along, they may trust and respect each other in a professional capacity, but hanging out is a different issue."
Former world champion Jackie Stewart, seen here playing with the children of F1 rival Graham Hill, was remarkably friendly with his peers, Tu says. "He was incredibly fond of a number of people who drove with him. That partly is because there was a clearer distinction of him being a number one and them being number two drivers."
A new rivalry has grown in tennis this year between U.S. Open and Olympic champion Andy Murray, left, and childhood friend Novak Djokovic, the world No. 1. "People say that Murray and Djokovic are close but I think it's rare," Tu says. "The best sporting rivalries are the ones where there are these very distinct, almost opposite personalities, but they're very close in terms of their competence."
Rafael Nadal, left, ended the tennis dominance of Roger Federer but they have publicly expressed their friendship despite reports of arguments about on-tour issues. "As people get older they've done so much, broken lots of records, I think that competitive edge is slightly dulled," Tu says. "That makes it easier to be friendlier. You can keep your dignity if you're not crying every time you lose to a younger, faster athlete."
Martina Navratilova, left, and Chris Evert had one of the biggest rivalries in women's tennis. "They ended up as good buddies, but that was when the battling had been done," Tu says. "All of the respect and friendship you get in sport comes through competence first -- ' I know how hard it is to be this good, so I respect them for that.' "
Fiery American John McEnroe, left, and ice-cool Swede Bjorn Borg created an iconic tennis rivalry. "When those two collided, at the height of tennis perfection, that's when the audience is really enthused and enthralled," Tu says. "To get that rivalry, they have to leave any friendship on the sidelines."
Sometimes you get two great athletes, but they are too close to be proper rivals -- such as tennis star Serena Williams, left, and her sister Venus. "The great things about sport is the sense of competition, the uncertainty of the outcome, the fairness of the playing field," Tu says. "You might be able to suspend enough of your fraternal or sisterly love to play a decent game of tennis but it won't reach the heights of the rivalries that make the sport."
Muhammad Ali, left, "demonized" Joe Frazier to hype up their fights despite being showed respect outside the ring by his rival. "He came up with the gorilla term to create a spectacle, which he knew was important, but it revved himself up too," Tu says. "He needed to have a real enemy. By the end of the (Manila) fight, he said that Frazier brought out the best of him."
Then there's modern football's greatest rivalry -- Lionel Messi and Cristiano Ronaldo. "I'm not sure Messi is a rival with anyone, he still has that unique joy of just playing," Tu says. "But I think with Ronaldo, the truth is Messi is his nemesis -- and the fact that Messi doesn't care makes it even worse."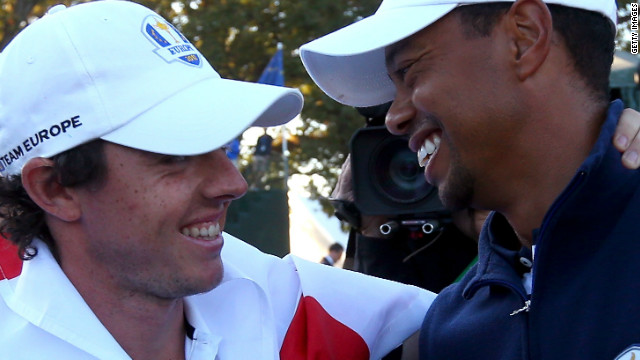 Great sporting rivalries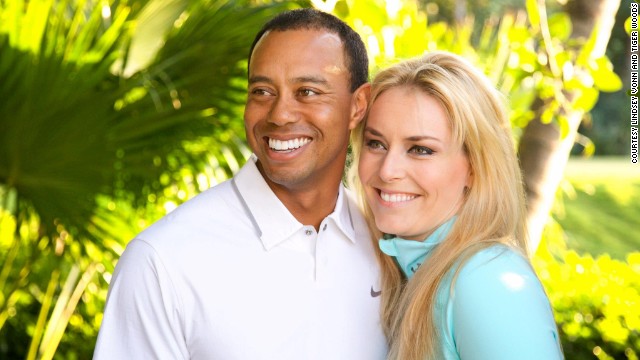 Golfing great Tiger Woods and champion skier Lindsey Vonn announced they were dating on Facebook on Monday, March 18. Vonn recently divorced Thomas Vonn, who was also her coach, and Woods had a tumultuous split from his wife, Elin Woods, in 2010. Here's a look at other athlete couples.
NASCAR drivers Danica Patrick and Ricky Stenhouse Jr. got the nickname "Stenica" after they made their relationship public. The couple will be competing against each other for the Sprint Cup this year. Pictured, the two talk during the Sprint Cup Series Subway Fresh Fit 500 in March 2013.
17-time grand slam winner Roger Federer met his wife while both were competing for Switzerland at the 2000 Olympics. Injury forced Mirka to retire from tennis in 2002, since when she has worked as her husband's PR manager.
Olympic gold medalist Kristi Yamaguchi met hockey player Bret Hedican at the 1992 Winter Olympics. When they were dating, the figure skater said they would only see Hedican for a couple hours a month because of their busy schedules. They got married in 2000 and now have two daughters. Pictured, the family arrives at a movie premiere in Los Angeles, 2008.
Lleyton Hewett and Kim Clijsters, both former world No. 1 tennis champions, met at the Australian Open in 2000, reportedly after Kim's sister Elkie asked her to get Lleyton's autograph. They announced their engagement in 2003 but split in October 2004. Both decried the "malicious gossip" that followed their separation. Pictured, the two kiss after Hewitt defeated his fiance in an exhibition match, 2004.
Misty May, Olympic Gold Medalist in beach volleyball, and Major League baseball player Matt Treanor have been married since 2004. After winning her third gold medal with her volleyball partner Kerri Walsh Jennings in the 2012 London Olympics, she announced she was retiring to start a family. Pictured, Misty May knocks fists with her fiance at the time after throwing the first pitch before the start of the Florida Marlins against the Atlanta Braves in Miami, September 2004.
Track stars Marion Jones and Tim Montgomery went from power couple to notorious dopers after admitting to using performance-enhancing drugs in 2007. They had a child together, Tim, Jr., and have since split. Pictured, Jones and Montgomery pose with their trophies after their races, on September 14, 2002, during the IAAF Grand-Prix Final at Paris' Charlety Stadium.
The news of the romance between England's rugby World Cup winner Mike Tindall and Zara Philips, the Queen's granddaughter, came as a surprise to many - but they happily tied the knot in 2011. One year later, Philips won an Olympic silver in the equestrian team event.
Pro basketball players Shelden Williams and Candace Parker married in 2008 and had a daughter the following year. Candace Parker still plays for the L.A. Sparks. Pictured, the couple and their daughter, Lailaa Nicole Williams, arrive at the 2012 ESPY Awards in Los Angeles, July 2012.
Both tennis player Caroline Wozniacki and golfer Rory McIlroy have been the top-ranked in their respective sports. McIlroy, seen as the apparent heir to Tiger Woods, has two major championships to his name and a $200 million sponsorship deal with Nike.
Pro surfer Laird Hamilton and pro volleyball player wife Gabrielle Reece have been married since 1997 and have two daughters, according to People. The pair have a workout site so everyone can strive to look as good as they do.
Pro tennis players Andre Agassi and Steffi Graf have 30 grand slam singles titles between them, and they still play together in doubles exhibition matches. They married in 2001. Pictured, the couple smiles from onstage during a nonprofit event, February 2012.
Golfer Nancy Lopez and World Series MVP Ray Knight were married for 27 years before splitting up in 2009. Pictured, Lopez and Knight watch a game in Carmel, Indiana, September 2005.
Former NFL player Curtis Conway and middleweight champion Laila Ali, daughter of the boxing legend Muhammad Ali, married in 2007. They met two years previously, when Ali went to a small get-together with a friend at Conway's house. Pictured from left, Lelani Conway, Curtis Conway Jr.,Curtis Conway, Laila Ali, Sydney J. Conway and Kelton Conway attend a charity event in Los Angeles, June 2011.
After defecting from communist Romania in 1989, Olympic legend Nadia Comăneci found her way, via Canada, to love. Fellow Olympic gymnastic champion Bart Conner had never forgotten the girl he first met as a teenager - and the American married the sporting heroine in a 1996 ceremony broadcast live in Romania.
After failed relationships with Spanish golfer Sergio Garcia, English footballer Sol Campbell and Czech tennis player Radek Štěpánek, former Swiss tennis player Martina Hingis found love with show jumper Thibault Hutin -- marrying the Frenchman in 2010.
Florence Griffith-Joyner, known as Flo Jo, and Al Joyner, Olympic gold medal winning triple jumper and Flo Jo's coach, met at the U.S. Olympic trial in 1980 and married in 1987. Flo Jo won golds in both the 100 meter and 200 meter at the Seoul Olympics in the following year. She died in 1998. Pictured, she walks off the track with her husband Al Joyner during the Olympic Games in Seoul, South Korea, 1988.
Soccer star Mia Hamm and baseball player Nomar Garciaparra married in 2003 and had twin girls in 2007 together, according to People. Pictured, the pair attend a show premiere, November 2005.
Professional hockey player Sergei Fedorov admitted in 2003 that he and tennis heartthrob Anna Kournikova had briefly been married after they had already divorced. It had been rumored since 2001, according to SI.com. Pictured, Fedorov and Kournikova pose for photos at a French Open event in Paris in October 2000.
Olympic softball pitcher Jennie Finch married professional baseball pitcher Casey Daigle, and have a son, Ace, together. Pictured, Daigle and Finch arrive at the ESPY Awards on July 14, 2010, in Los Angeles, California.
U.S. Soccer defender Heather Mitts married NFL quarterback AJ Feeley in 2010. Pictured, Mitts and Feeley attend ESPN The Magazine's "NEXT" Event on February 3, 2012, in Indianapolis, Indiana.
Sharing the same date of birth, legendary long distance runner Emil Zatopek and his wife Dana Zatopkova, a javelin thrower, also won Olympic titles on the very same day - with the couple showing their four gold medals here. Emil passed away in 2000, leaving behind the wife he married 52 years earlier.
Golfer Greg Norman and tennis pro Chris Evert finalized their divorce in 2010, according to People Magazine. They had been married for 15 months. Pictured, Norman and Evert wait on the ninth green during the Par 3 Contest prior to the 2009 Masters Tournament at Augusta National Golf Club on April 8, 2009, in Augusta, Georgia.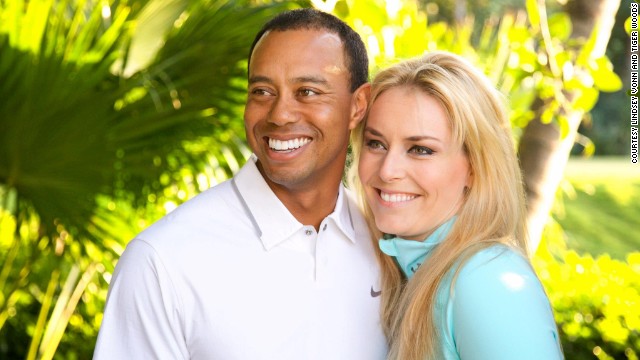 Photos: Athlete couples
"I've had situations where it's been very dangerous for my kids, the extent that they'll go to. We basically devalued the first photos.
"Unfortunately that's just the way it is in our society right now and we felt it was the best thing to do and we're very happy about it."
The pair's relationship has been big news since Monday's confirmation but Woods is now focused on trying to wrest golf's world No. 1 crown back from friend, rival and Nike stablemate Rory McIlroy.
It would mark a significant transformation for Woods, whose stuttering form in recent years saw his ranking slump past the 50 mark at one point.
But after victory at the Cadillac Championship in Doral last week -- his 17th World Golf Championship title -- Woods can now reach golf's pinnacle if he can secure his 77th PGA Tour triumph.
"I feel like I'm headed in the right direction," he said. "I'm very pleased where I've come from. Like I said, 50‑plus to where I'm at is no small task.
"I'd like to get to 19-plus (majors) myself. Getting back to number one and all that it entails, it's not easy to get there in the first place. I don't think people realize how hard it is to get to number one in the world.
"It's been a long process. I was hurt for a long time, I had to make swing changes that were drastically different than what I was doing before. It's taken some time."
Woods is defending champion at Bay Hill, beating 2010 U.S. Open champion Graeme Dowell by five shots last year to secure his first tournament win since 2009.
He has won four more times in the last 12 months and he puts a large slice of his resurgence down to the fact that he has remained injury free during that period.
"I just needed to get healthy," he added. "Once I got healthy and I was able to practice properly, I felt like then I could implement the swing changes that (coach) Sean (Foley) wanted me to put in there.
Read: Chinese 12 year-old to make golf history
"But I needed to get healthy enough where I could practice. It happened to be a perfect storm where I was making a swing change, and I was hurt, and I couldn't devote any time to it.
"To gradually work my way back, that's something I'm proud of."
Woods' game attracted praise from Palmer himself, who won seven major titles during a glittering career that has seen him regarded as one of the finest to play the game.
"I think right now looking at him and watching him play, he looks probably as strong and as good from a golf perspective as I've ever seen him," the 83-year-old told reporters.
"I think his swing and his posture and his attitude is far better than it's been in some time, and it takes me back to when I first played with him at Augusta when he was a rookie.
"I give him a chance. I suppose that every year it's a little more fleeting, however, and he'll have to really work hard to keep himself up and keep his mental attitude if he's going to do it."