STORY HIGHLIGHTS
U.S. Open announces a rise in tournament prize money to $50 million from 2017
Tournament also hikes prize money for 2013 competition by a record $8.1 million
Men's final to revert to Sunday rather than Monday as of 2015
Flushing Meadows also to be revamped as part of the five-year agreement
(CNN) -- He's enjoyed unprecedented success off the court, now Roger Federer has helped pave the way for some major changes at the U.S Open.
As president of the ATP Player Council, the 17-time grand slam champion, from Switzerland, has helped to negotiated a hike in prize money to $50 million by 2017, nearly double the figure in 2012.
The United States Tennis Association (USTA) confirmed the tournament -- the season's final major -- will also rejig its schedule to ensure the men's semifinals are played on Friday with the final reverting to Sunday by 2015.
It marks the culmination of a year's worth of discussions with the game's top players, led by Federer, but also including world No. 1 Novak Djokovic.
Read: Nadal urges tighter drugs control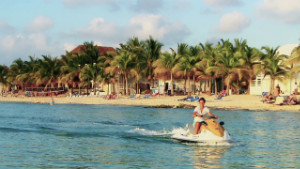 Relaxing with Rafa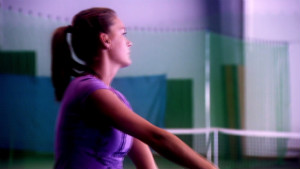 In Krakow with the Radwanska sisters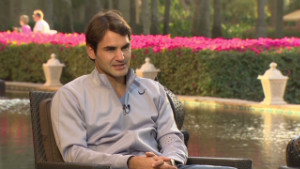 Federer targets more grand slam titles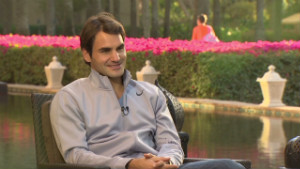 Federer: Do more drug testing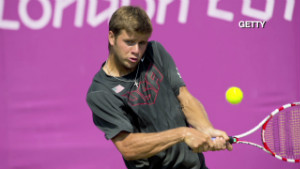 Rising star inspired by Sampras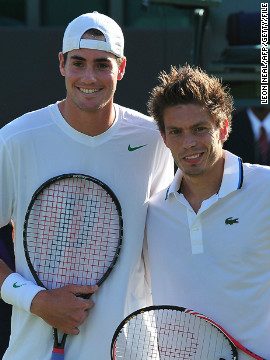 American John Isner and Nicolas Mahut will forever be bonded together by their singles clash at Wimbledon in 2010 which became the longest match in tennis history.
Their "marathon match" lasted 11 hours and five minutes and stretched over three days. Both men went through the mill physically and emotionally as the demands of an eight-hour deciding set took their toll.
The game that started as a low key first round encounter at 6:13pm on Tuesday 22 June finally finished at 4:48pm on Thursday 24 June, by which time the two protagonists were heroes the world over. Isner finally won 6-4 3-6 6-7 7-6 70-68.
Isner and Mahut embraced at the end of the game and nearly three years on from the match the pair are still close friends. Isner says of Mahut: "He's one of the nicest, classiest guys on the tour."
The final set went on so long that it broke the scoreboard. Twice. It first became locked at its maximum 47-47, before it locked again at 50-50 and was reset. Spectators were asked to add 50 games onto the score.
Mahut was heartbroken in defeat and suffered another defeat when the pair were drawn to face each other the following year. The 2011 clash ended 7-6 6-2 7-6, took a full nine hours less and featured 149 fewer games.
There is a plaque outside Court 18 at Wimbledon to mark Isner and Mahut's slice of history.
Isner's main weapon is his powerful serve helped by his towering height of 6ft 9ins, aptly demonstrated here by CNN Open Court host Pat Cash. To date he has won five singles titles on the ATP Tour but he's hoping success in some of the major tournaments will eclipse the "marathon match" that he's best known for.
Isner is now the top ranked American player in the world and has become an important part of the country's David Cup team. He recently recorded victory over 17-time grand slam winner Roger Federer when the USA took on Switzerland.
Isner made his first grand slam quarterfinal at the U.S. Open in 2011 and relishes the big stage: "I think that's one of the main reasons why I beat Federer, I beat Djokovic and I almost beat Rafa at the French Open of all places. That's why you play this game -- to get a crack at those guys. Try to take it to them."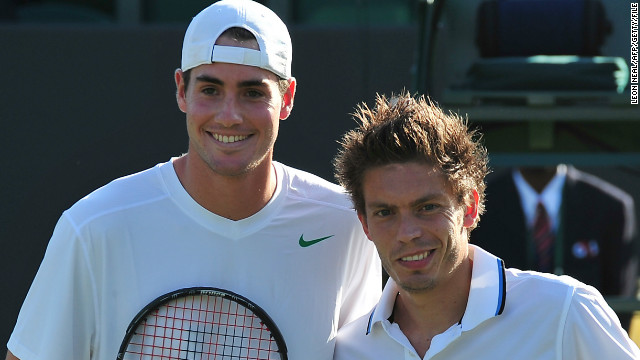 The marathon men: An unlikely bromance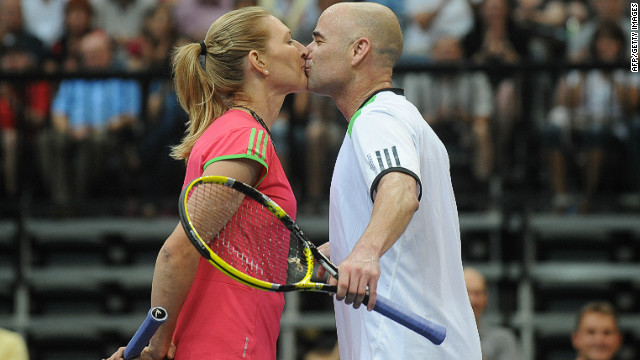 Tennis' ultimate poster couple are still going strong after 10 years of marriage since reportedly getting together at the champions' ball after both won the French Open in 1999. They have two children and still play the odd charity match, but rarely battle each other. As their website reveals: "Andre says his problem playing Steffi is not watching the ball."
Roger Federer met Mirka Vavrinec at the Sydney Olympics in 2000 when they both represented Switzerland. Mirka says her husband's glittering career has eased her pain after injury forced her retirement in 2002. Of his wife, Roger told the Telegraph newspaper: "I developed faster, grew faster with her. I owe her a lot."
She is the former world No. 1 waiting to land her first major title -- he's the baby-faced golfer whose capitulation at the 2011 Masters, and subsequent victory at the U.S. Open, entranced the sport. Together since September last year, Denmark's Wozniacki and McIlroy, from Northern Ireland, go by the moniker of "Wozilroy" and say they lean on each other's experiences to help their sporting performance.
World No. 8 Adam Scott's appearance at last month's Australian Open confirmed that another powerful golf and tennis combo are back on the scene. They split in 2010, but 2008 French Open champion Ivanovic told Australian newspaper the Herald Sun: "Sometimes you need time apart to figure things out."
Hewitt and Clijsters, both former world No. 1s, met at the Australian Open in 2000, reportedly after Kim's sister Elkie asked her to get Lleyton's autograph. They announced their engagement in 2003 but split in October 2004. Both decried the "malicious gossip" that followed their separation.
Chris Evert's romance with Jimmy Connors was one that captivated the sporting world after they both won Wimbledon singles titles in 1974, but a planned wedding in November that year was called off. Tennis writer Peter Bodo famously said of the couple: "It was a match made in heaven, not on Earth, which is probably why it didn't last."
The courtship of former world No. 8 Kournikova and pop star Iglesias was the very definition of a high-profile romance when they started dating in 2001. The Russian appeared in the video for Iglesias' song "Escape," causing a media frenzy. They are still together, 10 years on.
British pop star Cliff Richard revealed in his 2008 autobiography "My Life, My Way" that he nearly asked 1976 French Open winner Sue Barker -- now a TV presenter -- to marry him in 1982. The couple's relationship attracted much press attention. "I seriously contemplated asking Sue to marry me," he wrote. "But in the end I realized that I didn't love her quite enough to commit the rest of my life to her."
They grew up in the same town and were instantly dubbed the "Czech mates" when they started dating in 2003. But they split in 2011, with Czech model Ester Satorova seen watching world No. 7 Berdych at November's season-ending ATP World Tour Finals in London.
After her split with Connors in 1974, 18-time grand slam winner Evert married British tennis pro John Lloyd in 1979, the same year he reached the Australian Open final. Evert's alleged affair with late British pop star Adam Faith threatened to derail their marriage. They reconciled, but then divorced in 1987.
Former women's No. 1 Hingis became engaged to Stepanek in 2006 but a year later the couple announced through the ATP Tour they had split. Hingis, who won five grand slam titles, retired in 2007 after testing positive for cocaine during Wimbledon. Stepanek married fellow Czech Nicole Vaidisova in July 2010.
A third entry to the list for Evert, whose romance and susbsequent marriage to Australian golfer Greg Norman -- known as the "The Great White Shark" -- captured headlines in 1998. Evert even caddied for the two-time British Open winner at the Masters during a par-three tournament. The couple split 15 months after their wedding.
Former world No. 1 Andy Roddick famously began dating Brooklyn Decker in 2007 after asking his agent to track down a phone number for the Sports Illustrated model. They were married in 2009 at a ceremony that included Agassi and Graf as guests.
The romance between Russian tennis ace Sharapova and Slovenian basketballer Vujacic blossomed in 2009 before their engagement was announced in October the following year. The former L.A. Lakers star can often be seen courtside, cheering the three-time grand slam winner on at major tournaments. He now plys his trade in Turkey.
Before Agassi teamed up with Graf, he married actress Brooke Shields in 1997 after a four-year courtship. Agassi, winner of three grand slam titles by then, and Shields, star of TV sitcom "Suddenly Susan," were a box office hit but split after less than two years of marriage in 1999.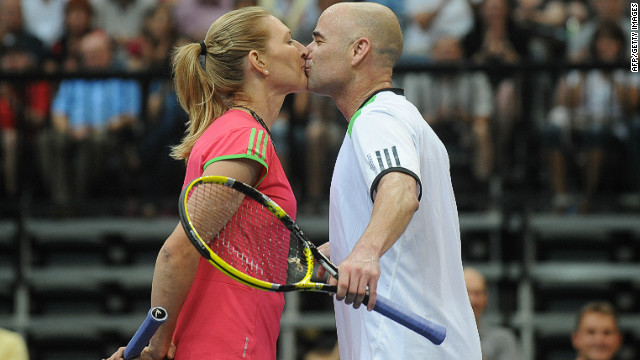 15-love: Top tennis romances
"The [USTA] approached our concerns with a true spirit of partnership, and as president of the ATP Player Council I am personally grateful for their support," five-time U.S. Open winner Roger Federer said in a statement on the tournament's official website.
"The U.S. Open is very special, and we all look forward to great competition at Flushing Meadows later this year, and in the years yet to come."
Under the terms of the five-year deal with the men's ATP Tour and the women's WTA Tour, the tournament will now have a 2013 prize purse of $33.6 million -- a record $8.1 million increase from 2012.
Grass roots tennis will also see a boost in funding and Flushing Meadows in New York, which hosts the competition, will also be revamped, with a new Louis Armstrong Stadium and Grandstand.
"We welcome the commitment the USTA has made concerning player prize money at the U.S. Open through 2017," said Brad Drewett, ATP executive chairman and president.
"These increases are the largest in the history of the sport, representing a significant step forward in truly recognizing the input the players have in the success of the U.S. Open.
"We also welcome the decision from the USTA to adopt a schedule with the men's semifinals completed by Friday and the final on Sunday, from 2015 onwards."
The USTA announced in December 2012 it was moving the women's final back to Sunday and the men's final to Monday to allow the players more rest time.
Poor weather in recent years has seen the men's final take place on a Monday for the past five years, with some players having to play their semifinal and final on consecutive days.
But though the schedule will remain in place for the next two installments, by 2015 the U.S. Open will come into the line with the other majors and become a 14-day tournament.
"We applaud the USTA's long-term commitment to increased and fair compensation for our athletes," said Stacey Allaster, WTA chairman and CEO.
"For 40 years the USTA has been a leader for equality and for women's tennis, and today's announcement is a testament to their continued bold vision for the sport."
Recently, the game's top male players, like Roger Federer and Novak Djokovic, called for more stringent drug testing, prompting the International Tennis Federation to announce they were introducing biological profiling into the sport.
"The USTA has a long-term vision in place to ensure that tennis continues to thrive in the United States," said David Haggerty, USTA chairman and president.
"This vision encompasses every level of the sport, from energizing existing fans, to attracting new players, to ensuring the U.S. Open remains one of the world's most prestigious sporting events.
"With this unprecedented commitment to long-term prize money and recognition of the value that players bring to the sport, we will gain stability for the sport so that we can focus our energy on growing the game and ensuring tennis' vitality in the U.S. for years to come."