STORY HIGHLIGHTS
Tiger Woods shoots three-under round in solid start to Arnold Palmer Invitational
Woods can reclaim world No. 1 ranking from Rory McIlroy with victory in Bay Hill
England's Justin Rose out in front after shooting a seven-under round of 65
(CNN) -- The recent focus may have been on his new relationship with world champion skier Lindsey Vonn but Thursday saw the start of Tiger Woods' quest to reclaim golf's world No. 1 ranking.
The 14-time major champion, who revealed he and Vonn released pictures of themselves through social media to thwart photographers he referred to as the "stakerazzi", showed all his battling qualities on day one of the Arnold Palmer Invitational.
Woods carded an opening round of three-under-par at the Bay Hill course in Florida, to sit in the chasing pack behind leader Justin Rose, who shot 65 to finish on seven-under.
The Englishman fired six birdies and an eagle in his round and though Woods' performance was more solid than spectacular he scrambled well to remain within striking distance.
Read: Tiger: Vonn revelation 'thwarted stalkerazzi'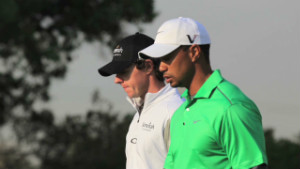 Exclusive: Tiger and Rory's 'bromance'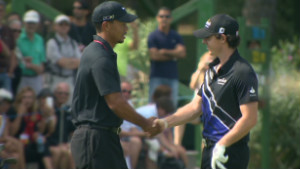 Tiger and Rory's $1.4M battle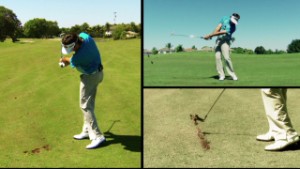 Bubba Watson's best shots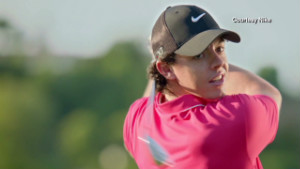 Inside McIlroy's mega deal with Nike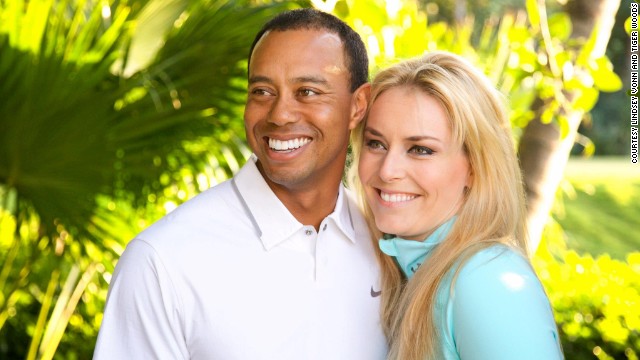 Golfing great Tiger Woods and champion skier Lindsey Vonn announced they were dating on Facebook on Monday, March 18. Vonn recently divorced Thomas Vonn, who was also her coach, and Woods had a tumultuous split from his wife, Elin Woods, in 2010. Here's a look at other athlete couples.
NASCAR drivers Danica Patrick and Ricky Stenhouse Jr. got the nickname "Stenica" after they made their relationship public. The couple will be competing against each other for the Sprint Cup this year. Pictured, the two talk during the Sprint Cup Series Subway Fresh Fit 500 in March 2013.
17-time grand slam winner Roger Federer met his wife while both were competing for Switzerland at the 2000 Olympics. Injury forced Mirka to retire from tennis in 2002, since when she has worked as her husband's PR manager.
Olympic gold medalist Kristi Yamaguchi met hockey player Bret Hedican at the 1992 Winter Olympics. When they were dating, the figure skater said they would only see Hedican for a couple hours a month because of their busy schedules. They got married in 2000 and now have two daughters. Pictured, the family arrives at a movie premiere in Los Angeles, 2008.
Lleyton Hewett and Kim Clijsters, both former world No. 1 tennis champions, met at the Australian Open in 2000, reportedly after Kim's sister Elkie asked her to get Lleyton's autograph. They announced their engagement in 2003 but split in October 2004. Both decried the "malicious gossip" that followed their separation. Pictured, the two kiss after Hewitt defeated his fiance in an exhibition match, 2004.
Misty May, Olympic Gold Medalist in beach volleyball, and Major League baseball player Matt Treanor have been married since 2004. After winning her third gold medal with her volleyball partner Kerri Walsh Jennings in the 2012 London Olympics, she announced she was retiring to start a family. Pictured, Misty May knocks fists with her fiance at the time after throwing the first pitch before the start of the Florida Marlins against the Atlanta Braves in Miami, September 2004.
Track stars Marion Jones and Tim Montgomery went from power couple to notorious dopers after admitting to using performance-enhancing drugs in 2007. They had a child together, Tim, Jr., and have since split. Pictured, Jones and Montgomery pose with their trophies after their races, on September 14, 2002, during the IAAF Grand-Prix Final at Paris' Charlety Stadium.
The news of the romance between England's rugby World Cup winner Mike Tindall and Zara Philips, the Queen's granddaughter, came as a surprise to many - but they happily tied the knot in 2011. One year later, Philips won an Olympic silver in the equestrian team event.
Pro basketball players Shelden Williams and Candace Parker married in 2008 and had a daughter the following year. Candace Parker still plays for the L.A. Sparks. Pictured, the couple and their daughter, Lailaa Nicole Williams, arrive at the 2012 ESPY Awards in Los Angeles, July 2012.
Both tennis player Caroline Wozniacki and golfer Rory McIlroy have been the top-ranked in their respective sports. McIlroy, seen as the apparent heir to Tiger Woods, has two major championships to his name and a $200 million sponsorship deal with Nike.
Pro surfer Laird Hamilton and pro volleyball player wife Gabrielle Reece have been married since 1997 and have two daughters, according to People. The pair have a workout site so everyone can strive to look as good as they do.
Pro tennis players Andre Agassi and Steffi Graf have 30 grand slam singles titles between them, and they still play together in doubles exhibition matches. They married in 2001. Pictured, the couple smiles from onstage during a nonprofit event, February 2012.
Golfer Nancy Lopez and World Series MVP Ray Knight were married for 27 years before splitting up in 2009. Pictured, Lopez and Knight watch a game in Carmel, Indiana, September 2005.
Former NFL player Curtis Conway and middleweight champion Laila Ali, daughter of the boxing legend Muhammad Ali, married in 2007. They met two years previously, when Ali went to a small get-together with a friend at Conway's house. Pictured from left, Lelani Conway, Curtis Conway Jr.,Curtis Conway, Laila Ali, Sydney J. Conway and Kelton Conway attend a charity event in Los Angeles, June 2011.
After defecting from communist Romania in 1989, Olympic legend Nadia Comăneci found her way, via Canada, to love. Fellow Olympic gymnastic champion Bart Conner had never forgotten the girl he first met as a teenager - and the American married the sporting heroine in a 1996 ceremony broadcast live in Romania.
After failed relationships with Spanish golfer Sergio Garcia, English footballer Sol Campbell and Czech tennis player Radek Štěpánek, former Swiss tennis player Martina Hingis found love with show jumper Thibault Hutin -- marrying the Frenchman in 2010.
Florence Griffith-Joyner, known as Flo Jo, and Al Joyner, Olympic gold medal winning triple jumper and Flo Jo's coach, met at the U.S. Olympic trial in 1980 and married in 1987. Flo Jo won golds in both the 100 meter and 200 meter at the Seoul Olympics in the following year. She died in 1998. Pictured, she walks off the track with her husband Al Joyner during the Olympic Games in Seoul, South Korea, 1988.
Soccer star Mia Hamm and baseball player Nomar Garciaparra married in 2003 and had twin girls in 2007 together, according to People. Pictured, the pair attend a show premiere, November 2005.
Professional hockey player Sergei Fedorov admitted in 2003 that he and tennis heartthrob Anna Kournikova had briefly been married after they had already divorced. It had been rumored since 2001, according to SI.com. Pictured, Fedorov and Kournikova pose for photos at a French Open event in Paris in October 2000.
Olympic softball pitcher Jennie Finch married professional baseball pitcher Casey Daigle, and have a son, Ace, together. Pictured, Daigle and Finch arrive at the ESPY Awards on July 14, 2010, in Los Angeles, California.
U.S. Soccer defender Heather Mitts married NFL quarterback AJ Feeley in 2010. Pictured, Mitts and Feeley attend ESPN The Magazine's "NEXT" Event on February 3, 2012, in Indianapolis, Indiana.
Sharing the same date of birth, legendary long distance runner Emil Zatopek and his wife Dana Zatopkova, a javelin thrower, also won Olympic titles on the very same day - with the couple showing their four gold medals here. Emil passed away in 2000, leaving behind the wife he married 52 years earlier.
Golfer Greg Norman and tennis pro Chris Evert finalized their divorce in 2010, according to People Magazine. They had been married for 15 months. Pictured, Norman and Evert wait on the ninth green during the Par 3 Contest prior to the 2009 Masters Tournament at Augusta National Golf Club on April 8, 2009, in Augusta, Georgia.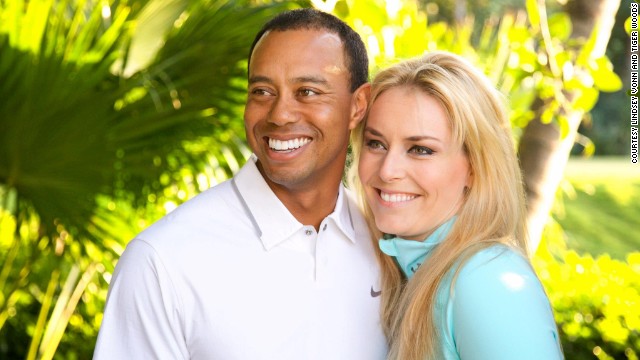 Photos: Athlete couples
Rose's nearest challenger was American John Huh, who sits on five-under while compatriot John Rollins and Canada's Brad Fritsch are a shot further back.
"I certainly didn't play my best, but I got around and made a few good saves out there," 37-year-old Woods told the PGA Tour's official website. "I got a lot out of this round, and I threw away a few shots as well.
"I didn't drive it well, didn't hit my irons well and didn't control my distances or trajectory well."
Starting his round on the ninth, Woods recorded back-to-back bogeys before making crucial par saves at the first and second.
"Those were key because I had just thrown away a couple of shots I gained on 16," Woods said. "It's just making a key save, a key putt here and there and keeping the round going."
Prior to his opening round Woods spoke publicly for the first time about his romance with Vonn, which the couple confirmed on Monday with statements and photos posted on social networking site Facebook.
At a press conference on Wednesday he said they had released news of their relationship to limit paparazzi intrusion.
"It's very simple, we're very happy where we are at but also we wanted to limit the stalkerazzi and all those sleazy websites out there following us," he told reporters.
"I've had situations where it's been very dangerous for my kids, the extent that they'll go to. We basically devalued the first photos.
"Unfortunately that's just the way it is in our society right now and we felt it was the best thing to do and we're very happy about it."
Rose's fine round was largely due to his putting prowess. He needed just 25 and converted all 17 chances from 15-feet or under.
"That's been the error of my game since June last year," Rose said. "Today was probably the first real hot day I've had with the blade in a long, long time."
"We all know it's about consistency and that's what I'm still working toward. It's just fun to know that I obviously can do it, and I take a lot of confidence from that."