Rockets from Gaza hit Israeli city during Obama visit
March 21, 2013 -- Updated 1214 GMT (2014 HKT)
STORY HIGHLIGHTS
One rocket lands in the courtyard of a house
No casualties are reported
Militants in Gaza have regularly launched rocket attacks
Read a version of this story in Arabic.
Jerusalem (CNN) -- Two rockets from Gaza slammed into southern Israel on Thursday morning, as U.S. President Barack Obama prepared to leave Jerusalem for Ramallah for meetings with top Palestinian Authority officials.
One of the rockets landed in the courtyard of a house in the city of Sderot, but no casualties were reported, Israeli police spokesman Micky Rosenfeld said.
A police disposal expert was still searching for the other rocket, Rosenfeld said.
Obama is on a four-day trip to Israel and the West Bank, his first since assuming office.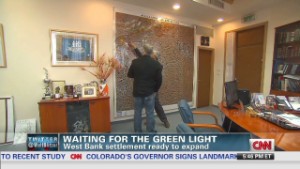 West Bank settlement ready to expand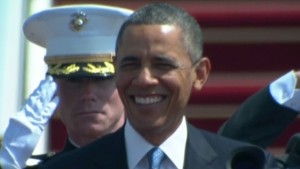 Obama's open mic slip in Israel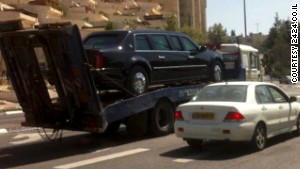 See what happened to Obama's broken limo
On Thursday, he is expected to meet with Palestinian Authority President Mahmoud Abbas.
Israel seized Gaza during the 1967 war, and withdrew settlers from there in 2005. In the ensuing years, militants in Gaza have regularly launched rocket attacks into southern Israel.
In November, Israel launched what it called the Pillar of Defense operation, a series of military strikes on Gaza designed to stop the constant rocket fire.
Eight days of round-the-clock warfare followed between Israel and Hamas, the Palestinian movement that controls Gaza.
As Israel targeted Hamas military commanders and weaponry, Palestinian militants continued to fire rockets into Israel, battering the southern region and reaching Israel's two major cities -- Jerusalem and Tel Aviv.
Israel called up reservists and massed its forces on the Gaza border, threatening a ground invasion. Many feared a repeat of Israel's Operation Cast Lead offensive against Palestinian militants in late 2008, an operation that led to a bloody three-week war.
The fighting in November took its toll: More than 160 Palestinians, many of whom were civilians, were killed. Six Israelis died, including civilians and soldiers. Hundreds were wounded.
The fighting ended after Egypt and the United States helped broker the cease-fire that lasted until February 26.
On that day, a rocket damaged a road outside the town of Ashkelon, about 15 kilometers (9 miles) from Gaza.
The Al Aqsa Martyrs Brigades, a Gaza militant group, claimed responsibility
CNN's Michael Schwartz reported from Jerusalem and Karen Smith from Atlanta.

Part of complete coverage on
May 20, 2013 -- Updated 1639 GMT (0039 HKT)

No solutions to the violence and total confusion is no longer just news, but a terrifying daily reality. Has Nigeria descended into civil war?
May 20, 2013 -- Updated 0817 GMT (1617 HKT)

On the eve of the French Open, attention turns to the illness that has struck down several players. Why is it hitting tennis so hard?
May 20, 2013 -- Updated 1409 GMT (2209 HKT)

Daycare, hour-long lunch breaks, free medicine? Not all of Bangladesh's factories are sweatshops, but many fear the crisis will hit them hard.
May 20, 2013 -- Updated 1314 GMT (2114 HKT)

A group of bright minds at California Institute of Technology invented the 'toilet of the future,' a solar-powered wc that could save lives.
May 20, 2013 -- Updated 1315 GMT (2115 HKT)

Chinese Premier is meeting India's leaders just weeks after raising the stakes in one of Asia's least understood and longest running disputes.
May 20, 2013 -- Updated 1115 GMT (1915 HKT)

Despite unemployment being close to 12%, Italians are snubbing traditional jobs no longer viewed as attractive -- like pizza-making.
May 20, 2013 -- Updated 1507 GMT (2307 HKT)

The woman behind the Chelsea Flower Show talks with CNN about the preparations and the 100th anniversary of the iconic horticultural gathering.
May 19, 2013 -- Updated 2338 GMT (0738 HKT)

CNN's Dan Rivers reports on the influx of companies into Myanmar after the country opened up to foreign business.
May 16, 2013 -- Updated 1914 GMT (0314 HKT)

Boxing legend Manny Pacquiao is using his hero status to fight human trafficking in the Philippines, pushing for an anti-trafficking law.
May 20, 2013 -- Updated 1522 GMT (2322 HKT)

On Wednesday, NASA officials announced a serious problem with the Kepler satellite, the world's most successful planet-finding machine.
May 17, 2013 -- Updated 1354 GMT (2154 HKT)

Anthony Bourdain discovers a American style, fast-food chicken restaurant that opened in Libya after the revolution -- and became a hit instantly.
May 20, 2013 -- Updated 1822 GMT (0222 HKT)

As we mark 140 years since blue jeans were invented, we want to see the best and worst ways you've worn denim through the years.

Today's five most popular stories