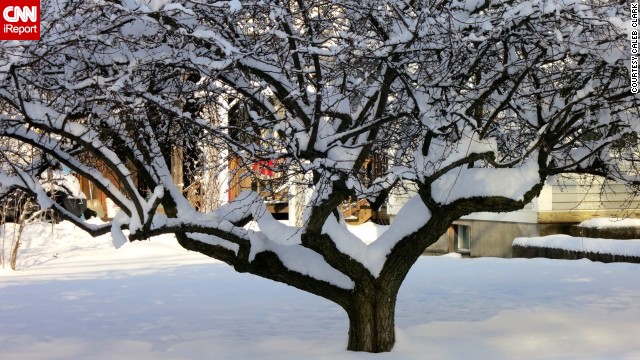 Springtime has arrived, but some parts of the country didn't get the memo.
iReporter Caleb Clark
shared a photo from his snowy walk to work in Brattleboro, Vermont, on Wednesday, March 20, the first day of spring.
iReporter Dave Nyquist
in Michigan, spring looks like this.
...and for
This spring bunny wonders where the grass has gone as he sits on a snowy lawn in upstate New York.
Zeynep Rice
and her husband spied on the furry fellow and pondered when spring will really begin.
iReporter Rachel Cauvin
shows how not even the snow can stop some flowers from blooming. The ground may be frozen over, but these witch hazels still break through.
But
Deanna Veramendi's
neighborhood in Sacramento, California.
Soon enough, the snow will go away and the cherry blossoms will bloom. Well, at least that's what's happening in
Lonna Fisher
patiently waited in front of her Rough Rum, West Virginia, home to photograph this nuthatch snacking on a sunflower seed.
As the earth shakes off the cold, wild creatures bound with new vitality.
David McLaughlin
from Novato, California. He used a photographic practice called bokeh to selectively feature one bloom of a crab apple tree while letting the rest fall out of focus.
"Nature seems to remind us that our lives evolve," says
Carlos Alvarez-Zarikian
captured a flowering redbud tree in Texas on the first day of spring.
Blossoming buds herald the start of spring.
Polly Irungu
in Eugene, Oregon, are excited about spring because it means summer is around the corner. "I love spring because everyone seems to be nicer," she says.
Some people, like
Lauren Chmiel
from Las Vegas doesn't have to go far to enjoy the sight of blooming flowers. She captured these pink daisies in her backyard.
Kathi Cordsen
as she walked through her backyard on the first day of spring, she said. Nearby in her garden is a lantana bush, seen here.
"The sweetest smelling blossoms" of the orange tree tantalized
Spring is here ... kind of
Spring is here ... kind of
Spring is here ... kind of
Spring is here ... kind of
Spring is here ... kind of
Spring is here ... kind of
Spring is here ... kind of
Spring is here ... kind of
Spring is here ... kind of
Spring is here ... kind of
Spring is here ... kind of