STORY HIGHLIGHTS
Sebastian Vettel on pole position for Malaysian Grand Prix
Ferarri pair Felipe Massa and Fernando Alonso to start second and third
Lotus' Kimi Raikkonen given three-place penalty and down to 10th
Lewis Hamilton fourth fastest in Mercedes
(CNN) -- Sebastian Vettel doesn't like losing -- and Formula One's youngest ever triple world champion showed he means business after wrapping up pole position at Sepang Saturday.
The Red Bull driver, who started at the front of the grid at Melbourne last weekend, was beaten into third after Lotus' Kimi Raikkonen and Ferrari's Fernando Alonso took the top two spots.
Vettel's frustration at failing to make the most of his advantage was palpable, but ahead of Sunday's second race of the season in Malaysia, he demonstrated once again why he's the man to beat.
The Circuit: CNN's look at the Malaysian Grand Prix
With the rain causing chaos, the German recorded recorded a fastest time of one minute 49.674 seconds to pip Ferrari's Felipe Massa and Fernando Alonso, who will start second and third on the grid.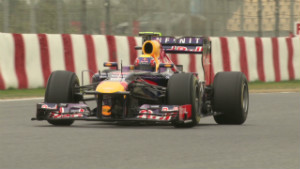 Engines on, Formula 1 returns!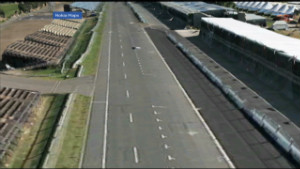 Australian GP: Albert Park flyover
"I think if you start in the front you always want to finish there," Vettel told the post-qualifying press conference.
"We confirmed more or less what we saw in Melbourne. I was very happy with the balance of the car once again.
"I think also considering where we were last year here, a big step forward. But these days racing is a little bit different.
"Hopefully we'll find the right amount of percentage less than 100% to start he race tomorrow.
"Managing the tires will be crucial and then we go from there. We know the pace is there so hopefully we get to the checkered flag in the same position."
Read: Raikkonen tops the charts
While Vettel was left content with his performance, last weekend's race winner Raikkonen suffered a disappointing day after being handed a three-place penalty.
The Finn had qualified in seventh before stewards adjudged him to have impended the Mercedes of Nico Rosberg.
Top 10 qualifiers:

1. Sebastian Vettel (Ger), Red Bull - 1min 49.674secs

2. Felipe Massa (Bra), Ferrari - 1:50.587

3. Fernando Alonso (Spa), Ferrari - 1:50.727

4. Lewis Hamilton (GB), Mercedes - 1:51.699

5. Mark Webber (Aus), Red Bull - 1:52.244

6. Nico Rosberg (Ger), Mercedes - 1:52.519

7. Jenson Button (GB), McLaren - 1:53.175

8. Adrian Sutil (Ger), Force India - 1:53.439

9. Sergio Perez (Mex), McLaren - 1:54.136

10 . Kimi Raikkonen (Fin), Lotus - 1:52.970 (Given three place penalty)
"It's a shame to lose the three places but it is what it is," he told Lotus' official website.
"You never know what will happen in the race -- especially here -- so we'll do our best and let's hope we have the speed to get on the podium."
Raikkonen's absence from the top end of the grid is a bonus for Ferrari, with Massa in particular looking to take advantage after out-qualifying Alonso for the fourth race in succession.
Read Ferrari revved up for F1 title fight
"I think whenever you feel comfortable you can do a good lap and you can use the car to the maximum, it's possible," he told reporters.
"It was really clear that I was not comfortable last year and the year before, so many things around the car, bad luck, around myself as well, so there were so many things that were not working in the proper direction.
"But now they are and I know how quick I can be, I've showed that many times in the past.
"If everything works well, we can be competitive; it's pretty sure about that. I believe in myself and I think it can be really important for the team, for Fernando as well, for everybody.
"We need a stronger team, a strong position and fighting for the best position in every race so I'm happy, that's a good direction."
Two-time world champion Alonso won at Sepang last season and will be hoping for a repeat performance this time around -- despite being outshone by teammate Massa .
"I think I've been racing 27 years now in motor racing - I'm getting old - so it's not the first time that we have very close competition," he told the press conference.
"It was very close the last three years as well, but I know that for you it was not that close in terms of results because I think Felipe had some bad luck, some incidents sometimes, some mechanical problems other times.
"But the last three years was much closer than I think that it looked in the points at the end.
"So this year it is again very close, no big difference, maybe a little bit closer and for sure the last two races we are behind on the grid but so far on Saturday there are no points so we need to keep working for Sunday.
"It's the best news for the team, because we need to have a competition between the two drivers in the team.
"We need to share information between the drivers in the team and now I think all the data that we have from free practice, from qualifying for everything is very useful to compare and to analyze to make ourselves better.
"So this is only good news for the team and we will push each other to our own limits and this is good news for the team.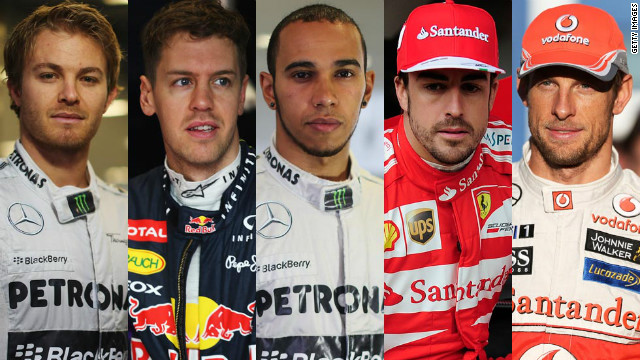 After 15 years with McLaren, Lewis Hamilton has flown the nest and landed in the Mercedes garage. The 2008 world champion is being tipped for success in 2013, with his new teammate Nico Rosberg showing in preseason that the new Mercedes is capable of topping the timesheets.
But if Hamilton is to win a second drivers' championship, he will have to overcome triple world champion Sebastian Vettel. The German has taken the title in each of the last three years, with his Red Bull team also leaving other manufacturers trailing in their wake.
The title race will not be as simple as Vettel vs. Hamilton. A fired-up Fernando Alonso missed out on the 2012 crown by just three points, and the double world champion will be looking to challenge at the front of the grid given the improvements in his Ferrari following last season's design problems.
Five rookies will be on the grid at the Australian Grand Prix, including Valtteri Bottas (pictured) who will be behind the wheel for Williams. Caterham drafted in Giedo van der Garde, while Esteban Gutierrez makes his debut for Sauber and Marussia boast an all-rookie line up of Jules Bianchi and Max Chilton.
Pirelli will serve as the official tire supplier in the final season of its three-year contract. The new tire is made of a softer rubber than its 2012 equivalent, with lap times expected to increase by up to half a second.
There will be 11 teams lining up for the first race in Melbourne following the collapse of Spanish outfit HRT after three seasons without scoring a point.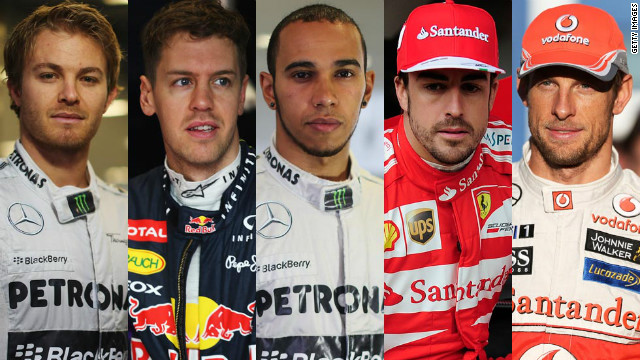 F1: 2013 season preview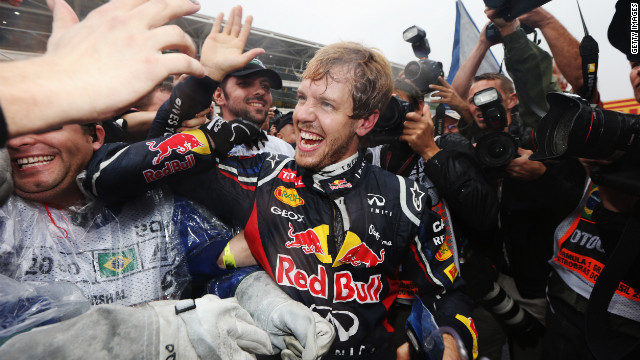 Sebastian Vettel celebrates with his team and admirers after a pulsating race at Interlagos in Brazil. But where does the Red Bull driver rank in the pantheon of F1's virtuosos?
On Sunday, Vettel fought off feisty toreador Fernando Alonso to capture the drivers' title in a dizzying denouement and join an elite band of Formula One world champions.
It is mark of Vettel's greatness that he had come to from behind at Interlagos after a nightmare start on the opening lap when he was hit on the fourth turn and suffered damage to his car. It left Vettel at the back of the grid but by the 24th lap the Red Bull racer had clawed his way back to fifth place.
"Even if he appears to have a car that makes it possible for him, nevertheless he has to do it," said seven-time world champon Michael Schumahcer of Vettel's achievements.
"He's going for it 200% and it's a very tough job," added Schumacher of Vettel's talent. "He managed to pull it out and that is the extra effort that comes from him and to do this so consistently is very special."
The 2012 season demonstrated that if you want to get ahead in F1 make sure you have a good engineer in your team. Arguably there is no better engineer in the sport than Adiran Newey.
"Schumacher had five consecutive titles but that was in a period when Ferrari had influence on tyre development," said former McLaren GP winner John Watson.
"The interesting part is that this championship has been so hard-fought and it didn't really come together until the last races,"said 1978 champion Mario Andretti. "This season has been one of the best in memory. Vettel is one of the rare talents that don't come along very often."
"Vettel is making the most of the best design in F1," added Andretti.who is one of only two American drivers to have won the Formula One title. Here Andretti (R) is seen talking to Stirling Moss, during the championship winning season in 1978.
When Schumacher won his first world title with Benetton in 1994 it was also one of F1's darkest periods. The German won the San Marino Grand Prix in 1994 where both Simtek racer Roland Ratzenberger and three-time world champion Ayrton Senna lost their lives.
Vettel celebrates with Formule One supremo Bernie Ecclestone following his title win in Brazil.
Vettel is now chasing after Frenchman Alain Prost , who won four drivers' titles.
"Fangio is my hero," said former McLaren GP winner Watson. "Why I respect him is that he won five world championships in an era when motor racing was fundamentally a slaughter."
Vettel aims to join Prost next year -- then five-time winner Fangio and Schumacher's magnificent seven are all that are ahead of him in his quest for total greatness.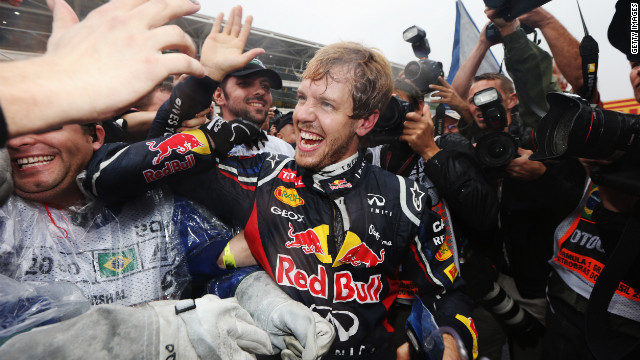 How good is Sebastian Vettel?
Read: Hamilton brushes off title talk
After claiming a fifth place finish in last weekend's season-opener, Lewis Hamilton is aiming for better in his Mercedes.
The 2008 world champion will start fourth on the grid and is targeting a podium finish.
"The car was not too bad in the dry but the balance could have been a lot better, then it was pretty tricky conditions in the wet during Q3," he told the team's official website.
"We did our lap with older tires than the guys in front, which was a bit unfortunate, but our pace was good overall so I can't complain.
"It's the second race on the second row for me and there are lots of positives to take out of the weekend so far.
"Our long run pace looked pretty good compared to the other teams so I'm hoping for dry conditions tomorrow."