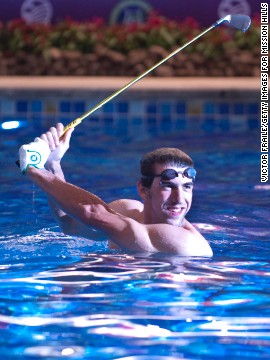 Michael Phelps, seen here at a promotional event in China in 2010, has been learning to play golf since his retirement from swimming.
Phelps, who won a record 18 gold medals in Olympic competition, has been working with the former coach of golf superstar Tiger Woods (right).
Hank Haney helped Woods to win six major championships in six years before they split in 2010.
Haney has been tutoring Phelps as part of his TV show The Haney Project.
"It's a game that I enjoy and a game that's exciting," Phelps told CNN. "I definitely want to get a lot better. I'm getting better, but not as good as I want to be."
"When I'm on the road I'm out there a lot, because it's hard to play in Baltimore right now," he said. "When the weather starts getting good it's probably going to be three or four times a week."
Phelps embarked on his golfing challenge following the London 2012 Olympics. He was a guest speaker at the opening ceremony for the 39th Ryder Cup at Medinah in September, where the U.S. suffered a dramatic last-day defeat against Europe in golf's premier teams event.
Phelps poses with Paralympic running champion Oscar Pistorius after they both lose their ball during the Alfred Dunhill Links Championship pro-am at Kingsbarns in Scotland in October 2012.
International Junior Golf Academy
, public clinics and corporate work.
Haney, meanwhile, is no longer coaching tour pros. His focus is on his
Haney, who has also worked with former basketball star Charles Barkley (pictured) on his TV show, says Phelps faces a tough challenge to become a top golfer.
Babe Didrikson Zaharias is the most successful athlete to have taken up golf after other sporting careers. She was a double Olympic gold medalist in track and field in 1932 and also played softball and basketball before becoming one of the most famous golfers in the world. Didrikson won her 10th and final major a month after cancer surgery and was still a leading player when she died aged just 45.
Another American, Ellsworth Vines, was the world's top-ranked men's tennis player on several occasions during the 1930s but had less success when he turned to golf. He did, however, win two state tournaments in the U.S.
Pioneering tennis player Althea Gibson followed in the footsteps of boxer Joe Louis when she became the first black woman to play on the LPGA Tour in the U.S. in 1964. Louis was the first black man to play on the PGA Tour 12 years earlier. Gibson won 11 grand slam singles and doubles titles on the court, but her best finish as a golf pro was a tie for second at an LPGA event in Ohio in 1970.
Rick Rhoden was a top-level baseball pitcher for 15 years before turning to golf when he retired in 1989. He has had three top-10 finishes on the U.S. Champions Tour and is a leading money winner on the celebrity circuit. Another MLB star, Sammy Byrd, won six PGA Tour events between 1942-46 and is the only man to have played in both the World Series and the Masters.
Three-time Super Bowl winner Jerry Rice (pictured) played on the second-tier U.S. Nationwide Tour in 2010, but missed the cut in his only appearance. The most successful NFL player in golf is John Brodie, who competed in the U.S. Open in 1959 and 1981, and won one title on the Senior PGA Tour in 1991.
Former tennis star Andy Roddick played in February's Pebble Beach National Pro-Am. "In tennis, on my worst day I still knew what I was doing. Here, probably half the people in the stands could hit a ball better than I could," said Roddick, a six-handicapper.
Michael Phelps' golfing ambitions
Michael Phelps' golfing ambitions
Michael Phelps' golfing ambitions
Michael Phelps' golfing ambitions
Michael Phelps' golfing ambitions
Michael Phelps' golfing ambitions
Michael Phelps' golfing ambitions
Michael Phelps' golfing ambitions
Haney's next move
Hoop dreams
All-round excellence
Tennis to golf
Role models
Baseball to golf
NFL to golf
Reality check
STORY HIGHLIGHTS
Record-breaking Olympic swimmer Michael Phelps is trying to become a golfer
He was tutored by Tiger Woods' former coach Hank Haney for a TV series
Haney says the 27-year-old's golf game is "very long and very wild"
Phelps admits his frustrations at learning "the most humbling" of sports
(CNN) -- As a swimmer, his countless hours of training paid off handsomely -- earning him a record 18 Olympic gold medals.
As a golfer, Michael Phelps is wondering what he's got himself into.
"It's one of the most humbling games I've tried to do in my entire life," the American tells CNN.
"I could always pick things up fairly easily, but I don't get how hitting a little object -- a little white ball, that isn't moving -- is so hard.
"Why can't I just hit this in a straight line? Or hook it, or draw it, or fade it -- I can't do it. I'm finally learning how to be able to do all that stuff and do it consistently. But I still do have some pretty bad shots."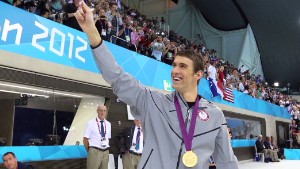 Phelps rejects swimming comeback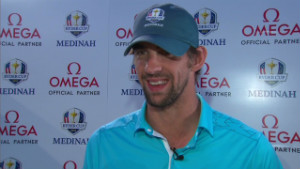 Who makes Michael Phelps giddy?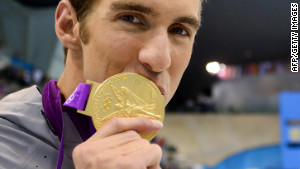 Michael Phelps plans for the future
Have a quick look online and you'll find Phelps hurling his driver away in disgust after embarrassingly topping his tee shot at the home of golf, St. Andrews in Scotland.
"Throwing clubs, using profanity -- everything comes out," Phelps says.
Read: Short game: Golf gets snappy
But there are some moments of magic, such as when -- as a 26 handicapper -- he sank a monster 150-foot putt at the Dunhill Links pro-am in Scotland last October.
However, golf requires both power and precision -- which Phelps, who was diagnosed with attention deficit disorder as a child, is slowly learning to combine.
"He's one of those players that people would look at and say, 'He has a lot of potential.' What that technically means is that the player is very long and very wild," says Tiger Woods' former coach Hank Haney, who has been tutoring Phelps in the latest series of his television show The Haney Project.
"They never look at someone who hits it a very short distance and say, 'Oh you've got a lot of potential.' They always comment on the potential someone has as based solely on the distance of their hitting."
Haney has some history in shaping unpredictable talents, having previously worked with former basketballer Charles Barkley and boxer Sugar Ray Leonard among his celebrity TV clients.
"Michael is 6'4 but he has a 6'8 wingspan, so his arms are very long. Because of that he has a pretty long, loose swing," Haney tells CNN.
"It's capable of generating a lot of power ... That's been the biggest challenge, to get his swing better so he can control it a bit."
Haney says Phelps is "definitely getting better" after carding true hackers' scores of between 97 and 117 in six rounds immediately after the London 2012 Olympics -- where he took his career tally to a record 22 medals.
"His No. 1 goal after the Olympics was to learn how to play golf and be decent at it," Haney says.
"I think he's passionate about it. It's nice to have someone like Michael Phelps interested in the game, it's great for golf."
"Baltimore Bullet"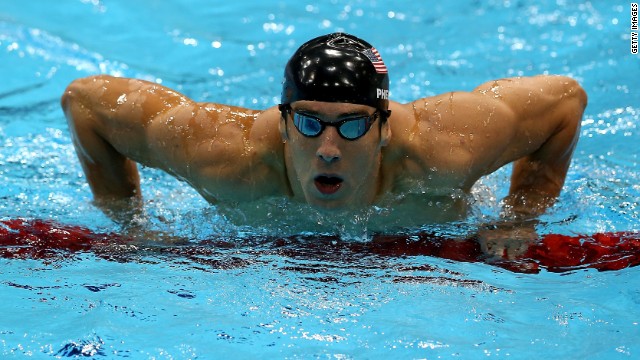 In need of some body inspiration (or eye candy)? Men's Health magazine has identified the "100 Fittest Men of All Time." Here are the top 10, starting with swimmer Michael Phelps. At 27, the Olympian has a record 22 medals.
Actor and martial arts expert Bruce Lee was a big proponent of total fitness workouts that combined strength, cardiovascular, endurance and flexibility training. His methods are still used today in programs like P90X and Insanity.
Arnold Schwarzenegger wasn't always a politician. Here he poses during the 1977 Cannes Film Festival, where he presented "Pumping Iron," a documentary about body building.
Jack LaLanne is known to many as the "godfather of fitness." He spent decades promoting healthy eating and exercise. LaLanne died in 2011 at the age of 96.
Former NFL player Herschel Walker didn't slow down much when he retired from football. Since then, he's been participating in professional mixed martial arts.
Jim Thorpe competed in the 1912 Summer Olympics. His sport of choice? The pentathlon and decathlon, where he finished first in eight of the 15 events, according to Men's Health. He then went on to play professional baseball AND football.
In 2008, Portugal's soccer star Cristiano Ronaldo was named the FIFA World Player of the Year. As a fan site states, "Ronaldo will take on any defender with searing pace, and mesmerising footwork to boot. His ability to beat a player and whip in crosses makes him a feared opponent."
Seven-time Tour de France winner Lance Armstrong may be the most controversial on Men Health's list. The cyclist has been up against doping allegations for years. This week, Armstrong lost his multimillion-dollar deal with Nike and stepped down as chairman of the Livestrong charity foundation.
Manny Pacquiao is often ranked as one of the world's best boxers -- and one of the highest-paid. He was the first boxer to win seven world titles in seven weight divisions, according to GQ magazine.
Those who have tried cross-country skiing know it is not for the faint of heart. Norway's Bjoern Daehlie earned 12 Olympic medals -- eight of them gold -- before retiring in 1999. Who else made the list? Check out all 100 on Men's Health.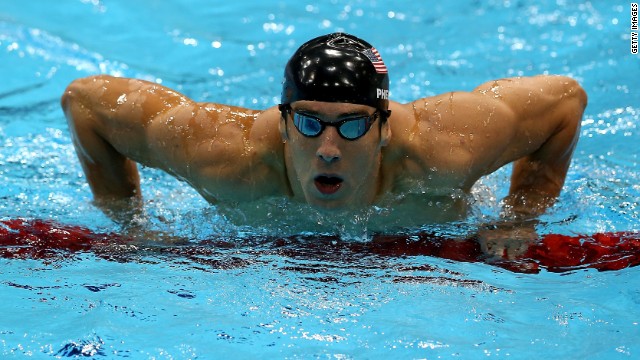 Photos: The world's fittest men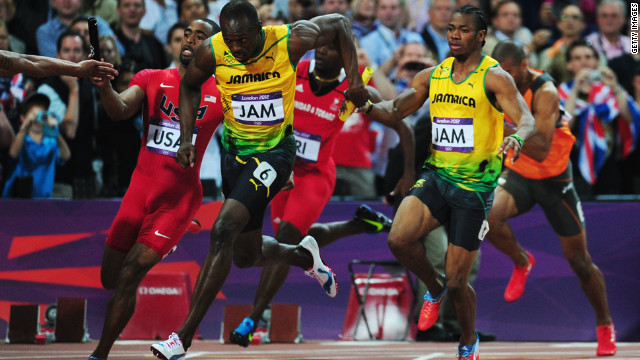 Everyone came to see Usain Bolt, and he did not disappoint. The 25-year-old Jamaican won three gold medals at the London Olympics; two individually (100m and 200m) and one in a team event (pictured above -- the men's 4 x 100m relay).
Chris Hoy became Britain's most successful Olympian with six career golds as Team GB dominated the cycling events, winning nine medals in total.
Michael Phelps, the "Baltimore Bullet," secured his place as the most successful Olympian of all time by winning his 18th career gold and his 22nd medal overall.
Few may have known his name prior to London 2012, but Dutch gymnast Epke Zonderland showed off his gravity-defying skills during the men's horizontal bar section of the artistic gymnastics event.
David Lekuta Rudisha of Kenya celebrates after winning gold and setting a new world record in the men's 800m final on Day 13 of the Games.
Carmelita Jeter, Bianca Knight, Allyson Felix and Tianna Madison of the United States celebrate next to the clock after winning gold and setting a new world record of 40.82 seconds in the women's 4x100m relay final.
Great Britain's Andy Murray celebrates after winning the men's singles gold medal match, defeating Switzerland's Roger Federer in the London Olympics. It came 27 days after Murray lost to Federer in the Wimbledon final.
Aged just 16, Ye Shiwen of China stunned spectators with her record-breaking speeds, winning two gold medals.
Uganda won its second Olympic gold medal when Stephen Kiprotich won the men's marathon on the final day -- coming 40 years after the first earned by John Akii-Bua in the 400-meter hurdles.
British boxer Anthony Joshua, won gold for his nation in the final of the super-heavyweight division by beating Italy's Roberto Cammarelle. It rounded out the best performance Britain had seen in boxing since 1920.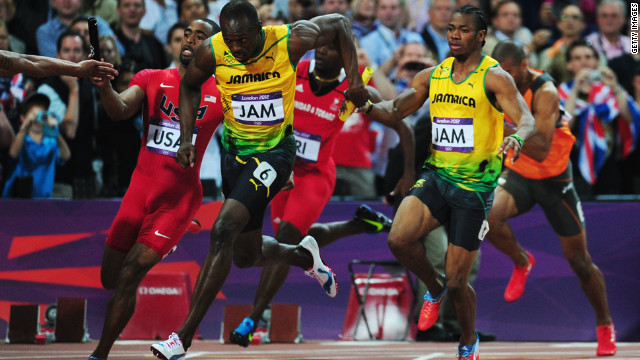 London 2012: Top-10 sporting moments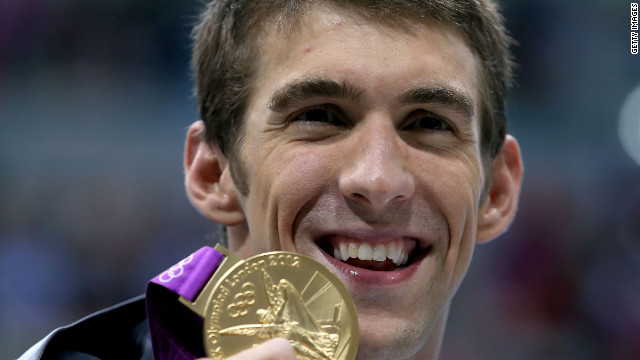 Michael Phelps shows off his gold medal from the 200-meter Individual medley at the London Olympics on Thursday, August 2. It was his 20th career medal.
Phelps celebrates after becoming the most decorated Olympic athlete in history winning his 19th medal in the men's 4 x 200-meter freestyle relay final at the London Games on July 31, 2012.
Phelps competes in the men's 200m butterfly final on Day 4 of the London 2012 Olympic Games. Winning a silver medal, his 18th, Phelps matches the record for most decorated Olympian alongside USSR gymnast Larysa Latynina.
Phelps celebrates with the rest of the swimming team from the U.S. (Adrian Nathan (L), Ryan Lochte (2nd L) and Cullen Jones) after winning the silver medal in men's 4 x 100m Freestyle Relay final.
U.S. swimmer Michael Phelps did end up qualifying for eight events but dropped 200-meter freestyle. Here, he looks on during the men's 4 x 100-meter freestyle relay final on Day 2 of the London Olympics.
Phelps previously said before the London games that he would not compete in eight events again (like Beijing four years prior). Here, a disappointed Phelps climbs out of the pool after a shock fourth place in the final of the men's 400-meter individual medley on Day 1 of the London 2012 Olympic Games.
Fellow teammate Ryan Lochte hugs Phelps who seems in shock or just exhausted after win in the men's 200-meter individual medley final race in Beijing. Phelps won eight gold medals during the 2008 Summer Games.
Setting another world record (1.52.49) USA's Michael Phelps wins the men's 200-meter butterfly final at the Beijing 2008 Olympic Games.
Not just an individual winner, but also a team player. Phelps shouts encouragement to Peter Vanderkaay (with fellow teammates Ricky Berens, Ryan Lochte) in the men's 4 x 200-meter freestyle relay final on Day 5 of the Beijing 2008 Olympic Games. The team won the race and set a new world record of 6:58.56.
Phelps competes in the men's 400-meter individual medley final during the XII FINA World Championships in Melbourne, Australia. Not only does he win, he also sets a new world record.
Gold medalist Ian Thorpe of Australia, silver medalist Pieter Van Den Hoogenband of the Netherlands (L) and bronze medalist Michael Phelps of USA (R) pose with their medals after the medal ceremony for the men's swimming 200 freestyle event in 2004. In total, Phelps won six gold and two bronze medals in Athens.
Phelps of the United States celebrates winning gold in the men's swimming 400-meter individual medley final on August 14, 2004.
Team USA's Michael Phelps pictured during a training session prior to the Athens 2004 Summer Olympic Games at the Olympic Sports Complex Aquatic Centre. Just days later, Phelps would win the 400-meter individual medley, with a world record time of 4:08.26 and his first Olympic gold medal.
Michael Phelps smiles after winning the 200-meter butterfly final during the U.S. Swimming Olympic Team Trials on July 10, 2004 at the Charter All Digital Aquatic Center in Long Beach, California.
Michael Phelps of the U.S. swims his way to win the men's 200-meter individual medley final at the Pan Pacific Swimming Championships in Yokohama, Japan on 29 August 2002. Phelps won the final smashing his own record set the previous year with the championship record time of 1 minute 50.70 seconds.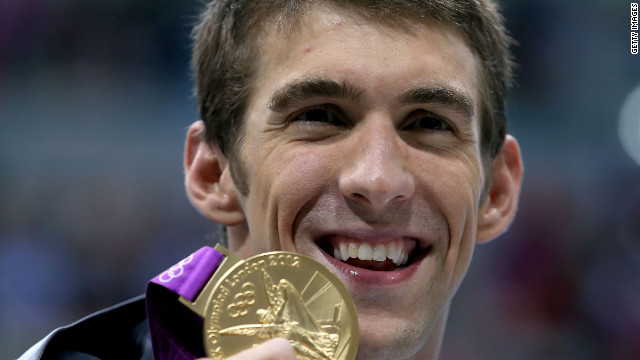 Phelps: All-time Olympic recordbreaker
Golf is not only giving the 27-year-old Phelps a new hobby (if not quite a new career) -- it is also extending his commercial sell-by date.
While he's not in the $250 million league that Nike reportedly paid to sign up golf's new star Rory McIlroy, the "Baltimore Bullet" has already landed a club deal with Ping.
"Ping is a well-established global brand that should be able to deliver Phelps with huge international exposure," says British sports business expert Simon Chadwick.
"Phelps, meanwhile, provides Ping with a brand association that has a strong track-record of success at the very highest level.
"That said, this is a somewhat strange alliance that would be appear to be fraught with difficulty. It doesn't make instant sense, and quite what the tangible returns will be to both parties isn't necessarily obvious.
"If there is no expectation that Phelps will become a professional golfer, the Ping deal tends rather to imply that this is short-term opportunism -- unless, of course, the relaunch and rebranding of Phelps as a global sport or leisure brand starts here.
"If the Phelps brand in golf is to have any sustainable future, he needs to start delivering the kind of performances that fans and consumers will be looking for."
Chinese 12 year-old to make history
Haney doubts that Phelps will be able to make it as a pro golfer, citing the very few examples of sports stars who've been able to switch to the game -- and most of those have been on the seniors circuit.
"The possibility is there, but golf seems to take more time than any other sport -- there's so much to learn and so much to practice. You have to dedicate full-time to golf to get there," Haney says.
"It's a big difference between being a scratch golfer or two handicap and being a professional golfer. It's a whole other world," Haney adds when asked about the golfing prospects of retired tennis star Andy Roddick, who like Phelps has been hitting the celebrity pro-am circuit.
New adventure
And Phelps sounds like he's enjoying his retirement too much to dedicate himself to the same punishing routine that saw him not miss a 6.30 a.m training session for six years -- as Haney was informed by his protege's former swim coach.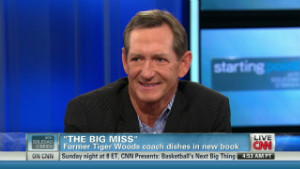 Breaking the code? Haney on Tiger Woods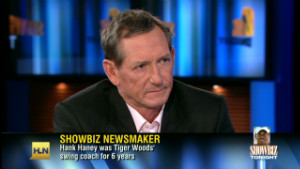 Tiger Woods' ex-swing coach tells all
"I've been saying a lot more recently about how great it is to be retired," says Phelps. "I can wake up at 10 in the morning, grab a cup of coffee, read the newspaper.
"If I feel like hitting a couple of golf balls, I hit some golf balls. I really just hang out, and it's awesome.
"At this point I'm really just trying to enjoy the sport, learn the sport, and be able to beat all of my friends who I go out and play with."
Read: Woods back on top of the world
However, Haney is in no doubt that Phelps is committed to his new adventure.
"The crossover is the work ethic that he has -- he knows what it takes to be great in sports," the 57-year-old coach says.
"He's used to being coached, that makes it easier for me. In golf you have to be coached, no-one just knows how to do it. In order for that to happen, you like to have someone that's used to taking coaching."
For someone who has coached 14-time major winner Woods, the goals of a novice like Phelps ("He's thinking pro-ams and playing amateur golf. He'd love to win a club championship one day") bring Haney back full circle in his career.
"Tiger was my last student and I had determined that when I started with Tiger, I said he's going to be the last touring pro that I have," says Haney, who wrote a book detailing his six years working with the biggest name in modern golf.
"I taught touring pros for 32 years and I enjoyed it. It was incredible, a lot of great experiences, but 32 years was enough for me -- I taught over 200 touring pros. It was time for me to do something different. And where do you go from Tiger Woods?"
Twitter tips
Apart from his TV show, Haney is now focused on his corporate work, his International Junior Golf Academy based at Hilton Head, South Carolina -- and taking the game to the people.
"Golf's been awful good to me, I have no problems doing that, I'm very thankful to the game of golf," says Haney, who is an active presence on Twitter, giving away tips to anyone who contacts him -- much to the chagrin of some of his peers.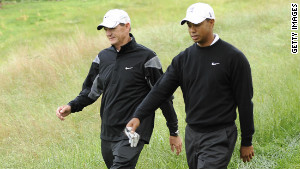 Haney: These are my memories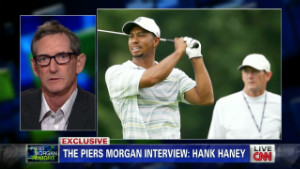 Ex-coach Haney: 'Tiger's very complex'
"Last year I did clinics for over 15,000 people, so I feel like through Twitter and doing the clinics I'm much more able to reach a larger audience and giving back to the game a little bit.
"I enjoy being a top instructor who is willing and able to do those things."
He says his junior academy, which has almost 150 students from 22 countries, is not necessarily seeking to unearth the next Tiger Woods.
"I'm really proud of the fact that the kids don't just learn golf but they have a great education. Every kid from our academy last year went to college, 94% of them got scholarships. I really enjoy seeing how much they grow as people from being in our academy."