STORY HIGHLIGHTS
Rory McIlroy says losing his No. 1 spot to Tiger Woods could help him return to form
Woods regained the top ranking with his eighth career win at Bay Hill Invitational
McIlroy aims to play his way into form at the Houston Open this weekend
Victory would return the 23-year-old to top spot ahead of next month's Masters
(CNN) -- Rory McIlroy says he is happy to go into next month's Masters "under the radar" after losing his world No. 1 spot to Tiger Woods.
McIlroy's form slump since switching to Nike equipment this year in a reported $250 million deal had been the major talking point in the golf season so far, but Woods' resurgence has eclipsed that.
The 23-year-old congratulated the American 14-time major winner with a text message after Woods regained top spot with victory at the Arnold Palmer Invitational at Bay Hill, Florida on Sunday -- his third tournament win this year.
McIlroy told reporters ahead of this week's Houston Open that Woods texted back to tell his young Northern Irish rival to "pull his finger out" and raise his game.
However, McIlroy suggested that maybe he can perform better as he chases his first Masters title in two weeks' time if he is not favored to win at Augusta.
"I didn't think I could go into the Masters under the radar," McIlroy, a winner of two major championships, told the PGA Tour website. "I can go in a little bit underneath him.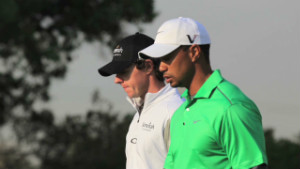 Exclusive: Tiger and Rory's 'bromance'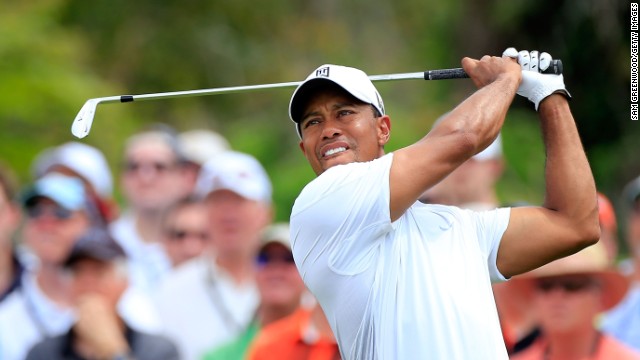 Tiger Woods regains the No. 1 spot in world golf rankings with a win at the Arnold Palmer Invitational on Monday, March 25. Here, he plays a shot at the tournament in Orlando on Sunday, March 24. Check out what Woods has been up to since the last time he was the top-ranked golfer nearly 2½ years ago:
Woods appears dejected after losing to Lee Westwood and Luke Donald in the 2010 Ryder Cup competition in Wales in October 2010. That month, he lost his No. 1 ranking to Westwood, a position he had held for 281 consecutive weeks. He had taken a break from golf earlier that year after reports of marital infidelities emerged in late 2009.
Woods misses a putt at the Frys.com Open in October 2011. That month, he dropped out of golf's Top 50 players list for the first time in almost 15 years. Woods reportedly lost millions in endorsements after sponsors ended their ties with him in the wake of a sex scandal.
Woods misses the U.S. Open in July 2011, citing knee and Achilles tendon injuries. Here, he plays in the tournament in 2008.
Woods plays at the 2011 Emirates Australian Open in Sydney in November 2011. That year, he remained the highest-paid American athlete on Sports Illustrated's "Fortunate 50" list.
Woods drops his caddy of 12 years, Steve Williams, in July 2011. "I want to express my deepest gratitude to Stevie for all his help, but I think it's time for a change," Woods said. Here, the two share a laugh during a practice round two months before Williams was let go.
After a nearly three-month break, Woods returns to golf at the Bridgestone Invitational in August 2011.
Woods hits out of the bunker on the ninth hole during the first round of the PGA Championship in August 2011. He failed to make the cut at the PGA championship for the first time in his career.
Woods plays his tee shot on the 18th hole at the Presidents Cup in Melbourne, Australia, in November 2011. The previous month, Woods landed Rolex as a sponsor despite not having won a major tournament in nearly two years. "Rolex is convinced that Tiger Woods still has a long career ahead of him," the high-end watchmaker said.
Woods lines up his putt at the Honda Classic at PGA National in March 2012. He shot a 62, his lowest final round as a professional, at the Honda Classic, but he tied for second in the tournament.
Woods earns his first win since November 2009 at the Chevron World Challenge, a non-PGA tour event, in December 2011.
Woods signs autographs at the Arnold Palmer Invitational in March 2012. His win there marked his first PGA tour victory since September 2009.
Woods drops the ball on the 15th fairway during the final round of the AT&T National in July 2012. He overtook Jack Nicklaus for second place on the all-time PGA Tour list with his victory at the AT&T National.
Woods hits his tee shot on the 12th hole during the final round of the Farmers Insurance Open at Torrey Pines in January 2013. He lost his title the previous year as the world's top-paid athlete, dropping to third place on Sports Illustrated's "Fortunate 50" list.
Woods hits the ball on the 18th hole during the second round of the Deutsche Bank Championship at TPC Boston. He became the first PGA Tour participant to earn $100 million when he finished third and won more than $500,000 at the Deutsche Bank Championship.
Woods and champion skier Lindsey Vonn announced they were dating on Facebook in March 2013. Vonn recently divorced Thomas Vonn, who was also her coach, and Woods split up with his wife, Elin Nordegren, in 2010.
Woods tosses his ball to his caddie at the Farmers Insurance Open at Torrey Pines in January 2013. He started the new year in fine form by winning his 75th PGA Tour title in the Farmers Insurance Open.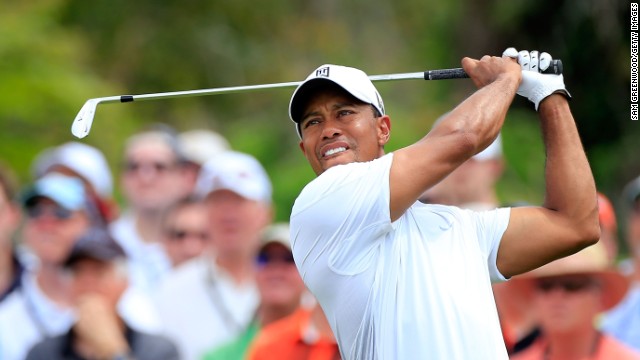 Photos: Tiger Woods -- from highs to lows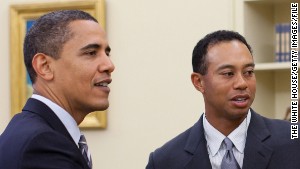 Obama tees off with Tiger Woods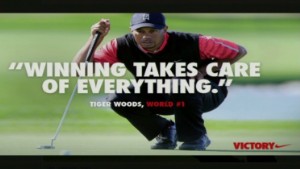 Winning solves everything for Tiger?
"So in a way it's not a bad thing (to lose the top ranking)."
McIlroy enhanced his growing reputation last season, becoming world No. 1 with victory at the PGA Tour's Honda Classic at Palm Beach Gardens, Florida in March before winning a second major at Kiawah Island, host of the 2012 PGA Championship in August.
One year later McIlroy is battling to regain that momentum. He apologized after walking out of the defense of his Honda Classic crown earlier this month after a disastrous start to the second round, and has he is yet to win a tournament in 2013 -- though he showed promising form in the final round of the subsequent WGC-Cadillac Championship event that Woods won.
Read: Putting key to Tiger's revival
Last week, instead of entering the fray with Woods at Bay Hill, McIlroy spent the weekend on the sidelines watching his tennis star girlfriend Caroline Wozniacki compete in the WTA tournament in Miami.
"People left me alone, it was fine," McIlroy said. "It's nice to just go about my business and no-one cares, to not be the most talked about person in golf.
"We're not machines, we're humans. You're going to have patches where you play great and have patches where you struggle a little bit.
"I guess you've just got to take the rough and the smooth, and play and be patient and know that you're working on the right things."
McIlroy aims to get back in the swing -- and respond to the gauntlet thrown down by Woods at the Houston Open, where he could return to the No. 1 ranking with victory.
"I want to get back to getting into contention in tournaments and trying to win," he said.
"I think this is a good week to try and get into contention -- you have a chance with the Masters coming up.''
Woods is not playing this week, but they will reunite at Augusta when the American tees up for his tilt at a fifth Masters title -- and his first major win since 2008.
"(Tiger has) been the man in golf for the last 15 years, and it's great for golf to have him play well," McIlroy said.
"And, you, know, hopefully, I can try to keep up with him.''