Massive landslide threatens Washington state homes
March 28, 2013 -- Updated 1057 GMT (1857 HKT)
STORY HIGHLIGHTS
NEW: Resident talks about the old views, current concerns
Geologists are on their way to Whidbey Island to investigate
The landslide destroyed one home, threatens more than a dozen others
Officials have not reported any injuries; area is prone to landslides
(CNN) -- A massive landslide in Washington has destroyed one home and threatens more than a dozen others, an official and CNN affiliates in the Seattle area reported Wednesday.
One home has only about 10 feet of its backyard left after the slide on Whidbey Island, north of Seattle, CNN affiliate KIRO reported. That home's resident was able to escape, said Ed Hartin, fire chief at Central Whidbey Island Fire and Rescue.
No injuries have been reported.
The landslide cut access to 17 homes, and residents have been taken out by boat, Hartin said. Others area homes also were evacuated.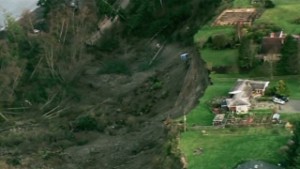 Landslide 'sounded like an earthquake'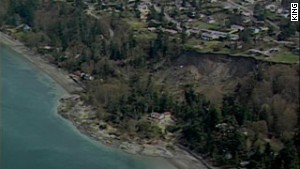 34 homes threatened by landslide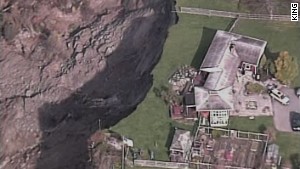 Homeowner: We're feeling nervous
Live video showed small sections of the cliff continuing to fall at 10:45 a.m. local time as people removed furniture and other belongings. Tons of earth had fallen into Puget Sound.
Richard Barker, who lives about 500 feet south of the landslide, told CNN on Wednesday he does not currently plan to leave his home.
"However, the Red Cross has told us they will let us know if we need to evacuate," Barker told CNN.
"We're feeling a little bit nervous. We've got a beautiful view and we'd hate to see our view and house head into the ocean."
According to Barker, the neighborhood had above-average rainfall over the winter and into spring. A snowfall late last week left several inches of wet snow that was gone.
The homes are on a seismic fault that on rare occasions shifts, said CNN meteorologist Chad Myers.
Barker said the cliff has not seen movement for many years. "We just thought OK, that is something you pay for the marvelous view that you have."
Fire officials first received a call about the slide shortly after 4 a.m., Hartin said. Residents reported hearing a sound like thunder around the time of the slide, CNN affiliate KING-TV reported.
A spokesman with the Washington State Department of Natural Resources said a team of geologists is on its way to Whidbey Island to investigate.
The cause of the landslide was not immediately clear. There hasn't been rain in the past few days, said Hartin.
Recent deadly landslides in: Indonesia, China, Peru
CNN's Justin Lear contributed to this report.

Part of complete coverage on
December 10, 2013 -- Updated 1406 GMT (2206 HKT)

Presidents and prime ministers, celebrities and royals joined tens of thousands of South Africans to pay tribute to Nelson Mandela.
December 10, 2013 -- Updated 1235 GMT (2035 HKT)

President Obama pays tribute at the Mandela Memorial: "Mandela reminds us that it always seems impossible until it is done," he said.
December 9, 2013 -- Updated 2311 GMT (0711 HKT)

Until he returned home this weekend, Merrill Newman -- an American held in North Korea -- had no idea what a story he'd become.
December 10, 2013 -- Updated 0246 GMT (1046 HKT)

Transportation throughout the inhospitable Arctic region may soon be revolutionized.
December 10, 2013 -- Updated 1430 GMT (2230 HKT)

There were no genetic tests 400,000 years ago, so our ancient relatives didn't know as much about themselves as we know about them now.

Theme parks, sports stadiums, and city squares are among the most popular destinations that people checked into on Facebook in 2013.
December 10, 2013 -- Updated 1346 GMT (2146 HKT)

Actress Eleanor Parker, nominated for three Oscars and known for her "Sound of Music" role, died Monday at 91, her family said.
December 10, 2013 -- Updated 1249 GMT (2049 HKT)

Director and actor Charlie Chaplin made Virginia Cherrill perform one scene -- in which she says just two words in a silent film -- 342 times.
December 10, 2013 -- Updated 1118 GMT (1918 HKT)

Each volunteer at Yekokeb Berhan in Ethiopia will take in 25 disadvantaged children as her own.
December 9, 2013 -- Updated 1558 GMT (2358 HKT)

The Web is set to change our lives over the next decade. This will also question the use of personal data and balancing new powers with ethics.
December 10, 2013 -- Updated 1344 GMT (2144 HKT)

Browse through images you don't always see in news reports, taken by CNN teams all around the world.

He was imprisoned for life but that did not quiet him. Nelson Mandela became South Africa's first black president, and an icon and inspiration.

Today's five most popular stories