STORY HIGHLIGHTS
Mandela remains "under treatment and observation," President Jacob Zuma says
The anti-apartheid icon also was hospitalized earlier this month
At the time, officials said it was only for a routine checkup
Mandela, 94, has been treated for a lung infection before
Johannesburg (CNN) -- Former South African President Nelson Mandela is "responding positively" to treatment after he was readmitted to a hospital overnight for a recurring lung infection.
President Jacob Zuma's office passed along the doctors' assessment of Mandela, the 94-year-old anti-apartheid icon and nation's first black president.
"He remains under treatment and observation in hospital," Zuma said Thursday.
Mandela was conscious when he was taken to the hospital just before midnight Wednesday, Zuma's office said.
It's the second time this month he has been hospitalized. More than two weeks ago, he was taken to a hospital for what officials described as a routine checkup.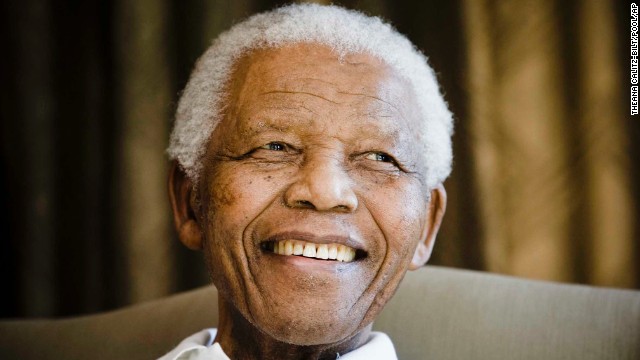 Nelson Mandela, the prisoner-turned-president who reconciled South Africa after the end of apartheid, died on December 5, 2013. He was 95.
Mandela became president of the African National Congress Youth League in 1951.
Mandela poses for a photo, circa 1950.
Mandela poses in boxing gloves in 1952.
Mandela in the office of Mandela & Tambo, a law practice set up in Johannesburg by Mandela and Oliver Tambo to provide free or affordable legal representation to black South Africans.
From left: Patrick Molaoa, Robert Resha and Mandela walk to the courtroom for their treason trial in Johannesburg.
Mandela married his second wife, social worker Winnie Madikizela, in 1958. At the time, he was an active member of the African National Congress and had begun his lifelong commitment to ending segregation in South Africa.
Nelson and Winnie Mandela raise their fists to salute a cheering crowd upon his 1990 release from Victor Verster Prison. He was still as upright and proud, he would say, as the day he walked into prison 27 years before.
A jubilant South African holds up a newspaper announcing Mandela's release from prison at an ANC rally in Soweto on February 11, 1990. Two days later, more than 100,000 people attended a rally celebrating his release from jail.
Mandela and Zambian President Kenneth Kaunda arrive at an ANC rally on March 3, 1990, in Lusaka, Zambia. Mandela was elected president of the ANC the next year.
After his release in 1990, Mandela embarked on a world tour, meeting U.S. President George H.W. Bush at the White House in June.
At his Soweto home on July 18, 1990, Mandela blows out the candles on his 72nd birthday cake. It was the first birthday he celebrated as a free man since the 1960s.
Mandela and his wife react to supporters during a visit to Brazil at the governor's palace in Rio De Janeiro, on August 1, 1991.
South African President Frederik de Klerk, right, and Mandela shared a Nobel Peace Prize in 1993 for their work to secure a peaceful transition from apartheid rule.
Mandela votes for the first time in his life on March 26, 1994.
On April 27, 1994, a long line of people snake toward a polling station in the black township of Soweto outside of Johannesburg in the nation's first all-race elections.
Mandela in Mmabatho for an election rally on March 15, 1994.
Mandela was elected president in the first open election in South African history on April 29, 1994. He's pictured here taking the oath at his inauguration in May, becoming the nation's first black president.
Mandela, left, cheers as Springbok Rugby captain Francois Pienaar holds the Webb Ellis trophy high after winning the World Cup Rugby Championship in Johannesburg on June 24, 1995.
After one term as president, Mandela stepped down. Thabo Mvuyelwa Mbeki, at right, was sworn in as his replacement in June 1999.
Mandela sits outside his former prison cell on Robben Island on November 28, 2003, ahead of his AIDS benefit concert at Green Point Stadium in Cape Town. He was sent to the infamous prison five miles off the coast of South Africa, where he spent 18 of his 27 years behind bars.
Mandela shows something to a group of international journalists visiting the Nelson Mandela Foundation in Johannesburg in May 2004.
Mandela sits with his wife, Graca Machel, and his grandchildren at his son's funeral on January 15, 2005. He disclosed that his son, Makgatho Lewanika Mandela, had died of AIDS and said the disease should be given publicity so people would stop viewing it as extraordinary.
The "46664 Arctic" benefit concert was held in Tromso, Norway, on June 11, 2005. 46664 was Mandela's identification number in prison. Here, artists who performed at the event surround him.
Mandela attends an HIV/AIDs concert in Johannesburg on February 17, 2005.
Former U.S. President Bill Clinton leans down to whisper to former South African President Nelson Mandela during a visit to the Nelson Mandela Foundation on July 19, 2007, in Johannesburg.
A bronze statue of Mandela was unveiled in Parliament Square in London on August 29, 2007. The 9-foot statue faces the Houses of Parliament.
Mandela leaves the InterContinental Hotel after a photoshoot with celebrity photographer Terry O'Neil on June 26, 2008, in London.
Mandela meets in 2009 with international children as part of his 46664 Foundation.
Nelson Mandela and his third wife, Graca Machel, arrive at the 2010 World Cup before the final match between Netherlands and Spain on July 11, 2010, at Soccer City Stadium in Soweto.
Then-U.S. Secretary of State Hillary Clinton meets with Mandela at his home in Qunu, South Africa, on August 6, 2012.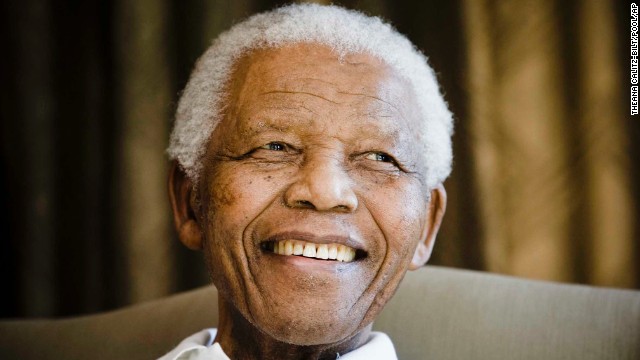 The evolution of Nelson Mandela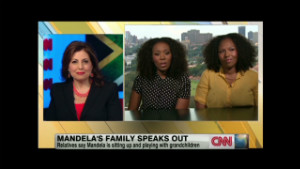 2012: Granddaughters: He's doing well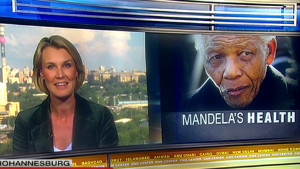 2012: Nelson Mandela back home
Mandela has become increasingly frail over the years, and has not appeared in public since South Africa hosted the World Cup in 2010.
"Doctors are attending to him, ensuring that he has the best possible expert medical treatment and comfort," Zuma's office said in an earlier statement Thursday.
"We appeal to the people of South Africa and the world to pray for our beloved Madiba and his family, and to keep them in their thoughts."
"Madiba" is Mandela's clan name, which is widely used in the nation.
Josh Earnest, White House deputy press secretary, said President Barack Obama is being updated on Mandela's health.
"Our thoughts and prayers go out to the former president and his family," Earnest said.
South Africa: Following Nelson Mandela
Zuma's office did not say to which hospital he was admitted, but renewed calls for his privacy.
Mandela has been treated for the ailment before. He underwent treatment for a lung infection and had surgery to remove gallstones over the Christmas holiday in 2012, one of his longest hospital stays since his release from prison in 1990.
He suffered from tuberculosis during his imprisonment and has battled respiratory infections over the years. He also was treated for an acute respiratory infection in 2011, among other recurrent bouts of illness.
Considered the founding father of South Africa's democracy, Mandela became an international figure when he endured 27 years in prison for fighting apartheid, the country's system of racial segregation.
In 1993, he and then-South African President F.W. de Klerk jointly won the Nobel Peace Prize.
Mandela was elected president a year later, serving only one term, as he had promised.
Despite only rare public appearances in recent years, he retains his popularity and is considered a hero of democracy in the nation. Last year, South Africa launched a new batch of banknotes with a picture of a smiling Mandela on the front, a testament to his iconic status.
Mandela's impact extends far beyond South African borders. After he left office, he was involved in mediating conflicts from Africa to the Middle East.
CNN's Errol Barnett reported from Johannesburg, and Faith Karimi from Atlanta. CNN's Kim Norgaard contributed to this report.